Fantasy Football Slant: Redskin To Start And Others Across The League To Play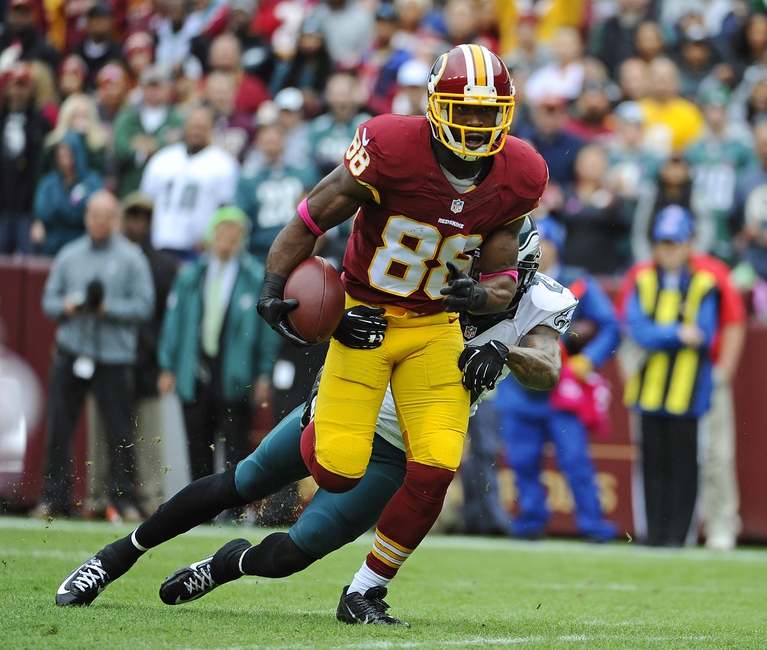 In these upcoming slides, we will try to tell fantasy owners who they need to have on their starting roster, who to sit, and an under the radar player poised to have a big game.
Week 6 of the 2016 NFL regular season is almost here. At this point, most fantasy football team owners have probably started to either throw in the towel or they're looking for their next free agency move to bring them closer to a championship.
Want your voice heard? Join the Riggo's Rag team!
If you haven't thrown in the towel yet and you need advice for what to do this upcoming week, then these upcoming slides are for you. We will tell you who to pick up, who to avoid, and a player who is under the radar and is poised to have a big game this week.
Redskin to start: Pierre Garçon
This choice comes with a lot of risks. The Philadelphia Eagles have the 6th best pass defense in the league. Not only that, but Pierre Garçon has only caught 22 passes for 230 yards and 1 touchdown through 5 games this season.
However, if you look at Garçon's history against with the Washington Redskins against the Eagles, then you'll see that he seems to perform well when he lines up against them. In his past 6 games against the Eagles, the wide receiver has had 466 receiving yards and 3 touchdowns. He seems to have some of his best games against the Eagles, so why wouldn't he continue this trend on Sunday?
Plus, now that Jordan Reed has been diagnosed with a concussion, this will mean more throws to Garçon. Therefore, he should get looked at a little more by Cousins which could mean a big game for the veteran.
Must Start: Brian Hoyer
In the past three games he's played in, Brian Hoyer has absolutely gone off. Through those games,  he's thrown for 1,016 yards and 6 touchdowns. He also hasn't thrown any interceptions and has averaged a 111.3 passer rating.
It's safe to say that Hoyer is on a hot streak, and there doesn't appear to be any reason why this streak can't continue into this week. In week 6, Hoyer faces the 1-3 Jacksonville Jaguars who are 26th in the league in points allowed.
Hoyer has been on fire recently, and he definitely can continue this hot streak on Sunday. So fantasy owners who are looking for a quarterback who can put up big number this week, Hoyer may be your guy.
Must Sit: Chris Hogan
Many people saw what Chris Hogan did last week against the Browns and have jumped the gun thinking he is going to become a solid fantasy wide receiver. While he did catch all four passes thrown to him for 114 yards, it is still way too small of a sample size to predict how the rest of his season will go.
Not only that, but it is important to realize that Hogan had Tom Brady throwing to him. One of the greatest quarterbacks of all time. He can make any wide receiver look good. Plus, there are many other weapons for him to throw to, so Hogan can easily get overlooked this week.
Chris Hogan may eventually become a top wide receiver, but it is way too early to tell. Plus, playing against a solid Cincinnati Bengals defense will make it harder for Hogan to get open and score fantasy points.
Sleeper Pick: Jamaal Charles
To start Jamaal Charles on your fantasy roster this week is a huge risk. But it has the possibility of providing a huge reward.
Charles played for the first time last week after an injury and only touched the ball twice for 7 total yards. However, most football followers know what he is capable of. He can be one of the most explosive running backs in the league and he has proven to be a typical must start in the past. This coupled with the fact that he is playing against the Oakland Raiders terrible running defense could mean big time points for Charles this week.
However, it is always risky to play anyone who is coming off of an injury, so fantasy owners should start him at their own risk.
This article originally appeared on