Fantasy Football: Packers rest-of-season rankings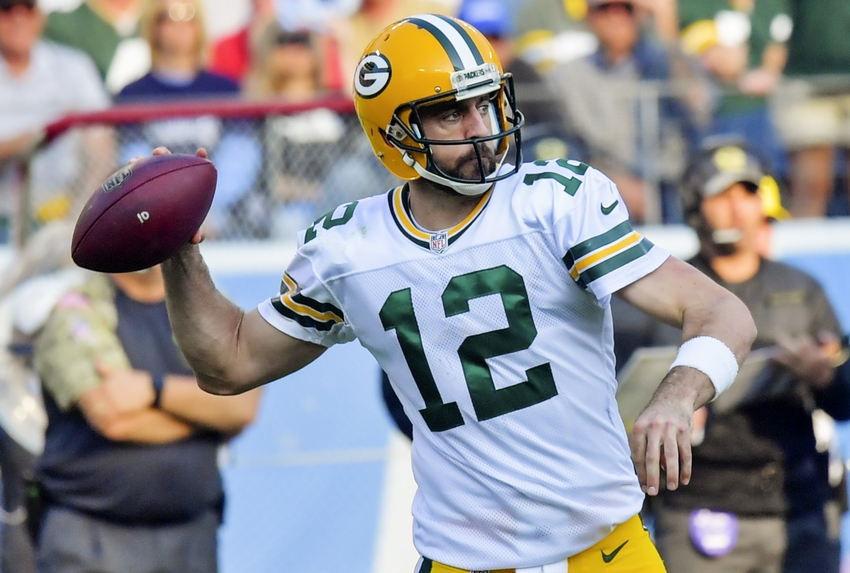 Following Week 10, what is the status for the Green Bay Packers in fantasy football the rest of the way?
The Packers might not be getting it done on the field in terms of wins and losses, but they are still producing strong fantasy numbers each week. Who should you hold onto, and should any Packer be traded away?
James Starks' return gives the offense a boost, but what is his fantasy value? Jared Cook is set to return soon also, although he is nothing more than a streaming option until he proves otherwise.
Let's breakdown the Packers fantasy values from this point forward.
Rodgers continues to produce for fantasy owners, and he's currently the QB3 behind only Matt Ryan and Drew Brees. It wouldn't be a major surprise to see Rodgers finish as the top QB in fantasy. Without much of a run game to lean on, he's teeing off through the air.
Have no hesitations to plug Rodgers in as your QB1 the rest of the way.
Nelson is making me eat my words from a few weeks back when I said to sell high on him. Since, Jordy has posted at least 15 fantasy points in each contest, and added another 19 against the Titans. Currently the WR4 in fantasy, Nelson is posting strong numbers on a weekly basis.
The only drawback? Just look at his playoff schedule. In Week 14 he takes on Seattle. Week 15 brings a tilt with the underrated Bears (Nelson posted 0.9 points against them in Week 7), and your fantasy championship could rely on Nelson at home to Minnesota.
Adams, a cut candidate at the end of the summer, has become one of Aaron Rodgers' favorite targets. He's already tied his career-best for receptions (50) and surpassed his previous best for receiving yards (621) and touchdowns (six).
In the past four weeks, Adams has caught 35 passes for 403 yards and three touchdowns. He's ranked 11th among WRs in fantasy over that span.
As he continues to produce, plug him in as an WR2. He's bumped up from last week's ranking.
Cobb is still regaining health from a hamstring injury, so his status doesn't change from last week. He will receive a bigger share of targets down the stretch, once he's fully healthy.
I love Montgomery and feel he can be an X-factor on offense. Mike McCarthy seems to disagree.
Ty Montgomery thing was fun while it lasted. James Starks returned to out-snap TyMont 55-22, even in a game GB entirely trailed.

— Adam Levitan (@adamlevitan) November 14, 2016
McCarthy referred to Montgomery as a "three-down back" earlier in the week, but quickly turned his back on an offense that was producing with him on the field. Montgomery didn't receive a single target in the game, but he could have made an impact out of the backfield.
He will be a tough play the rest of the way, so long as Starks dominates the touches in the backfield and Montgomery's role is capped. If you can trade him away based on recent performance, do it. If not, feel free to drop him.
James Starks — Flex
Starks didn't get a great deal of work due to a negative game script, but he did churn out 33 yards from seven carries (4.7 yards per carry) and found the end zone to save his fantasy day.
At this stage, he's nothing more than a flex with a safe floor.
This article originally appeared on