Fantasy Football: It's Time To Believe in Ryan Tannehill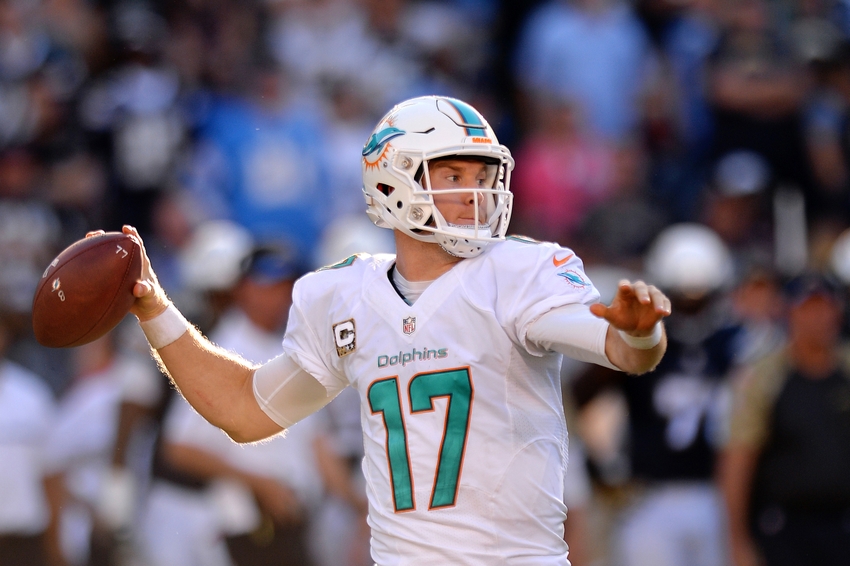 Fantasy Football owners might be hesitant to believe in quarterback Ryan Tannehill again, but he's on the rise this season.
The Miami Dolphins, a team looking like they would once again be bottom dwellers of the NFL early this season, are doing all the right things. They're currently riding a four-game winning streak and quarterback Ryan Tannehill has finally begun living up to his potential. However, what should fantasy football owners expect moving forward, especially with a road game in Week 11 against the Los Angeles Rams?
Tannehill has now gone four-straight games without an interception, which bodes well for his fantasy football value. The Rams have a stout defensive front, but are questionable in the secondary. Tannehill, if he remains calm, should be able to attack the secondary with effectiveness.
Tannehill is coming off a huge win last week over the San Diego Chargers. The Dolphins signal-caller totaled 240 passing yards, 17 completions, and two touchdowns. He's looked sharp and is finally making all the right decisions when it comes to his check downs and footwork.
New head coach Adam Gase has undoubtedly gotten through to Tannehill, which should bring much joy to fantasy football owners everywhere. It's that time of year where he can easily turn things around once and for all in the right direction for the Dolphins.
For a team that has consistently missed the NFL Playoffs for years now, if Tannehill keeps things like this, expect to see the Dolphins surprise the football world. While the AFC East tends to be dominated by the New England Patriots, the Dolphins can squeak their way in via Wild Card berth.
This week, however, Tannehill is a must-start since he's peaking at just the right time. Owners should believe in him again since he's finally putting everything together and delivering very good results. Expect a multiple-touchdown game for Tannehill in what could be a high-scoring game (for Miami at least) in the City of Angels against Goff and company.
More from NFL Spin Zone
This article originally appeared on