Fantasy Football Frustrations: Week 9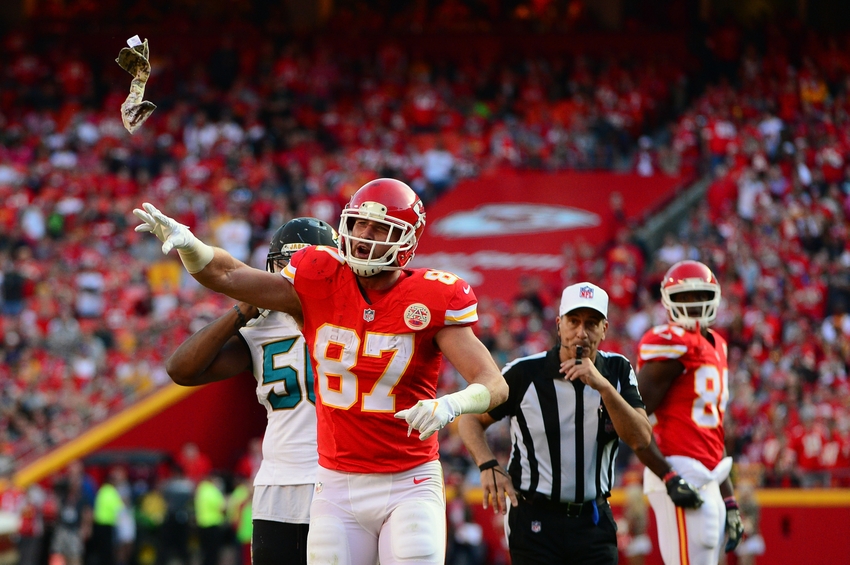 Stop looking at your phone because there will be no stat correction. You have to accept the fact you lost your fantasy football matchup this week.
You're upset and trust me, I get it. I'm frustrated. You're frustrated. Apparently Travis Kelce is frustrated. Yet, Kelce's actions out of frustration makes me even MORE frustrated. I want to use another "F" word, but I've been told that would not be in my best interest. So now I can't even voice my most candid feelings which is kind of, well you know…frustrating. Oh, fantasy football—why do you do this to us?
Every week, there is a group of things that go down in the world of fantasy that drives the collective group of owners crazy. A running back fumbles on the one-yard line. Some receiver injures himself after one catch for six yards. You know the drill.
Here are some of the biggest and most frustrating misfortunes of Week 9 for fantasy owners.
Brate Bails Out Owners
With six teams on a bye week in Week 9, Tampa Bay Buccaneers tight end Cameron Brate was a popular streaming option. However, owners playing against Brate didn't mind because he wasn't doing anything on Thursday Night Football.
With 3:42 left in the game Brate only had 2 receptions for 25 yards. Oh wait, what's this now? Jameis Winston is out of the game and Mike Glennon is playing quarterback for their last drive. What could go wrong?
Well, this is how it could go wrong. Brate went on to rack up three receptions for 18 yards on that final drive and with 1:03 left in the game his final reception was a 2-yard touchdown.
Wonderful. Just wonderful.
Come on Kenjon
Fantasy owners are already having a hard time figuring out what in the world is going on in the Philadelphia Eagles backfield. Is Ryan Mathews worth starting? Will Darren Sproles keep seeing a majority of the touches? Well, Eagles head coach Doug Pederson decided to go full Bill Belichick on fantasy owners and throw a wrench in their plans.
The Eagles were on the Giants three-yard line and obviously decided to run the ball. So who got the rushing touchdown? Was it Ryan Mathews? No. So then it was Darren Sproles, right? Nope. Instead, it was third/fourth-string running back Kenjon Barner. The guy who was averaging less than three carries a game coming into Week 9 gets the glory.
You have now earned the nickname, "Doug E Not-So-Fresh," Mr. Pederson.
Kelce Loses His Cool
With 11:17 left in the game, Nick Foles threw an almost-touchdown pass to tight end Travis Kelce, but the ball fell incomplete. Was Kelce interfered with on the play? I think there's a strong case for that. Kelce also thought there was strong case for that. That's why he griped to a couple officials for not penalizing the Jaguars on the play. The second official apparently did not want to hear it.
After complaining to the second official, Kelce was flagged for unsportsmanlike conduct. Kelce showed his displeasure by taking his towel out of his pants and throwing it at him. In case you didn't know, officials don't like that sort of thing. Kelce was then ejected.
Up to that point, Kelce was leading all Kansas City Chiefs in receptions, receiving yards and was second in targets. There's a good chance he would've had more receptions and receiving yards had he stayed in the game. Heck, he might have seen a potential target in the end zone on the next play had he not lost his cool.
Du-Who Harris?
When it was announced running back Carlos Hyde was going to miss another game, running back DuJuan Harris was named the starter. Who cared though, right? He's an average running back on a bad team and should be in some sort of timeshare. Owners who were plugging him in starting lineups were acting out of sheer desperation.
Not-so predictably, Harris went on to rack up 142 total yards and one touchdown. He finished as the seventh-best fantasy running back for Week 9. Owners who had the stones to play him last got way more than could have asked for. Owners who had to play against him can't believe a guy who was available in 99 percent of leagues a week ago was a big reason why they lost.
McCoy Owners Don't Agree with Gillislee
Nobody could have faulted LeSean McCoy if he sat out of Monday's game against the Seattle Seahawks. He is dealing with a hamstring injury and was obviously less than 100 percent. Instead, he decided to tough it out and play.
McCoy didn't look hindered at all by his hamstring injury and played really well. So how did the coaching staff reward McCoy for his efforts? By letting backup running back Mike Gillislee run it in for a touchdown from one-yard out.
Shady only racked up 41 yards and two first downs on the drive. But hey, why would you reward him from one-yard out? What has he really done for you?
Not Out of the Woods
Owners who had to play against Robert Woods on Monday Night Football already chalked up the win for the week. The guy is barley is a WR4 and hasn't done much of anything all season long. Was he really going to do something against the Seattle Seahawks defense?
Well not only did he do "something" he set career highs in receptions (10) and receiving yards (162). His 162 receiving yards was the most by any player in Week 9.
We all saw that one coming right?
Did I miss something? If so, I'd love to hear it! Tweet me and vent your frustrations about a particular player or play that ruined your chances of winning this week. After all, we are in this together (we aren't, but I'm just trying to make you feel better).
This article originally appeared on