Fantasy Football Frustrations: Week 8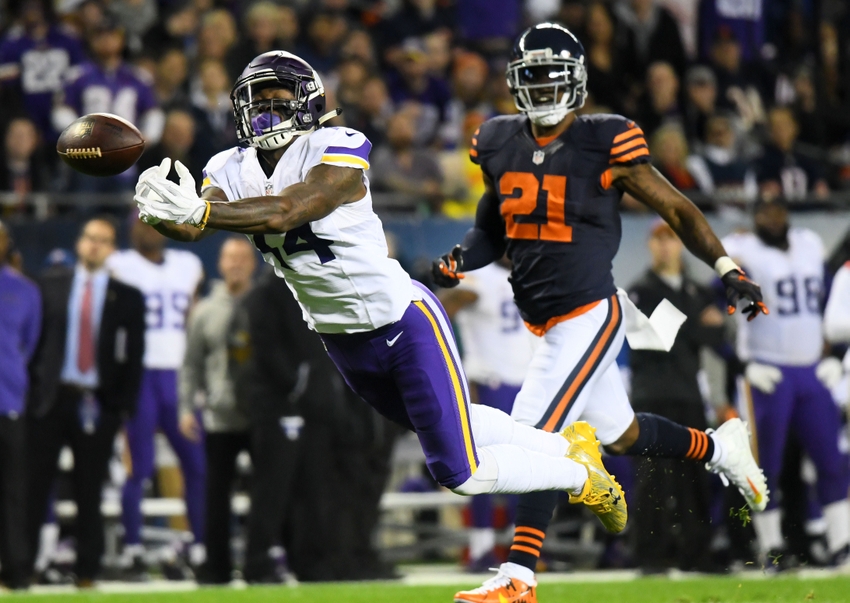 There's nothing more frustrating than fantasy football and these frustrations from Week 8 only confirm that.
We've all been there. You're looking at the final score of your fantasy football matchup and wondering where it all went wrong.
One player, one play or one non-injury could have made the difference and you would have been a winner this week. Instead, it didn't turn out that way and now you have to wait a week before attempting to wipe the stink off of you.
Here are some of the biggest and most frustrating misfortunes of Week 8 for fantasy owners.
Titans Defense Packs it in
The Titans were flat-out dominating the Jacksonville Jaguars on Thursday Night Football. They were leading 36-8 with 5:19 left in the game when they punted the ball back to the Jaguars. This is a perfect opportunity for the Titans defense to rack up some sacks and possibly an interception right? Wrong.
Instead, Blake Bortles drove down the field and and connected with wide receiver Allen Hurns for a five-yard touchdown. It's a little frustrating for owners who were starting the Titans D/ST but this kind of stuff happens. The defense hangs back, plays prevent and keeps everything in front of them. It is what it is.
The really frustrating part was with 2:33 left in the game. Bortles and the Jaguars offense once again got the ball back on their own nine-yard line. They then proceeded to drive 91-yards down the field for a touchdown.
Everything the Titans D/ST accomplished throughout the first 54 minutes of the game was basically erased. Not to mention, the owners who had to play against Blake Bortles got shellacked due to garbage time.
Blake "Garbage Man" Bortles. He should really look into getting that trademark.
Mark Ingram Rides the Pine
Sure it wasn't the best matchup for the Saints starting running back Mark Ingram. He had to play against the Seattle Seahawks defense. However, with six teams on a bye week owners pretty much had to start him. Well, I'm sure they wish they didn't.
On Ingram's third carry of the game he fumbled the ball and it was then returned 34 yards by Earl Thomas for a Seahawks touchdown. After that, Ingram was benched and did not step foot on the field until the post-game handshakes. He finished the game with three carries, five yards and a fumble lost. That comes out to -2 points fantasy points for Week 8. Owners would have been better off starting Knowshon Moreno or Trent Richardson in their starting lineups.
If there's an owner out there who lost their Week 8 matchup by one or two points with Ingram in their starting lineup, no words can express how sad I feel for you.
Kickers Apparently Hate Kicking
Is it me or are kickers missing their field goal attempts and extra points at an all-time high?
Chargers kicker Josh Lambo delivered a zero spot for fantasy owners after missing a field goal and having one of his extra points blocked. Bengals kicker Mike Nugent missed a field goal and and an extra point after missing two field goals last week (I just feel like he doesn't care at this point). Chiefs kicker Cairo Santos missed a 28-yard field goal for crying out loud.
There were many more who kickers who fell short (or wide right) this week as but these are the ones that were most baffling.
Sam "Badford" Strikes Again
With 5:15 left in the first quarter of the Monday Night game between the Vikings and Bears, wide receiver Stefon Diggs got behind the defense. I mean he was wide the (bleep) open. No Bears defender was within 10 feet of him. Instead of hitting him in stride like a former Heisman winner and a former first overall pick in a NFL draft should, Sam Bradford overshot him.
If Bradford would have connected with Diggs, it would have been a 50-yard touchdown pass and 11 points for Stefon Diggs owners.
Listen, I'm sure there were other examples of quarterbacks missing wide open wide receivers this week but on a primetime game, this one sticks out of the most.
OT Games
Did you have to play against a player who had an extra quarter to rack up extra yards, fantasy points and/or a touchdown? If you played against players like A.J. Green, Giovani Bernard, Kirk Cousins, Derek Carr, Dak Prescott or Jason Witten you certainly did.
Did you have a player who played in an overtime game and you lost points because of it? If you played with the Eagles D/ST or Dustin Hopkins, you certainly did.
Matt Asiata Can't Punch it in
At the end of the second quarter the 5-11, 220-pound running back had three-straight attempts to score a touchdown. Once from the Bears four yard-line, three-yard line and two-yard line. He was denied on all three attempts and owners were denied an additional six fantasy points. So much for being the goal-line running back.
Did I miss something? If so, I'd love to hear it! Tweet me and vent your frustrations about a particular player or play that ruined your chances of winning this week. After all, we are in this together (we aren't, but I'm just trying to make you feel better).
This article originally appeared on