Fantasy Football Frustrations: Week 13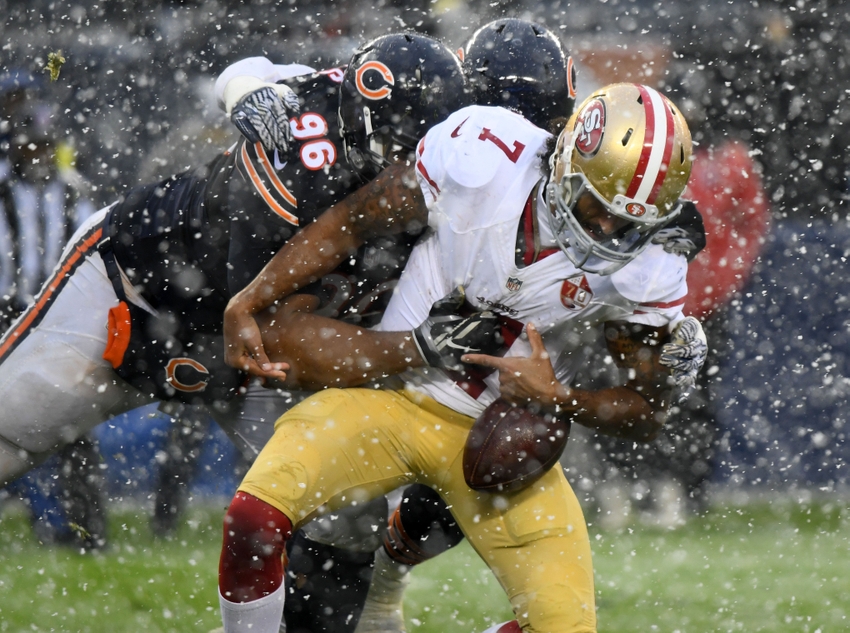 It's officially a wrap for a majority of fantasy football owners out there. Your season is over and for some of you, it ended in agonizing fashion.
Maybe one of your better players fell short on Monday Night Football. Maybe one of your opponents players, who deserves to be on the waiver-wire, had himself a career day. Either way, your championship aspirations will have to wait until 2017.
So what players, teams and moments crushed owners more so than any others?
Here are some of the biggest and most frustrating misfortunes of Week 13 for fantasy owners.
A Dunce Kaep
Well, it was a helluva time for Colin Kaepernick to have one of his worst games of his career.
Many owners picked up Kaepernick off of waivers and immediately plugged him into their starting lineups. I mean, why wouldn't you? The guy was the No. 1 fantasy quarterback in Week 12 and was averaging nearly 21 fantasy points a week heading into Week 13. The last time he scored fewer than 19 fantasy points in a game was back in Week 7. So even if he underperformed, there was still a good chance he would finish as a top 10-12 quarterback—or so it seemed.
Instead, Kaepernick finished with four passing yards (yes, you read that right) and 20 rushing yards before being benched in the fourth quarter. He provided owners with just two fantasy points. He was the second-worst fantasy quarterback only behind Jets quarterback Ryan Fitzpatrick.
Yes, it's okay to cry.
The New Orleans Aints
There are three things that I always thought I could count on: The sun will rise, the sun will set and Drew Brees will throw touchdowns when he plays at home in the SuperDome. After Sunday, I'm now waiting for the sun to explode.
For the first time since 2009, Drew Brees did not throw a touchdown pass in a home game. Not only did he not throw a touchdown pass, but he also threw three interceptions. In the end, he only scored seven fantasy points and his teammates didn't do much better. The Saints running back duo, Mark Ingram and Tim Hightower, combined for four fantasy points. By "combined" I mean Ingram scored four points and Hightower scored zero.
The Saints rookie wide receiver, Michael Thomas, who leads the Saints first-ranked passing offense in targets, receptions, receiving yards and receiving touchdowns finished with four fantasy points. It was his second-lowest fantasy output in 2016.
Gillislee Plays the Vulture…Twice
If you are a LeSean McCoy owner, you "shouldn't be" upset. The guy had 191 total yards on 24 touches. He was an elusive beast on Sunday against the Oakland Raiders and he delivered you 19 fantasy points. However, if you are upset that's okay with me. You're allowed to be irrational. After all, his backup Mike Gillislee finished with only three fewer fantasy points on 16 fewer touches and 142 fewer yards.
You know why? It's because he scored a one-yard and a two-yard touchdown that could have been and should have been McCoy's. I mean, at least one of them should have been McCoy's right?
The Colts Have a Party; Don't Invite Gore
It was a good week to start your Indianapolis Colts players because they absolutely embarrassed and destroyed the New York Jets. Andrew Luck's four touchdown passes helped him finish as Week 13's No.1 quarterback (along with Joe Flacco).
T.Y. Hilton had 146 receiving yards on nine receptions. Donte Moncrief only finished with 26 receiving yards but he did manage to score a touchdown for the fifth straight game.
Then there was Frank Gore, who finished with 79 rushing yards on 20 carries and no receptions. His backup running back, Robert Turbin, finished with just as many fantasy points with 63 fewer yards because he cultured a five-yard touchdown run in the fourth quarter. Turbin and Gore have now scored the same amount of fantasy points in each of the last two weeks. The difference is Turbin has done it on 26 fewer touches and 76 fewer yards.
Dwayne Allen? Seriously?
Yes, I'm well aware that I did not talk about Dwayne Allen when mentioning about Colts players who played well in the section right above. That's because this guy deserves a category all to himself.
Yesterday, it seemed like the New York Jets didn't have any interest in covering tight end Dwayne Allen and in all honesty, who can blame them? He only had 24 receptions and 256 receiving yards coming into the game. The Colts "backup" tight end Jack Doyle has been more productive and reliable than Allen all season long. The fact the Colts gave this guy nearly $30 million in the offseason is kind of a joke (keep up the good work, Ryan Grigson).
Then Allen, against all odds, goes out and scores three touchdowns all on Monday Night. Before yesterday, Allen had three receiving touchdowns over his last 23 games. He also finished the game with 72 receiving yards. The last time he had more than 72 receiving yards in a game was Nov. 4, 2012.
If you lost your week and a playoff spot because of Dwayne Allen, feel free to break and/or smash anything within reach. You're well within your rights.
This article originally appeared on