Fantasy Football Frustrations: Week 12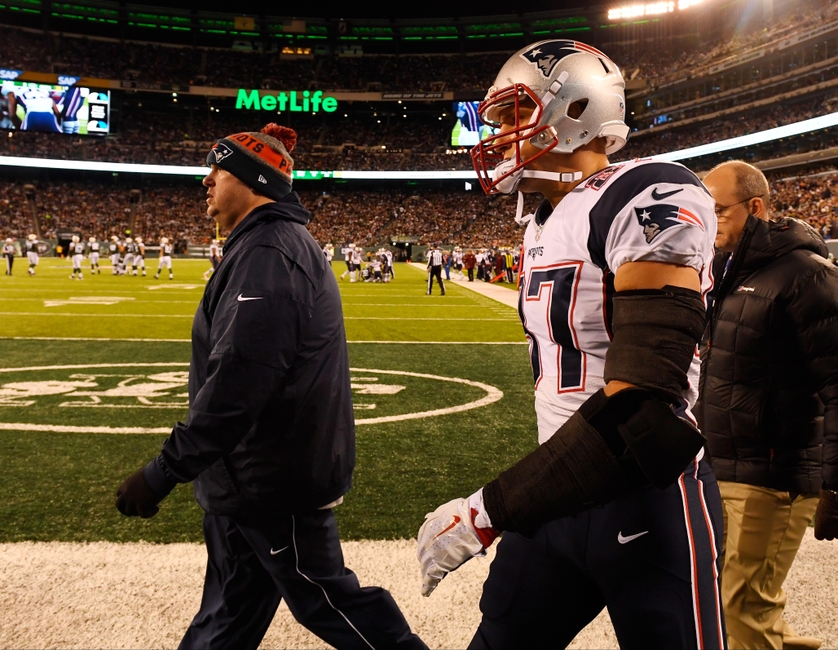 Time after time we depend and bank on certain players to do well in fantasy football, but are left disappointed and frustrated.
Even when a great player has a dream matchup against a poor defense, it doesn't always work out in our favor. Even though that should be expected and anticipated every week by every owner, it still comes as a surprise when it happens.
This particular week was especially tough for owners as many are still fighting for the last couple playoff spots. Some of the best fantasy players of the fantasy football season in 2016 (Julio Jones, DeMarco Murray and Melvin Gordon) just didn't get it done for owners this week. Yet those performances, although disappointing, were not the most frustrating moments of the week.
Here are some of the biggest and most frustrating misfortunes of Week 12 for fantasy owners.
Gronk's Goose Egg
It was a mentally draining week for Rob Gronkowski owners. In the beginning of the week, we heard there was an improbable chance he was going to play Sunday against the New York Jets. Simple enough, owners just need to find a Plan B for Week 12 just like they did in Week 11. Then later in the week, it was rumored he could play in Sunday's game. To make matters more complicated, the Patriots were not playing until 4:25 p.m. ET.
So what is an owner supposed to do?
Take the chance and wait to see if he's active or play an inferior tight end who they know will be playing in Week 12? If you were one of the owners who took the chance and waited on Gronk, it worked out in your favor because he ended up being active for the game. At least that's how it appeared at first.
Gronkowski was forced from the game in the first quarter with a back injury and did not return. He finished the game with zero receptions on two targets and zero fantasy points. The frustration does not end there for owners because now they have to wait to see what his status is for Week 13 and beyond.
Brandin Cooks and Antonio Gates
It's one thing to fall short of expectations and it's another to just to kill owners. If you owned Brandin Cooks or Antonio Gates in Week 12, that's exactly what happened to you.
Both of the players each had zero receptions on zero targets in their games on Sunday. Neither of these players were forced from the game with an injury like Gronkowski. However, they might as well been because they were non-existent on the stat sheet.
How the New Orleans Saints didn't target their No. 1 WR in an entire game is beyond me. How the Chargers didn't target their starting tight end is baffling. Especially when you consider they are without their No. 1 wide receiver Keenan Allen and receiving running back Danny Woodhead.
This is the one and only time Brandin Cooks, Antonio Gates, and I all had the same fantasy production in the same week. I'm still available in 100 percent of leagues, in case you were wondering.
Snead > Wilson
It appeared to be a great matchup for Russell Wilson and the Seahawks offense as they took on the Tampa Bay Buccaneers defense. I mean, were are talking about the same Buccaneers defense that gave up eight combined touchdown passes between Weeks 8-9 and the same Buccaneers defense that gave up 500+ passing yards to Derek Carr in a game. Not only was Wilson projected to have a good day, but he was one of the best plays of all the quarterbacks in Week 12. As usual, things didn't go the way we all anticipated. In fact, Wilson's performance was just awful. Just how awful was it?
Let me put it this way: New Orleans Saints wide receiver, Willie Snead, finished with better passing stats than Wilson.
Wilson finished his game going 17-of-33 for151 yards with zero touchdowns and two interceptions. From just a passing standpoint, that is a whopping two points. Snead, on the other hand finished 1-of-1, 50 yards and a touchdown. That comes out to six points from a fantasy passing standpoint.
"Luckily" for owners, Wilson chipped in 80 yards on the ground brining his total for the week to 10 points.
DeVante Almost Has a Day
The phrase "game of inches" is frequently used when talking about football. At the same time, it's not overused because there are examples of that phrase in just about every NFL game. That phrase especially rang true for Miami Dolphins wide receiver DeVante Parker, who had two big catches taken away from him.
Early in the second quarter Parker caught a 10-yard touchdown pass from quarterback Ryan Tannehill. Unfortunately for Parker owners, the call was overturned and, two plays later, running back Jay Ajayi scored a touchdown. Then in the third quarter, Parker had a a 32-yard reception overturned as it was deemed he stepped out of bounds before establishing the catch in the field of play. To add insult to injury, Paker was hurt on the play and did not return.
Parker finished his day with 3 receptions for 64 yards. However, if the field of play had a couple more inches, he could have finished with 5 receptions,106 yards and 1 touchdown. I'm sure plenty of Parker owners could have used those 10 extra fantasy points.
Coop Pooped the Bed
If you didn't watch the Oakland Raiders vs. Carolina Panthers game but saw the final score (35-32), you were probably excited. The Raiders offense obviously put up a lot of yards and scored a lot touchdowns. The Raiders No. 1 wide receiver, Amari Cooper, must have gotten in on the action, right?
Sadly, he did not. Instead, he finished his day with four receptions, 22 yards and zero touchdowns. His 22 receiving yards are the fewest he's had in any game since Week 17 of 2015.
Five different Raiders had more receiving yards than Cooper, including wide receiver Johnny Holton—whoever he is. Eight different Raiders finished with more fantasy points than Cooper, including their D/ST, kicker and, yes, Holton.
Cooper like many fantasy owners must clean our sheets and start fresh next week. However, next week will mark the last fantasy week for many owners until September.
Sad isn't it?
This article originally appeared on