Fantasy Football Alert: Odell Beckham Jr. 26-Yard Touchdown (Video)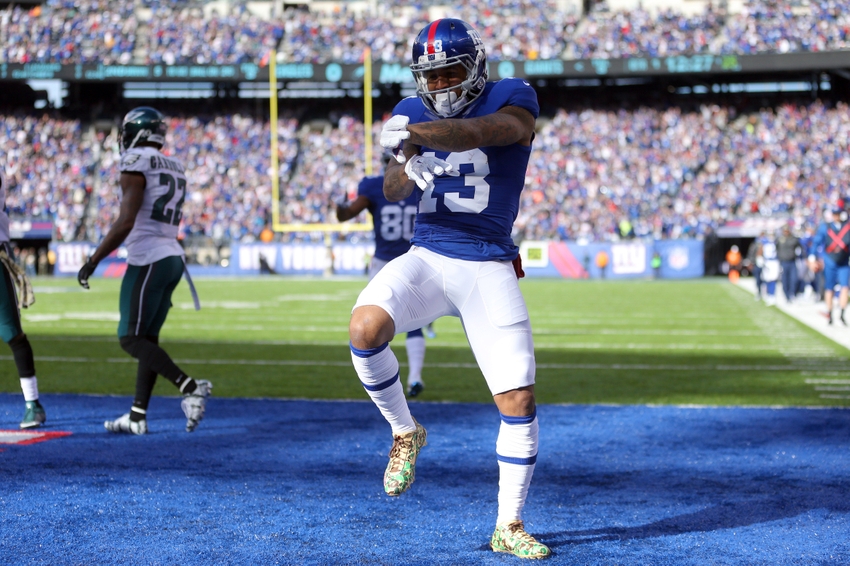 New York Giants wide receiver Odell Beckham Jr. (heard of him?) already scored a touchdown against the Philadelphia Eagles.
Well that didn't take long. The Philadelphia Eagles received the ball to start the game, but they didn't keep it long. Rookie quarterback Carson Wentz threw a pass intended for wide receiver Nelson Agholor, but it was intercepted by Giants safety Landon Collins.
With the Giants getting the ball back, they went to work—if you can even call what they had to do work. It only took two plays before Eli Manning and Odell Beckham Jr. did that thing where the latter gets open and the former hits him with a beautiful pass.
The result is a thing of beauty like this:
.@OBJ_3 in open field?
SEE YA!

Touchdown, @Giants! #PHIvsNYG https://t.co/3fkH61SDgu

— NFL (@NFL) November 6, 2016
That is one of the many things that make Odell Beckham Jr. so dangerous. He can beat any cornerback in the NFL one-on-one on a deep pass. However, if you want to give him a small cushion, he'll take a short slant and take it all the way for a touchdown.
Owners who have OBJ in their starting lineup: congratulations. Owners are who are playing against OBJ: good luck. It looks like it's already going to be a long day for you.
Speaking of long days, Eagles cornerback Leodis McKelvin looks like he might in for one. But hey, if there's a small silver lining all of this, it could be McKelvin had OBJ starting in his fantasy lineups.
More from NFL Spin Zone
This article originally appeared on