Fantasy Football Alert: Mike Wallace 95-Yard Touchdown (Video)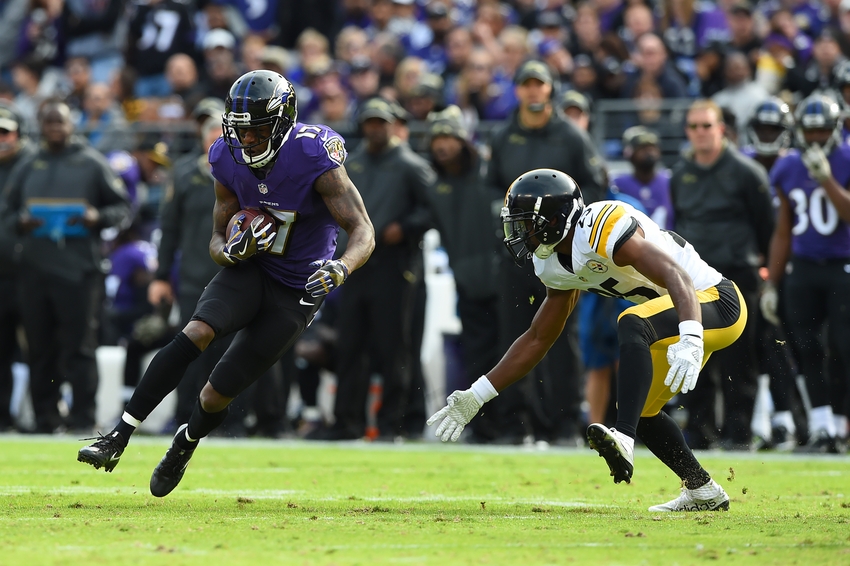 Baltimore Ravens receiver Mike Wallace burned his former team, the Pittsburgh Steelers, for a 95-yard touchdown in the opening quarter
Mike Wallace no longer plays for the Pittsburgh Steelers. Instead, he plays for their division rival Baltimore Ravens. So when you say that he scored a 95-yard touchdown, that's no longer a good thing for Pittsburgh.
Wallace left the Steelers organization back in 2013 and he signed a big-time contract with the Miami Dolphins. After just two seasons that marriage went south (get it?) and he was then traded to the Minnesota Vikings in a salary-dump move.
He only lasted one season with the Vikings before he was released. When he signed with the Baltimore Ravens during the 2016 off-season it looked like a great matchup on paper. The reason is because Wallace has game-breaking speed and Ravens quarterback Joe Flacco has one of the strongest arms in the NFL.
That makes sense right? Well if you didn't think so before, take a look at this:
THAT MAN CAN FLY!

Joe Flacco + Mike Wallace = NINETY-FIVE YARD TD! #RavensFlock https://t.co/ifbAhLyBud

— NFL (@NFL) November 6, 2016
Yes I understand that particular play was more about the yards after the catch. However, if the Steelers want to play Wallace one-on-one, they are running this risk. Flacco has the arm-strength to squeeze in pass on tight converge or throw it deep. Wallace has the speed to beat you deep or to beat you short and then turn it into a big play.
Wallace is one of many players to "return the favor" to his former club in a #revengegame narrative. I couldn't read Wallace's lips when he celebrated in the endzone but I can only imagine it was something like, "You mad bro?"
This article originally appeared on