Fantasy Football 2017: Top 10 Free Agents to Watch
Daniel Thomas/FanSided via NFL Spin Zone

Fansided
As you already prepare for fantasy football in the 2017 season, we look at the biggest free agents to follow this offseason.
Here's the clean slate many of you have been looking for in fantasy football. The 2016 season is over and done with. Forget the players who let you down, the bad trades you made and the horrible free agents you prioritized to pick up. It's all in the past. That's unless you won your league. In that case, keep bragging and keep sending group messages to the other members in your league reminding them who the champ is.
Either way, now is the time to get ahead of the curve and start preparing for the 2017 season. Yes, right now! What else do you have to do? Watch college hoops? Please. Wake me up in March when they figure out all 68 playoff teams. Watch the NBA? Please. Wake me up in June when the Golden State Warriors and the Cleveland Cavaliers start game one of the Finals. Get back to your job that keeps food on the table for your family? Please. Unless you're working on commission, you'll be fine.
The NFL free agency period kicks off in less than one month. There are a lot of players who will be switching teams. For fantasy football purposes, who are the players you need to keep an extra eye on? I'm glad you asked.
Here are the top 10 free agents to watch this offseason for 2017 fantasy football.
10. Kenny Britt, WR
2016 Team: Los Angeles Rams
ESPN Finish: T-27th WR
NFL.com Finish: 26th WR
It took the former first-round pick out of Rutgers eight seasons but Kenny Britt finally went over 1,000 yards receiving in a season. Not only did he reach a new milestone in receiving yards but he also set a career high in receptions with 68. His ineffectiveness in the NFL hasn't been due to lack of talent. Instead, bad quarterback play and injuries have kept him as an afterthought.
Since entering the league in 2009, Britt has been catching balls from quarterbacks like Vince Young, Jake Locker, Kerry Collins, Matt Hasselbeck, Ryan Fitzpatrick, Austin Davis, Shaun Hill, Nick Foles, Case Keenum, and Jared Goff. (If you need to excuse yourself for a moment to vomit, I understand.) Out of the bunch, Hasselbeck is probably the one with the best career, but the last time he made a Pro Bowl (2007), Britt was still in college.
Between 2010-2012 Britt missed a total of 19 regular season games due to injuries and that includes a torn ACL and MCL in 2011. Since 2014, Britt has only missed one game in three seasons. It's no coincidence this three year stretch has been the best of his career.
Recording 68 passes for 1,002 yards and five touchdowns in 2016 might not grab many fantasy owners attention. However, keep in mind he did it while catching passes from Case Keenum and Jared Goff. If Britt goes to a team with a solid quarterback and offense, he could produce similar fantasy production in 2017.
It's true he might not be a team's No. 1 wide receiver like he was in Los Angeles, but that might not matter. He wasn't exactly the vocal point of the Rams offense as evident by his 68 receptions (31st among wide receivers) and 111 targets (tied for 29th among wide receivers) in 2016. In another offense, he could potentially see those type of catches and targets as the No. 2 wide receiver.
9. Kenny Stills, WR
2016 Team: Miami Dolphins
ESPN Finish: T-27th WR
NFL.com Finish: 27th WR
If you're the Miami Dolphins, you want to re-sign Kenny Stills if you can get him at the right price. If you're a fantasy football owner and you want to see what kind of ceiling he has, you want him to sign somewhere else.
Stills is as speedy and playmaking wide receiver who has played second or third fiddle on every offense during his NFL career. In four years in the NFL, he has never had more than 85 targets in a season and has averaged only 70 targets per season for his career. Despite the lack of targets and receptions, Stills has managed 10 receptions of 20+ yards in three-straight seasons. His 17.3 yards per reception in 2016 was second-most in the NFL among wide receivers with at least 40 receptions.
The problem for fantasy owners if Stills goes back to Miami is he is going to be fighting for targets with DeVante Parker and both of them will be playing behind Jarvis Landry. There's no way he reaches his ceiling in that crowded wide receiver corps. If he is able to go to a team like the Philadelphia Eagles where he can be the No. 1 wide receiver on the outside with Jordan Matthews is in the slot, he should excel. At the very least, he should see 100+ targets for the first time in his career.
Another intriguing situation is if the Washington Redskins let both DeSean Jackson and Pierre Garcon walk in free agency and sign Stills. He could have a role similar to the one Jackson has had over the last three years in Washington. In two out of three seasons D-Jax has had 1,000+ receiving yards and 94+ targets. In 2016, Jackson led the NFL in yards per reception (17.9) among wide receivers with at least 40 receptions. Under that criteria, he's the only wide receiver that finished with a better yards per reception average than Stills.
8. Danny Woodhead, RB
2016 Team: San Diego Chargers
ESPN Finish: T-87th RB
NFL.com Finish: 93rd RB
Danny Woodhead's 2016 fantasy football finishes are skewed because the 5-8 scat-back tore his ACL in Week 2 against the Jacksonville Jaguars. Obviously, it was a bad way to start the 2016 season for many fantasy owners. Yet, there's a lot of optimism that Woodhead could be a steal in fantasy drafts in 2017.
By suffering the injury in Week 2, Woodhead should be 100 percent healthy before training camp starts. Also, by doing next to nothing in 2016, many owners will overlook him in 2017 drafts. This is basically the same situation Woodhead was in two years ago.
In 2014, Woodhead broke his leg in Week 3 and missed the rest of the season. In 2015 fantasy drafts, he did not garner a lot of attention and was overlooked. That season he finished with 1,091 total yards, nine total touchdowns and 80 receptions. As a result, he finished the season as a top-three fantasy football running back in PPR leagues. This isn't to say Woodhead will be a top-three PPR back in 2017, but he could finish as a top-ten PPR running back in the right situation.
Re-signing with the Chargers might not be a bad option for Woodhead. Yes, Melvin Gordon went bonkers with Woodhead sidelined but he also missed three games due to injury. He's now missed five games in two years. If the Chargers want to keep Gordon fresh for the long haul, they should find a way to get Woodhead around 150 total touches if they re-sign him.
A dream scenario of mine would be for Woodhead to go to the New Orleans Saints. The team hasn't had a great receiving running back option since Darren Sproles left and, by suffering two season-ending injuries over the last three years, he would come cheap.
7. Terrelle Pryor, WR
2016 Team: Cleveland Browns
ESPN Finish: 20th WR
NFL.com Finish: 18th WR
In Terrelle Pryor's first full season as a starting NFL wide receiver, the former Ohio State Buckeye had himself a year. He finished 2016 with 77 receptions, 1,007 receiving yards and five total touchdowns. What's more impressive about his season is he was able to produce those kind of numbers with three different quarterbacks.
With another offseason to prepare and to work on his craft, Pryor should be better in 2017. More than likely, Pryor is going to stay in Cleveland either with a long-term contract or with the franchise tag. Even with this being the case, his stock shouldn't take that big of a hit. Lets face it: his quarterbacks weren't that good in 2016 and couldn't be any worse in 2017.
The Browns have already released Josh McCown and Robert Griffin III should be handed his walking papers sometime over the next month. That means the Browns 2017 starter will be Cody Kessler, a veteran or a rookie. If it's Kessler, he in theory should be better in Year 2 after putting up decent stats as a rookie. A veteran like Jimmy Garoppolo would certainly have the arrow pointing up for Pryor. If it's a rookie quarterback, then there will be some question marks surrounding Pryor and the the Browns offense—especially if they draft a quarterback in the first round and the organization/coaching staff feels obligated to start him even if he's not ready.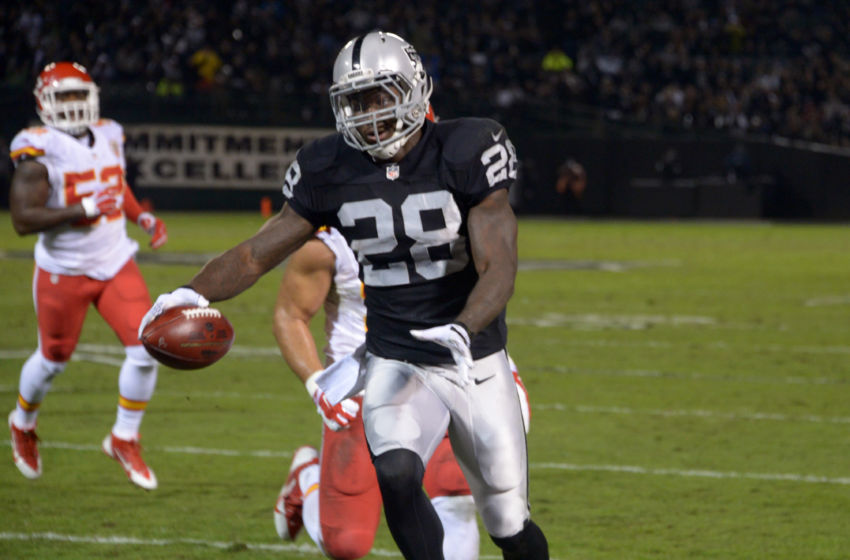 6. Latavius Murray, RB
2016 Team: Oakland Raiders
ESPN Finish: T-12th RB
NFL.com Finish: 13th RB
Despite the good finish for Latavius Murray in 2016, it was a strange year for him. Over the first four games of the season, the Raiders were attempting to use a three-man running back by committee with Murray, DeAndre Washington and Jalen Richard. A toe injury kept him out of the Weeks 5-6. But after he returned, the coaching staff decided to use Murray like a workhorse.
After only averaging 12.5 touches in Weeks 1-4, Murray averaged 18 touches over the team's final 10 regular season games. Yet, despite the increase in usage Murray didn't even reach 800 yards rushing. So how exactly did Murray finish as a top 12/13 fantasy running back? He saved his owners by scoring 12 touchdowns.
If Murray re-signs with Oakland, he would be penciled in as the team's starter for the third year in a row. The question is, will the team try to employ a running back by committee again, or will they let Murray handle the ball 18-20 times a game consistently? If another team offers Murray a lucrative long-term contract, it will be assumed he will be the team's workhorse. If that were to happen, then we would have to speculate how he would function in a offense that doesn't have one of the best offensive lines in the NFL.
5. LeGarrette Blount, RB
2016 Team: New England Patriots
ESPN Finish: 6th RB
NFL.com Finish: 7th RB
It wasn't Dallas Cowboys running back Ezekiel Elliott and it wasn't Arizona Cardinals running back David Johnson. Instead, it was New England Patriots running back LeGarrette Blount who led the NFL in rushing touchdowns (18) in 2016. On top of leading the NFL in rushing touchdowns, Blount also finished eighth in the NFL in rushing yards with 1,161. Despite coming off the best season of his career, would it be a surprise if the Patriots let him walk in free agency? Absolutely not.
As we saw during the regular season and especially in the postseason, the Patriots are deep at the running back position. Dion Lewis found his groove late in the season after coming back from an ACL tear and James White was brilliant during the Super Bowl. With that said, neither running back is the "big back" that Blount is. At 6-0 and 250 pounds, he's a solid running back on first and second down while being a threat on short-yardage and goal line situations. The fact is, if Blount doesn't re-sign with New England his stock will be going way down.
2016 was the perfect storm for Blount. Dion Lewis who came out of nowhere in 2015 was still recovering from an ACL tear. Tom Brady was suspended for the first four games so the Patriots leaned on the running game. In three out of those four games without Brady, Blount had 22+ carries. In the other 12 games with Brady, he only had one game with 22+ carries. Yet, Brady's presence in Weeks 5-17 forced opposing defenses to play back and not stack the box. As a result, there were some great running lanes for him.
Is there a chance Blount will rush for 1,000+ yards and lead the NFL in rushing touchdowns again in 2017? If he returns to the Patriots there's a chance even if it's an improbable one. If Blount ends up signing with a different team in 2017, there's no chance.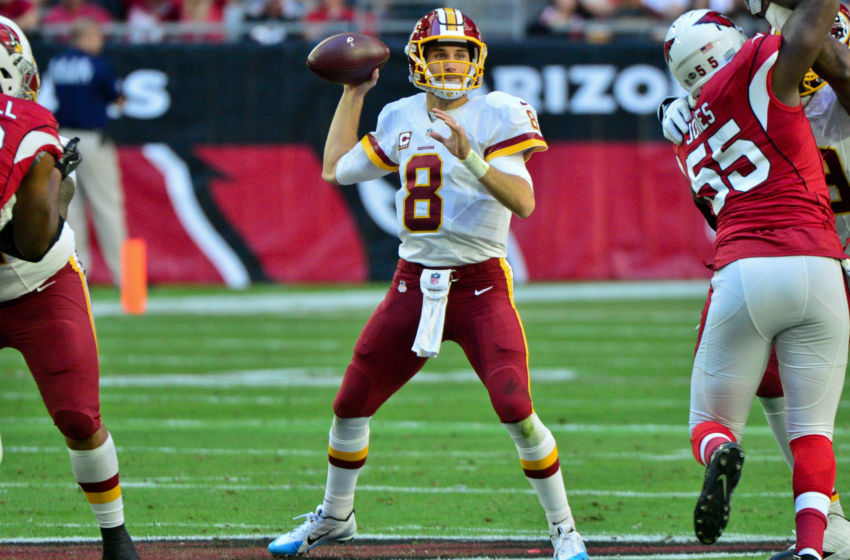 4. Kirk Cousins, QB
2016 Team: Washington Redskins
ESPN Finish: 5th QB
NFL.com Finish: 5th QB
A year after finishing 2015 as the eighth best fantasy football quarterback, Kirk Cousins progressed even further and finished as a top-five quarterback in 2016. Right now it doesn't look like the Redskins are going to let Cousins get away. At the same time, it doesn't look like they are committed to him as their quarterback of the future.
A year after playing under the franchise tag, the Redskins appear to be set to slap the tag on him for the second-straight season. The obvious reason is because the Redskins aren't 100 percent sure if he's a franchise quarterback and are hesitant about giving him a big contract. There's a chance the Redskins could tag and trade him. The San Francisco 49ers seem to be a logical landing spot with Cousins former offensive coordinator, Kyle Shanahan, being the team's new head coach. Yet, at this moment that scenario seems unlikely and returning to Washington is the best bet.
If Cousins does play for Washington in 2017, the offense could look a lot different compared to the last two seasons. Both wide receivers Pierre Garcon and DeSean Jackson are free agents and could be gone in 2017. If they both leave in free agency, the passing game and Cousins numbers could take a serious hit. So not only will Cousins stock be trending down if he is traded to a bottom-dwelling team like the 49ers, but if the Redskins don't take care of their wide receiver corps, his stock could be trending down in Washington as well.
3. DeSean Jackson, WR
2016 Team: Washington Redskins
ESPN Finish: T-30th WR
NFL.com Finish: T-30th WR
For the fifth time in Jackson's nine year career, the 5-10 speedster eclipsed 1,000 receiving yards in a season. Heading into free agency, there isn't a clear indication where Jackson will sign but there are some hunches.
Jackson could always re-sign with the Washington Redskins. He and Pierre Garcon are both free agents and their 2016 first-round pick wide receiver Josh Doctson only appeared in two games last season. With a lot of uncertainty around their the wide receiver position, it would make sense for Washington to re-sign either Jackson or Garcon. In three seasons in Washington, Jackson has had 1,000+ receiving yards in two of them.
There's speculation Jackson could return to the Philadelphia Eagles who are in dire need of wide receivers. If he returns to Philadelphia he very well might be Philadelphia's No. 1 outside wide receiver while Jordan Matthews occupies the slot. If this happens it would be a good situation, because quarterback Carson Wentz appears to be the real deal and has no problem taking shots down the field.
Jackson could head out west to join a team like the Los Angeles Rams. As we all know the Rams relocated to California last season and Jackson is from Cali. He could be enticed to go back home especially since the Redskins former offensive coordinator, Sean McVay, is now the head coach. If that were to happen and DeSean would be catching balls from Jared Goff, his stock would be trending down.
2. Alshon Jeffery, WR
2016 Team: Chicago Bears
ESPN Finish: T-52nd WR
NFL.com Finish: 53rd WR
Just like with Danny Woodhead a few slides ago, Alshon Jeffery's 2016 finish is skewed because he missed some games last season. However, it was not due to injuries.
Jeffery was suspended after Week 10 for a violating the league's PED policy. As a result, he missed four games. When he came back in Week 15, Jeffery combined for 11 receptions, 181 yards and one touchdown in Weeks 15-16 before throwing up a dud in Week 17 (one reception, 10 yards). Despite Jeffery's suspension and history of nagging hamstring injuries, he's still the most popular wide receiver on the free agent market. The 6-3 and 218-pound Jeffery is a big target who will only be 27 years old when next season begins.
One team that will surely be targeting Jeffery is the Philadelphia Eagles. As mentioned before, the Eagles would be a good spot for a wide receiver of Jeffery's caliber. Carson Wentz looked solid as a rookie and Jeffery would undoubtedly be the No. 1 wide receiver if he chooses to go there. There are a number of other teams with promising young quarterbacks that would make sense for Jeffery such as the Titans, Buccaneers and Redskins.
The real question about Jeffery might not be his location, but rather his availability. Only twice in his five year career has he played in all 16 games. But hey, that's another conversation for another time.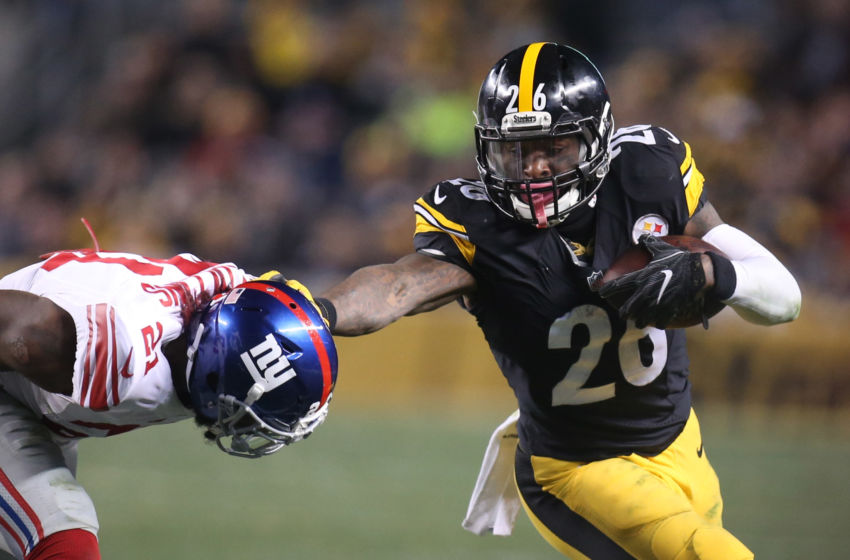 1. Le'Veon Bell, RB
2016 Team: Pittsburgh Steelers
ESPN Finish: 4th RB
NFL.com Finish: 4th RB
Listen, there's a 99.9 percent chance Bell returns to the Pittsburgh Steelers. He's arguably the best running back in the NFL and, with Ben Roethlisberger expected to return, the Steelers Super Bowl window is still open. Despite missing four games in 2016 (three for suspension and one for rest) Bell still amassed 1,884 yards from scrimmage and hauled in 75 receptions. The guy is a freak. With that said, the 2016 season wasn't all good for Bell.
For the second year in a row, Bell was suspended. For the third year in a row, Bell watched the Steelers lose in the playoffs while he was on the sidelines dealing with an injury. His history with suspensions and injuries are the main reasons why the Steelers aren't in a rush to give Bell a lucrative contract. Instead, he'll more than likely get slapped with the franchise tag.
The only way this situation gets interesting is if Bell becomes disgruntled with the franchise tag and demands a long-term contract. If a situation like that were to occur, he could threaten to sit out of regular season games. There hasn't been any reports indicating a situation like that is on the horizon. So until/if this situation happens, look for Bell to be on the Steelers and to be one of the top picks and fantasy backs in 2017.
This article originally appeared on