Fantasy Football: 2016 Predictions and Awards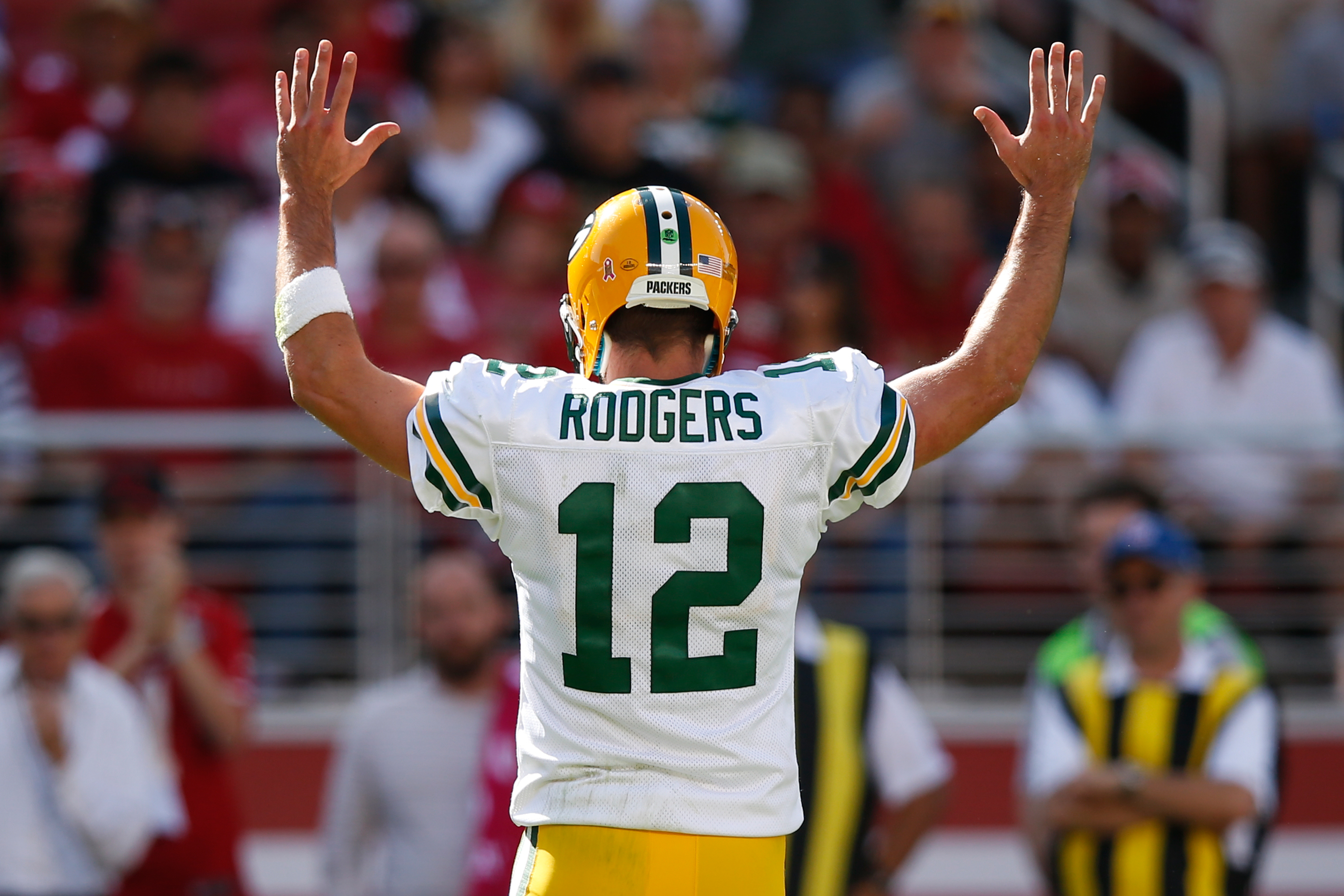 Predictions, awards, and much more for the 2016 fantasy football season heading into NFL Week 1
Fantasy football is basically a game of predictions. You target specific players in drafts because you foresee them performing at certain levels. You start certain players on a week to week basis because you believe you see a favorable matchup.
In a month or two, we will start to see what predictions came to fruition and what ones did not. With that said, who wants to wait a month or two? Let's hand out some hardware now.
The 2016 Scoring Leader Award
Aaron Rodgers, QB — Green Bay Packers
It shouldn't be a surprise the scoring leader is a quarterback. History shows the overall scoring leader is typically a QB. It was Cam Newton in 2015, Rodgers or Andrew Luck (depending on league scoring rules) in 2014, Peyton Manning in 2013, Drew Brees in 2012. The list goes on.
Rodgers was the No. 7 QB in fantasy football last season and disappointed owners at his second-to-third round ADP. Yet, it wasn't his fault.
He lost his No. 1 receiver, Jordy Nelson, before the season due to a torn ACL. The Packers starting running back, Eddie Lacy, spent the 2015 eating his feelings and only finished with 758 rushing yards. With no real running game or deep threat, Rodgers wasn't able to put up his typical gaudy numbers.
In 2016, Nelson is healthy and Lacy looks like he's ready to bounce back. The Packers offense will regain their 2014 form when they finished sixth in the NFL in total offense.
Most Disappointing First-Round Pick
DeAndre Hopkins, WR — Houston Texans
This is not to say that I'm not a believer in Hopkins. He's an elite receiver with elite talents. With that said, the Texans offense is completely different from last year.
The Texans signed quarterback Brock Osweiler in the offseason along with running back Lamar Miller. They added wide receivers Will Fuller and Braxton Miller in the first three rounds of the 2016 NFL Draft.
Last season, the Texans QBs force-fed Hopkins. As a result, he finished third in the NFL in targets, receiving yards and tied for third in receptions. Hopkins finished first on the Texans in targets with 192. Nate Washington finished second on the Texans with 94 targets. I expect Osweiler to distribute the ball a little more evenly in the offense especially with first-round pick Fuller in the fold.
Last year, Texans RBs combined for five rushing touchdowns and only had one run over 40 yards. You can fully expect Lamar Miller to contribute more touchdowns and chunk plays in 2016, which should take away from Hopkins yards and touchdowns.
With all of these changes, it's hard to expect Hopkins to repeat last year's numbers. Instead of being counted on as a top three-to-five fantasy footballWR, don't be shocked if he falls outside the top-10.
Where the Hell Did He Come From Award
Tajae Sharpe, WR — Tennessee Titans
University of Massachusetts.
That's what you tell people when you hear them say ask, "Where the hell did Tajae Sharpe come from?"
Sharpe is a fifth-round rookie who has already claimed a starting spot in the Titans' offense and nobody should be able to wrestle that spot away from him. The Titans 2013 second-round WR Justin Hunter and 2015 second-round WR Dorial Green-Beckham are gone. Meanwhile, 2015 seventh-round WR Tre Mcbride has been relegated to the practice squad and Kendall Wright has missed a majority of the Titans offseason with a hamstring injury
Sharpe took this opportunity and ran away with it.
He finished the preseason with nine receptions and 163 yards. He appears to be QB Marcus Mariota's favorite WR at the moment and the rookie has a chance to lead all Titans WRs in targets, receptions, and receiving yards.
Kenneth Dixon, RB — Baltimore Ravens
Dixon is a rookie, in a crowded backfield and won't see a lot of touches early on.
Sound familiar?
Dixon is currently dealing with a torn MCL and ESPN's Adam Schefter reported last week Dixon will miss about four weeks. When he does come back, it shouldn't be a surprise if he takes the starting spot sooner rather than later. Sports Illustrated's Peter King believes Dixon could be the starter sometime in October. If that happens, Dixon could be in for a big season in Marc Trestman's offense.
Jared Cook, TE — Green Bay Packers
If you want to look for a tight end who is going undrafted in many 10-team leagues, but could finish as a top three-to-five fantasy TE, Cook is your man. I had a hard time trying to pick between Cook and Denver Broncos TE Virgil Green. But at the end of the day, I'm going to trust Rodgers more than Trevor Siemian.
Once upton a time, Rodgers enjoyed throwing to his tight end Jermichael Finley and why not? Finley was a highly athletic tight end who was a mismatch for defenses. Unfortunately, a spinal cord injury in 2013 ended Finley's career. Since then, the Packers TE position has been a uninspiring combination of Andrew Quarless and Richard Rodgers.
Cook, who signed with the Packers in the offseason, is the Packers new No. 1 TE. With his athletic ability, playing in the Packers offense and catching passes from Aaron Rodgers, the sky's the limit for Cook.
Jameis Winston, QB — Tampa Bay Buccaneers
Last year, Bortles broke out in year two of his NFL career and finished as a top-four FF QB. This year, that guy will be Jameis Winston.
Winston was a top 13-14 fantasy QB last season (depending on scoring system), so he isn't exactly as far off the fantasy radar as Bortles was last season. With that said, making the jump to one of the top QBs in fantasy would still be a remarkable feat.
During the preseason, Winston finished with a 4:1 touchdown-to-interception ratio and looked a lot more comfortable in Dirk Koetter's offense compared to last year. This biggest takeaway from their Week 3 dress rehearsal game was the Buccaneers offense ran a good amount of no huddle offense. According to ESPN's Jenna Laine, Tampa Bay plans on running a lot of no huddle during the regular season.
If that's the case, you can expect more plays from the Buccaneers. More plays means more opportunities and more opportunities should lead to more yards, touchdowns and fantasy points for Winston.
It'll also help Winston that cornerback Josh Norman is no longer in the division. Last season, Winston averaged 14 fantasy points against the Panthers while combining for six interceptions in their two meetings. With that situation improving for the Bucs QB, Winston could be a force in 2016.
This article originally appeared on