Fans of the Philadelphia Eagles have no reason to panic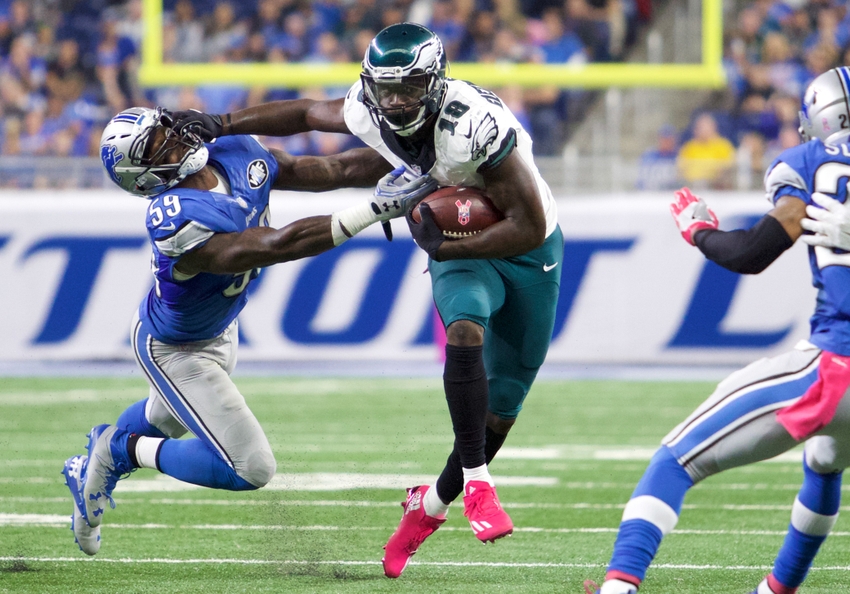 There's no need to panic Eagles fans.
Yes, the Philadelphia Eagles 29-23 loss to the Dallas Cowboys was agonizing to watch. There was some progress and flashes of potential. Then came rookie running back Wendell Smallwood's game-changing fumble. Then, as the NFL's trade deadline approached, Eagles fans clamored for Howie Roseman to make a trade. Torrey Smith was at the top of the list as talk of bringing in a receiver continued.
The desire for the Eagles to improve their receiving corps is not unfounded. Jordan Matthews led the team Sunday with 11 receptions for 65 yards. That's an anemic 5.9 yards per reception, but the San Francisco 49ers wanted a third-round pick for Smith, so Roseman didn't budge. Eagles fans were left with the disappointment of the team's inability to add a receiver before the deadline. Still, the birds are still in a great position to not only compete for the division, but, focus on continuing to improve.
Here's how:
DGB shows promise
Dorial Green-Beckham was one of the bright spots on Sunday and had his best game as an Eagle. His final totals were five receptions for 55 yards, but the talented youngster missed opportunities when rookie quarterback Carson Wentz started keying on him. Green-Beckham has shown, both in Philly and Tennessee, that he has the talent to overwhelm any corner he faces. Unfortunately, he has had no stability throughout his professional and collegiate career. Green-Beckham has yet to demonstrate the work ethic. He needs to polish his route-running skills. If he improves his precision, Green-Beckham will only create more opportunities for himself.
Sunday night's dagger
With just over 13 minutes left in the game on Sunday, the Eagles had possession of the ball and what seemed to be an insurmountable 10-point lead. Then, on first down, Smallwood took a handoff from Wentz and cut left before being smacked in the backfield and dragged to the turf by Terrell McClain. The football would end up in the hands of the Cowboys. Prior to that, rookie Dak Prescott showed signs of being a rookie as Eagles defensive end Brandon Graham gave the Cowboys offensive line more than they could handle.
Smallwood's fumble changed the complexion of the game. One of the most valuable commodities any team can have in football is momentum. This was proven on Sunday by Prescott and the Cowboys. Prescott, to that point, had thrown 20 incomplete passes and had a completion percentage of 48.7%. The Cowboys had become one-dimensional, and the Eagles had no issue getting pressure. Then there was a fumble, and on the Cowboys next two drives, Prescott completed 60% of his passes for 80 yards. He would tie the game at 23 on a 22-yard jump ball to Dez Bryant.
It's simply growing pains
Yes, Nelson Agholor and Josh Huff need to combine for more than four catches and 34 yards in receiving. The Eagles can't blame the receiving corps for keeping this team from an important NFC East road victory. A pivotal mistake by a rookie running back gave both momentum and life to the Cowboys, and it allowed Ezekiel Elliot to showcase why he was a top-four pick. Let's also not forget that the Eagles lost by one score in overtime.
This team is led by a rookie quarterback and head coach. Doug Pederson has taught us that fans can expect growing pains. no one will forget Pederson's decision, on a crucial third down in the fourth quarter, to call a play where a backwards pass was thrown to Darren Sproles. Ultimately, that would take the Eagles out of field goal range. Ultimately, that would be their last opportunity to score any points.
These moments are where players and coaches learn what does and does not work. This team is in good shape though. As the Philadelphia Eagles continue to grow and move forward, the fan base should be excited.
This article originally appeared on