Falling Short Down South: Why Green Bay Packers lost to Atlanta Falcons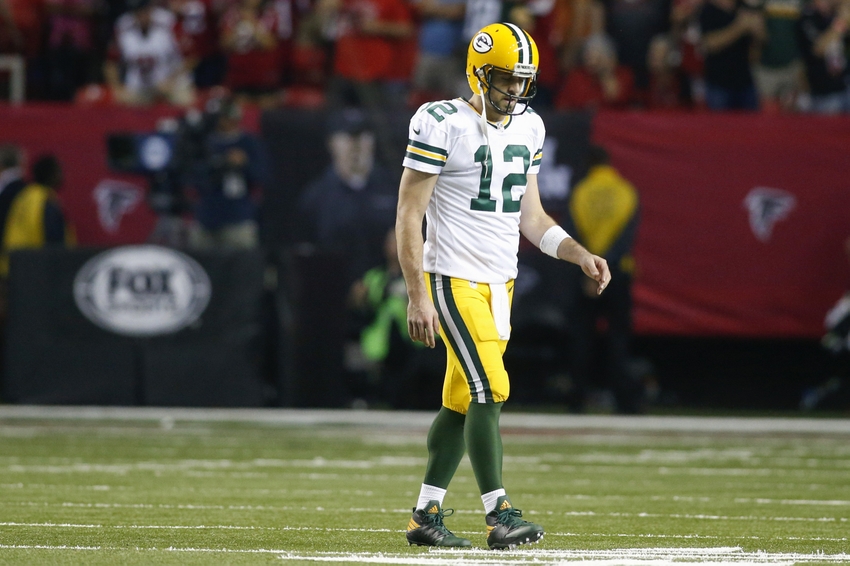 In Week 7, Green Bay managed to move on quickly from an unsightly loss at home to the Dallas Cowboys to eventually get back into the winner's column against their rival Chicago Bears.
After finally finding some things that worked offensively and with about 10 days to prepare for their next game, there was hope for a possible run continuing against an Atlanta team which was 4-3 and reeling off a couple straight losses.
Despite somehow ending up even more injury-depleted than before at multiple positions going into the contest (among the names expected to play in this contest who didn't: Ty Montgomery, Randall Cobb, and Clay Matthews) and having others drop off for stretches (among those missing parts of this game: LaDarius Gunter and T.J. Lang), Green Bay had plenty of opportunity to win this game.
Unfortunately, the team came up just short, losing 33-32 in the final minute.
So what happened which eventually caused this disappointing outcome in what tended to be an exciting game?
Let's take a look.
Sanu Steps Up
Going into this game, it seemed the only player on the Falcons anyone talked about was Julio Jones. That made sense, seeing as he's proven to be far and away the best player on the Falcons, a matchup nightmare capable of tearing apart a game on his own.
With that in mind, it made sense that the gameplan to stop the Atlanta offense would revolve around him, likely with one of two plans of attack:
Force Julio to be a one-man army, letting him get his production but preventing anyone else from making things happen. In this case, a defense is focused on making the offense one-dimensional to a startling degree, and the person who is garnering that offensive attention needs to carry the offense himself or they will stall out.
Weight the coverage heavily on Julio, forcing the other players on the offense to produce instead. In this plan, the opposition has a much better chance at balance, but they are tilted away from their by-far best option; if the lower-level players cannot step up, the offense is not going to be able to take advantage of exploitable matchups and will falter.
Of those two, the Packers consistently went with option #2; though partly due to injury, Julio only accumulated 3 catches on 5 targets for 29 yards. Unfortunately, the other guys stepped up pretty consistently to get Atlanta scores on six of their eight drives (not counting kneel-downs), and nobody stepped up more than Mohamed Sanu — especially on the final Falcons' drive.
On that drive, Sanu put up over half of his entire afternoon's production: 5 catches (on 6 targets) for 50 yards and the game-winning TD.
He began that drive with a 9 yard catch on first down. Following an incompletion (which was almost an INT; more on that later), he continued to make major plays for his quarterback. On a 3rd & 2 from the Packers' 45, he caught a 12 yard reception; immediately following that, he caught another 9 yard reception. After Matt Ryan tried to find Julio Jones over the middle on an incompletion a couple plays later, he went back to Sanu for yet another 9 yard completion. Two plays later, he finishes off the drive with a stellar leaping grab over the middle in the endzone, eventually leading to the final scoring margin.
Sanu ended the day as Atlanta's top producer outside of his quarterback: 9 catches (10 targets), 94 yards, and the touchdown, and that final drive was the kind of showing which could at least somewhat help him start to live up to that huge contract the Falcons handed him in the offseason.
Dropping INTs
The Packers used to be one of the best teams at the league at picking off passes, but those skills just aren't there any longer.
From 2008-2015, Green Bay had only one season where they didn't average at least one INT per game (2013), and were ranked no lower than #9 in that metric in all of those seasons. That included a four-year run of at least 22 INTs and ranking no lower than #3 in total INTs (2008-2011).
Right now, the Packers have only 5 INTs in 2016; prorate that across a 16-game season, they are set to end up with about 11 on the year. What's worse, those INTs aren't coming in the secondary; only two of those five have come from guys on the back end (Damarious Randall and Morgan Burnett each have one), with the linebacking corps showing a better affinity for coming down with the ball to this point (Blake Martinez, Joe Thomas, and Nick Perry each have one of the other three picks).
This isn't for lack of chances, either. Multiple guys have had numerous chances all season at INTs, but even when they get their hands on the ball they just cannot seem to come down with the ball. Ever since the team picked off Russell Wilson four times in the eventual NFC Championship Game at Seattle to end their 2014 season, these misses and drops have felt like a rampant problem, one which could have flipped the script and turned handfuls of games on their heads and let the Packers come away victorious.
Just think back to last year's playoff loss to Arizona, where there were three dropped INTs by Sam Shields alone; any one of those may have given the Packers enough to prevent their eventual loss. Take a look at the games this year too. Dak Prescott offered up a few ducks, but Green Bay only came up with one of them. Eli gave them multiple bad throws, but they couldn't hold on and were trapped in a game until the end when it could have been a blowout. Really, all these game has had at least one chance where Packers players had their hands on the ball but couldn't pull it in, and this Atlanta game was no different.
Up 32-26 on Atlanta's final drive, all the team needed to do was get a stop somehow to give the Packers a win. It was going to be difficult to stop a Falcons' offense which only ended drives without a score twice in seven meaningful tries to that point, but there were at least two chances to grab a turnover to seal the game.
The first was on the second pass of that drive to Sanu. Ryan was off-target with the short toss, putting it towards his back shoulder and forcing Sanu to whip around awkwardly to try grabbing it. Gunter was right there, and he nearly came away with the ball and nothing but open field in front of him. He just couldn't grab it through Sanu's arm though, and it fell to the turf. From there, Ryan completed four straight passes to move his team from behind midfield to the Green Bay 23.
That's where the second chance happened. Ryan looked for his main man Julio on a pass over the middle. It was in tight coverage and not perfect, so it ended up being bobbled around. The coverage had Ha Ha Clinton-Dix coming down over the top on Julio, so he arrived to help prevent the completion, and in the scuttle there was a shot for Clinton-Dix to come down with the ball. Of course, as has been the case with this secondary, he could not manage to make the play, and it fell incomplete. Three plays later, the Falcons scored the deciding TD.
With all the injuries to the top of the secondary depth chart (as well as the high level of positional overturn at that spot in recent years), it probably shouldn't be surprising that the INT production has dropped off to a degree from those league-best days. Regardless, it is troubling to see the guys out there constantly struggling to come down with the ball. With the stunning array of injuries leaving multiple weak points for opposing offenses to attack, they have find a way to capitalize when opportunities present themselves, or more losses like this are on the table regardless of whether the offense can hold onto their current rhythm.
Unbalanced Attack
Green Bay had undoubtedly their best full game of offense in 2016 against the Falcons.
Aaron Rodgers put up 246 yards and 4 TDs while completing 73% of his passes. Three little-used receivers (Jeff Janis, Trevor Davis, Geronimo Allison) each became big parts of the gameplan, seeing their season-high in snaps (58, 36, 19, respectively) and catching TDs. The unit put up 32 points (2nd-most on their year) while scoring on 5 of their 9 drives (including 4 of the first 5). The effort is one that would win most weeks.
It probably isn't sustainable for too long however, due to the startling lack of balance displayed in their play-calling.
According to Pro Football Focus, of the 62 offensive plays for the Packers on Sunday, just 13 were designed runs. The leading rusher for the team was Rodgers, garnering a career-high 60 yards on six scrambles against man defenses which left big blocks of space for him to attack with his legs. Outside of him though, the Packers managed just 48 yards between the sad hydra of Don Jackson, Aaron Ripkowski, and the since-released Knile Davis.
Rodgers has done well so far in this run-allergic attack (past two games: 71.2% completion percentage on 94 throws, 572 yards, 7 TDs, 0 INTs, 113.85 passer rating, 84.2 QBR), but expecting him to shoulder this much of a load for a long time could be dangerous on multiple levels.
For one thing, he could wear himself down with all these throws (especially if he's running often as well). Defenses can also hone in on just one facet of the game as well, not worrying about a running threat while stacking up in coverage and letting their pass rushers pin their ears back to rush every down.
The biggest problem could be with their offensive line though. The line has been the best in the league to this point in pass blocking, but forcing them to hold their ground every down (rather than in the running game, where they can plow forward) will tire them out not just in a single game but cumulatively across the year.
We already might be seeing some of the pitfalls of this, with T.J. Lang having to miss time in both of the past two games due to injuries; when he goes down, the immortal Don Barclay has been getting the call, and it's instantly noticeable how much worse the blocking becomes. Besides just that one aspect, we see a team in Atlanta — which has not rushed the passer well since the days of John Abraham — managing to apply pressure much more often than we should expect given the matchup.
According to PFF, Rodgers saw pressure on 17 of his 47 dropbacks (36%), and the defense managed their three sacks on those plays. This was surprisingly done without blitzing too; only 6 of 47 snaps saw Rodgers get blitzed, and two of the three sacks came on non-blitzes.
Green Bay is kind of stuck in a tough spot due to the injuries and ineffectiveness at running back right now (Eddie Lacy is on IR, James Starks is out for at least a couple more weeks with his meniscus injury, Ty Montgomery apparently has the sickle-cell trait, and the other guys left have not yet shown to be reliable enough to carry the load of being a top running option), but they need to find some way to make their running game something teams at least have to consider trying to defend before their line crumbles under the strain of endless pass blocking.
Missing On A 2-for-1
Following a quick TD drive from Green Bay which put them up 21-13 in the 2nd quarter, the Falcons came back with their own touchdown drive; after missing a two-point attempt to tie things up, they sat at what they probably figured would be a 21-19 deficit going into the half (and with only about 30 seconds to go in the half, who could blame them?).
This ended up giving Green Bay a potential two-for-one opportunity. For those who don't know, what I mean by that is a team is given a chance to make the final score prior to the half ending while also receiving the 3rd quarter kickoff. Chances like this don't happen too much, and when teams can capitalize it tends to provide a seismic shift in their odds for winning the game.
Green Bay had to put in some quick work for the first part of this, but despite the little time left on the clock Rodgers drove the team down into field goal range in just three plays for a Mason Crosby field goal and a 24-19 lead at half.
From here, the opportunity to make the two-for-one happen seemed pretty high; on their 5 first-half drives, 4 of them went for scores — 3 of which were TDs — so it seemed they would continue to find success against an underwhelming Falcons defense.
Green Bay got out past midfield on the drive, but things stalled out on an Atlanta sack on 3rd down; from there they had to punt. Atlanta would go on to score another TD to steal away the lead there, which eventually helped them in the final margin.
Had Green Bay scored anything on that starting drive of the half, they could have been up 27-19 or even 31-19 before the Falcons ever got the ball back. In the former case, Atlanta would have needed a two-point conversion to tie things up on their following TD (something they had already failed at doing once this game); the latter, a conversion would also be needed just to get the margin down to a field goal instead of five points.
Let's say the four drives following that Packers drive after the half basically go the same for both teams (ATL TD, GB Punt, ATL Punt, GB TD). Here are some of the possible outcomes we are looking at with Atlanta for what was their final drive:
34-25 (Green Bay gets FG on 1st drive, Atlanta goes for two and misses on their following TD, Green Bay gets PAT after their next TD)
34-27 (Green Bay gets FG, Atlanta goes for two and makes it, Green Bay makes TD + PAT)
38-25 (Green Bay gets TD + PAT, Atlanta goes for two but misses, Green Bay makes TD + PAT)
38-27 (Green Bay gets TD + PAT, Atlanta makes 2 pt conversion, Green Bay makes TD + PAT)
In all of those possibilities, only one scenario would have left Atlanta needing just a single score to even tie the game; the rest would require Atlanta to need a second score following what ended up being their final drive.
While they likely would have played with more of an urgency in that case, it isn't as if that was a long drive (with under four minutes left following the Packers' final TD, they used up 3:27 of the remaining clock), so they likely wouldn't have much time remaining even if they managed a score and then recovered an onside kick (only 5 of 29 onside kick attempts have been recovered by the kicking team so far this year).
Unfortunately for Green Bay, their offense bogged down at the wrong time and couldn't take advantage of the fortuitous situation, and with the way the script was written from there it was key in the difference between what could have been (an easier win than the score would have suggested) and the actual outcome (a hard-fought loss in the final minute).
Can't Finish Strong
After the depleted defense let up a late touchdown, Atlanta gave themselves what ended up as the final margin of victory, 33-32. If you think the game was over there however, you were sorely mistaken.
Green Bay received the ball back with not much time remaining (:31 to be exact), but it isn't like we haven't seen this team make something happen with little time left before. In fact, they just did so prior to halftime; with only :27 on the clock and two timeouts, the team had gone down the field in three plays for a field goal to put themselves up 24-19 at the half. It wouldn't be easy, but the situation was eerily similar and another successful showing would give them a victory.
It seemed to start well, with Rodgers finding Janis for a quick 7 yard completion; after he ran out of bounds, the team had a 2nd & 3 on their own 32 with :26 remaining on the clock. From here, if Green Bay could garner around 35 yards (putting the ball at least at the Atlanta 35), they would give Crosby a shot at a long field goal to win it. While Crosby hasn't attempted a 50+ yarder this season, but he has made over half of his career 50+ attempts — including 4 out of 5 last season.
He would never get the chance however, as the offense didn't gain another yard.
On their second down play, Rodgers looked for Jordy Nelson on a mid-range strike, but they couldn't connect. That was bad enough on its own (using up a valuable down), but it brought with it three other negatives: it used up six of the final seconds (leaving :20 on the clock), Nelson came down with an injury, and (due to the injury) the Packers were charged with one of their remaining two timeouts since he couldn't get off the field fast enough.
After another missed completion (this time a short throw to Allison), it was 4th & 3 with :14 on the clock and just one timeout. From here, there is only time for three plays at most — one of which would have to be the field goal attempt — but first, the Packers needed a first down to even have any chance to continue the drive. Rodgers dropped back, trying to buy time while simultaneously not using up too much of the remaining clock, but nobody was undoubtedly open. He couldn't wait too long (lest the clock hit zero), so he took a chance where he saw some space.
He had seen Davante Adams (who had already caught 12 passes on the day and seemingly was on the same page with Rodgers up to that point) had some empty field towards the sideline on his right side behind his route; Adams would need to realize what Rodgers was trying to do and make an adjustment to come back for it, but while it would be difficult it wouldn't be impossible to complete if he took notice in short order and curbed his route to take advantage of the space that was there.
By the time he realized where Rodgers was aiming though, it was far too late. The ball hit the ground a few yards away from Adams, the comeback ending short and the game just a Matt Ryan kneel-down away from putting another line in the loss column for the Packers.
…
It's a shame to see such a strong offensive effort go to waste, but this game as a whole should be encouraging for the team going forward, at least on offense. This felt like a shootout coming in even before the further defensive injuries were added to the "Walking Dead"-esque pileup hitting the roster, but we have plenty of positives to pull away from this game.
Adams continued to step up in a major way, catching 12 passes to follow up a 13 catch effort last week (setting another Packers record in the process, this time for most catches in a two-game span). The deep ball element of the offense made an appearance (deep over the middle toss to Jordy), and will hopefully be able to show up with some consistency going forward. Janis, Davis and Allison all made an impact in the larger roles thrust upon them. They kept things close despite all the injury problems on both sides of the balls. Last but not least, we saw a full game of high-level Rodgers for the first time in what feels like forever.
If the Packers can find a way to get healthier — especially on the defensive side of the ball — they may have found enough of a workable attack to go on a run and place themselves back into the conversation as one of the NFC's top teams. Until then, we best prepare ourselves for more of these kind of high-scoring affairs — and hope like hell the Packers manage to come out on top next time.
This article originally appeared on