Falcons at Buccaneers: Highlights, score and recap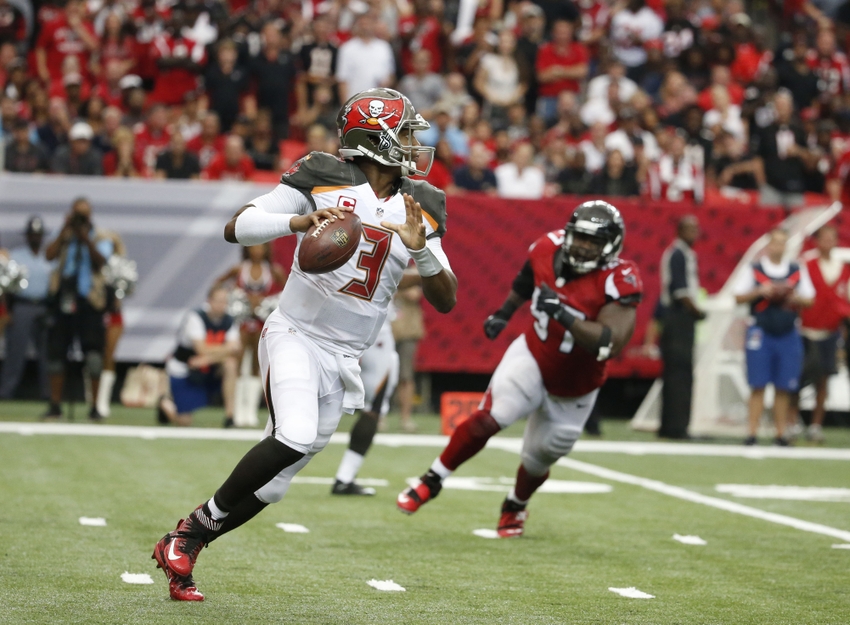 The Tampa Bay Buccaneers will host an NFC South rival Atlanta Falcons on Thursday Night Football in Week 9. Here are the highlights, recap, and final score.

0

0
The Atlanta Falcons (5-3) will travel to Raymond James Stadium to take on their NFC South division rival Tampa Bay Buccaneers (3-4) on Thursday Night Football in Week 9. Kickoff is at 8:25 PM ET and the NFL Network will have the telecast.
Atlanta is coming off a big home win in Week 9 against the Green Bay Packers, 33-32. The Falcons needed to win at home to fend off the Buccaneers and the New Orleans Saints from picking up ground in the NFC South race.
The Falcons have arguably the most balanced offensive attack in football. Defensively, this team still has issues but is getting better in the pass rush. The Falcons do need to clean up some of these penalties on the offensive line and force some turnovers on defense. Otherwise, this looks to be one of the best teams in the NFC.
Tampa Bay cannot get it together at home, losing an absolute heartbreaker to the Oakland Raiders, 30-24 in overtime. The Buccaneers have talent but have been too inconsistent to get into the top half of the NFC.
Though Tampa Bay has had its well-documented struggles at home in recent years, the Buccaneers have won three straight over the Falcons. Since landing Dirk Koetter from Atlanta in 2015, the Buccaneers have yet to lose to Koetter's former employer.
Three Stars
Matt Ryan: Ryan is arguably the NFL MVP at the halfway point. He is playing possibly the best football on his NFL career in 2016. Look for him to torch a bad Buccaneers secondary for 345 passing yards, three touchdowns, and a turnover.
Julio Jones: Jones has been double-covered most of the time the last few weeks. Offensive coordinator Kyle Shanahan will find creative ways to get his best player the ball in space. Look for Jones to have eight catches for 140 yards and touchdowns.
Devonta Freeman: With Tevin Coleman out again in Week 9, expect Freeman to again get a ton of snaps in the Atlanta backfield. Look for him to have 135 all-purpose yards and a touchdown.
Highlights
*POSTED LIVE AS THEY HAPPEN*
Next Game
The Falcons will play certainly their toughest road game of 2016 in Week 10. They will have 10 days to get ready for a great NFC game against the Philadelphia Eagles. Kickoff from Lincoln Financial Field will be at 1:00 p.m. ET on Sunday, November 13th. FOX will have the telecast.
Tampa Bay should have an easier time in its Week 10 game. The Buccaneers will welcome a lowly 2-6 Chicago Bears team to town on Sunday, November 13th. However, the Bears will be coming off their bye and won't have lost in a couple of weeks. Kickoff from Raymond James Stadium will be at 1:00 p.m. ET. FOX will have that telecast.
This article originally appeared on