Ezekiel Elliott Completely Hurdles Chris Prosinski for First Down (Video)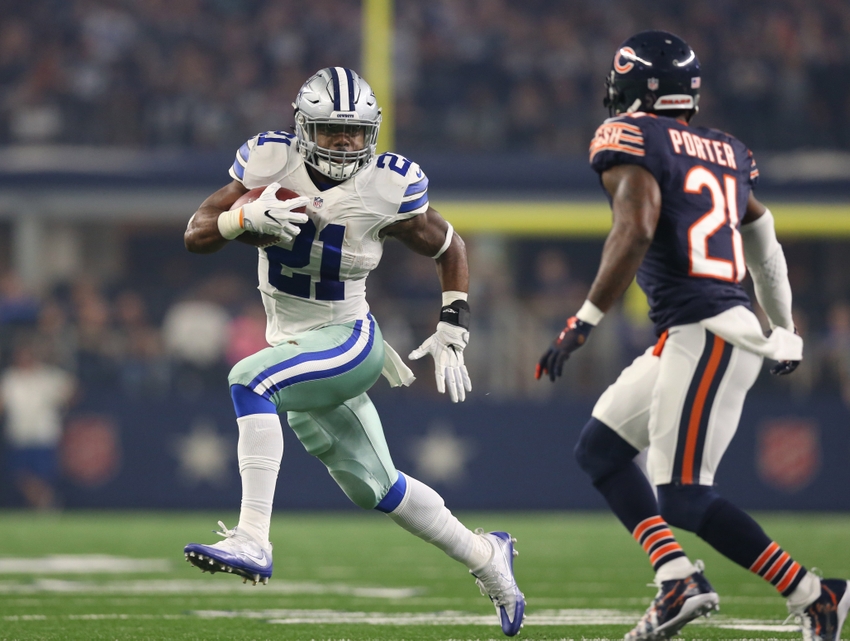 Ezekiel Elliott showed off just how freakish of an athlete the Dallas Cowboys rookie is, hurdling Chicago Bears safety Chris Prosinski and clearing him.
Ezekiel Elliott had disappointed some Dallas Cowboys fans in his first two games of his career. However, that wasn't the case right out of the gate on Sunday Night Football in Week 4. Against a depleted Chicago Bears defense, the rookie out of Ohio State started off strong, breaking off a 21-yard run. It only got better from there. Perhaps his most impressive moment, though, came early in the fourth quarter.
With the Cowboys already nursing a 14-points lead over the visiting Bears, Dallas was moving the ball at will. As they were also trying to run the clock, they gave their young workhorse the rock. He knew exactly what to do with it. Popping the run to the outside, Elliott looked like he had a great deal of daylight given his speed.
However, Bears safety Chris Prosinski came up out of the secondary to try and make a low tackle. When you're coming at an athlete like Ezekiel Elliott, though, you can never just blindly dive. If you do, he's just going to hurdle right over your head and go untouched.
And that's exactly what the No. 4 pick from 2016 did:
Goin @EzekielElliott completely hurdles the defender! #CHIvsDAL

— NFL (@NFL) September 26, 2016
I bet you couldn't have guessed that Elliott used to be a top-flight hurdler, once upon a time.
Despite the production not completely being there through the first two games, no one is going to deny the overall talent of this young man. He has the speed, smarts, and overall game to make it happen day-in and day-out. Now he's finally starting to put it all on display. For Cowboys fans and even those that aren't, it's a joy to watch him go to work.
This article originally appeared on