Ezekiel Elliott burns Steelers on 83-yard receiving touchdown (Video)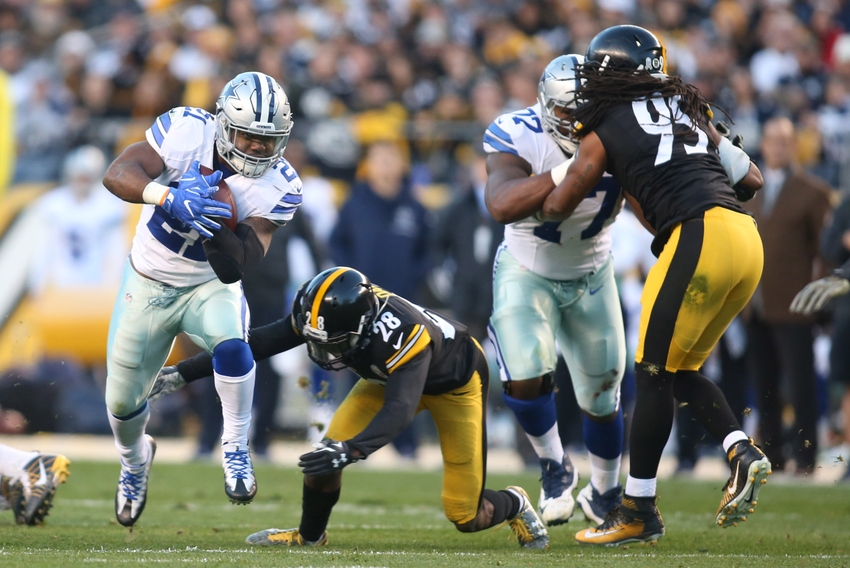 Dallas Cowboys running back Ezekiel Elliott catches a swing pass from quarterback Dak Prescott before burning the Pittsburgh Steelers for an 83-yard score.
The Dallas Cowboys will continue to find pay dirt on the gridiron because they continue to find pay dirt on draft day. Dallas has found two dynamic offensive weapons in the 2016 NFL Draft in the form of quarterback Dak Prescott and running back Ezekiel Elliott.
Prescott gets a lot of love for being a fourth-round pick out of Mississippi State, but Dallas took Elliott No. 4 overall for a reason. The guy might be the most complete running back to come out of college in a couple of decades. Here he is destroying the Pittsburgh Steelers on this 83-yard swing pass from Prescott for a Cowboys touchdown.
EZEKIEL ELLIOTT!

83 YARDS.
TO. THE. HOUSE. #DALvsPIT https://t.co/jXAaKSPzH2

— NFL (@NFL) November 13, 2016
Dallas was down 12-3 to the Steelers on the road before Prescott finds Elliott on the outside. Elliott had ample time to get to stop speed along the sideline. Nobody on the Steelers defense was going to catch him once he hit his stride.
Pittsburgh tends to play well at home, especially against worthy adversaries. Dallas entered play on Sunday rocking a seven-game winning streak at 7-1. The Cowboys have the best record in the NFC, but it was Pittsburgh that was laying points at home in this ball game.
Dallas is weakened in the secondary on Sunday. Steelers quarterback Ben Roethlisberger seems to be a little healthier than he was last week. If Dallas is going to beat Pittsburgh at Heinz Field on Sunday, the Cowboys will need more explosive plays from Prescott and Elliott.
Dallas doesn't have to win this game to prove that it is the best team in the NFC. The Cowboys have already done that in September, October, and early November.
This article originally appeared on