Ezekiel Elliott Accepts Thanksgiving Award In Crop Top (Video)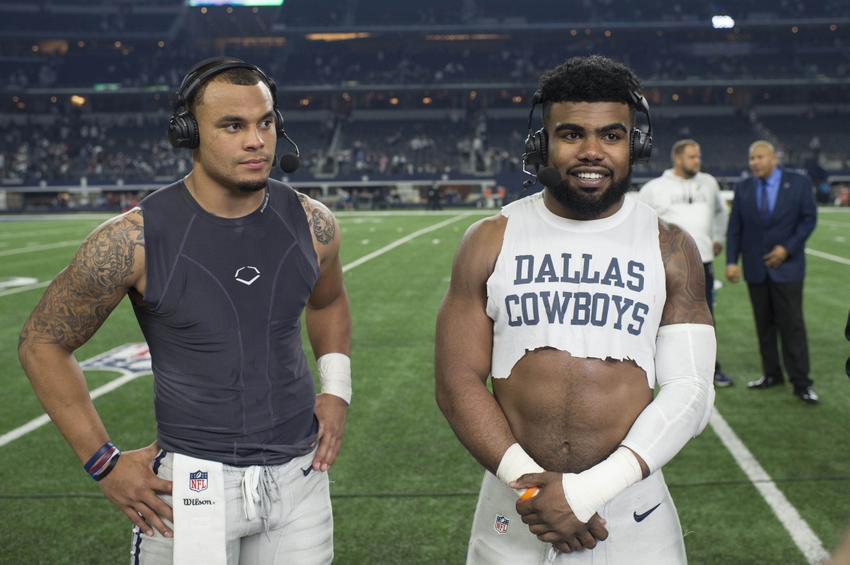 Dallas Cowboys running back Ezekiel Elliott added two more touchdowns to his resume and broke out the crop top out for everyone to see on Thanksgiving Day.
Well, the Dallas Cowboys took care of business, upending the rival Washington Redskins 31-26 in a fantastic game that made up for the ugly NFC North tilt between the Detroit Lions and Minnesota Vikings earlier.
As expected, running back Ezekiel Elliott played a starring role, rushing for 97 yards and two touchdowns on 20 carries. He continued to show a willingness to grind out tough yardage in between the tackles, as both of his scores were short punch-ins.
Following the game, he also showed a willingness to flaunt his abs and arms, sporting a crop top with cut-off sleeves.
We all remember how Elliott rocked the crop top on draft day before being the Cowboys fourth-overall pick. Everything has worked out well since then and it was only appropriate for Elliott to go back to the crop top when accepting his Thanksgiving Day award after a crucial performance against the Redskins.
It's always interesting to see how non-athletes are more impressed with a football player showing off their physique. I love Elliott's confidence and his dedication, but we all know what's really impressive is his toughness on the field and the numbers he consistently puts up each and every week.
Look for Elliott to continue his yardage-piling ways next week, because I don't think the Minnesota Vikings even have it in them to stop Elliott's MVP train from rolling through to another big game.
This article originally appeared on