Experts picking against Minnesota Vikings vs. Arizona Cardinals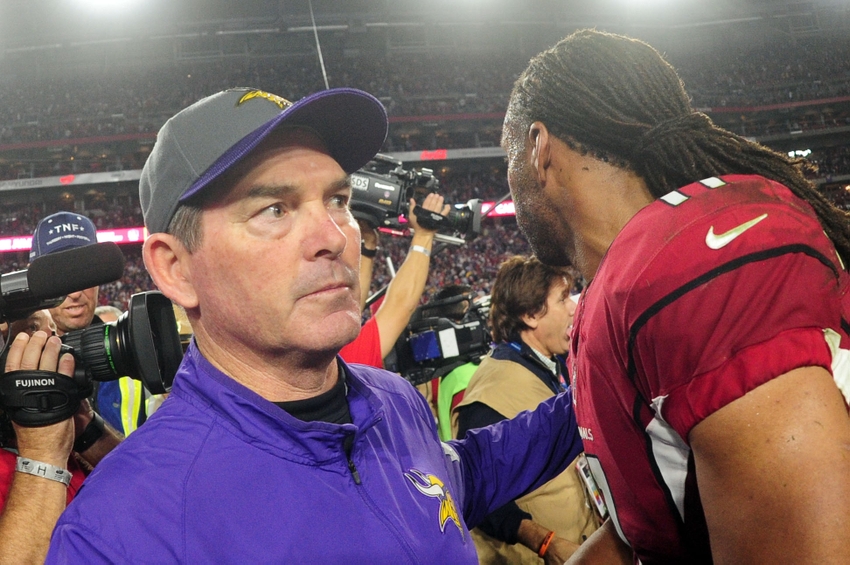 Many expects have began picking against Sam Bradford and the Minnesota Vikings for the week 11 match-up against the Arizona Cardinals at U.S. Bank Stadium.
As we enter Week 11 of the 2016 NFL Regular Season, many experts have began picking against the Minnesota Vikings. An inevitable conclusion considering the last time this team won was all the way back in Week 5; a 31-13 blowout of the Houston Texans.
Has it really been that long? Unfortunately it has been. Therefore it shouldn't come as much of a surprise when out of the nine experts over on SBNation.com five of them picked the Arizona Cardinals as the favorite to win Sunday's game. With the remaining four selecting the Vikings.
All things considered, I think it is a pretty fair assessment of how this game could potentially go down. In the words of Minnesota's own head coach Mike Zimmer, Arizona is a "very talented" football team despite the 4-4-1 record they currently have.
Plus if you look at how the Cardinals match up against the Vikings they have us beat in three major offensive categories, at least statistically speaking. Total Yards Per Game (383-302), Passing Yards Per Game (272-232), and Rushing Yards Per Game (109-69) all favor Arizona according to this breakdown on NFL.com Game Preview.
The safe pick is clearly Arizona. Especially when you begin to factor in all the injuries and other unusual circumstances that have happened to the Vikings this season. Such as Norv Turner resigning as offensive coordinator and all the drama surrounding recently released kicker Blair Walsh.
Thankfully games are still played on the field and not simply determined by statistical projections (though let's not give Roger Goodell any ideas).
Experts should not be so fast to discredit the Minnesota Vikings chances of winning this game. U.S. Bank Stadium has proven to be a difficult venue to play in for opposing teams. Home-Field Advantage is one of those strange intangibles that simply cannot be summarized on a pie chart or assigned a numerical vale. But it's a real phenomenon and should play a factor in helping the Vikings overcome the odds this Sunday.
Beyond that I believe this is a Vikings team that is embarrassed by how the last four games have played out. I am expecting this match-up to be a statement game for the Minnesota Vikings. They've got an opportunity to go out and beat a talented Arizona team. Proving that the 2016 Vikings are alive and still in the playoff hunt.
SKOL!
This article originally appeared on