Evaluating the 2016 49ers NFL Draft Class after One Year
Peter Felsch/FanSided via Niner Noise

Fansided
With the 2016 NFL season now over, Niner Noise takes a look at how the previous San Francisco 49ers NFL Draft class performed.
The San Francisco 49ers' 2016 NFL Draft class is Trent Baalke's last sample for the Niners as general manager.
The team has moved on at both GM and head coach, replacing Baalke and Chip Kelly with John Lynch and Kyle Shanahan, respectively.
So how will we remember Baalke's final piece of draft work now that one year's worth of results are now on the table?
Here at Niner Noise, we take a look back at those draft picks and evaluate each based on their performance both during the year and in preseason.
Incomplete grades are given to those that didn't see enough playing time or injured.
Starting at the top.
Round 1, Pick No. 7 – Oregon DL DeForest Buckner: Grade – A
The undisputed home-run pick of this class is defensive end DeForest Buckner, who proved his worth as the Niners' top pick.
He looked like a seasoned veteran in both stopping the run and rushing the passer, and his production on the field matched it.
Buckner went on to record 73 total tackles and six sacks on the year.
The potential is sky high for Buckner, and the new 49ers staff will be in good hands for the future with his presence on the defensive line.
Round 1, Pick No. 28 – Stanford OL Joshua Garnett: Grade – C+
It was a rocky start for offensive guard Joshua Garnett, who didn't find his way into the starting lineup until halfway through the year.
He flashed his skills as a run blocker but was inconsistent in pass protection. That shouldn't come as a surprise, because that was evident to scouts coming into the draft.
If he can improve his footwork in passing situations. he should be a solid starter for years to come.
The 49ers traded a second-, fourth-, and sixth-round pick to Kansas City for him, which is a steep price. So it remains to be seen if the return on investment plays out.
Round 3, Pick No. 68 – Mississippi St. CB Will Redmond: Grade – Incomplete
Cornerback Will Redmond sat out the entire 2016 campaign, due to a Torn ACL he suffered in college.
Former general manager Trent Baalke insisted that he would see the field during the latter half of the regular season, but that didn't happen.
Until we see him in regular season action, the grade here is incomplete.
Round 4, Pick No. 133 – LSU CB Rashard Robinson: Grade – B+
It appears the 49ers have found a gem in former LSU cornerback Rashard Robinson, who fell to the fourth round due to off-the-field issues.
He came in and showed no signs of growing pains in his rookie year attacking the ball, knocking eight passes down.
Robinson's tenacity at the line of scrimmage and ballhawking skills bumped him into a starting role, and he will compete for the top corner in the offseason.
Robinson could prove to be the best pick of this class, in terms of value, when all is said and done.
Round 5, Pick No. 142 – Appalachian St. DL Ronald Blair: Grade – C
The 49ers defensive line struggled mightily against the run all year long and paved the way for the younger players to see playing time.
Defensive lineman Ronald Blair benefited from this and went on to record three sacks on the year.
Most of his playing time was sparing and in a rotational role, so next season we will get a closer look as to his true potential.
Round 5, Pick No. 145 – Georgia OL John Theus: Grade – Incomplete
Offensive tackle John Theus was inactive on the roster until veteran left tackle Joe Staley was sidelined due to injury late in the season.
Theus saw some playing time in four games, starting one, but there wasn't enough action to give him a complete grade for this evaluation.
Round 6, Pick No. 207 – Florida QB Jeff Driskel: Grade – D
Quarterback Jeff Driskel had a tough going in the preseason and clearly wasn't ready for the big show.
Backup veteran QB Christian Ponder outplayed him and won the third-string spot over Driskel, leaving him the odd man out on the team.
The 49ers waived him before the season started, and Driskel was picked up by the Cincinnati Bengals.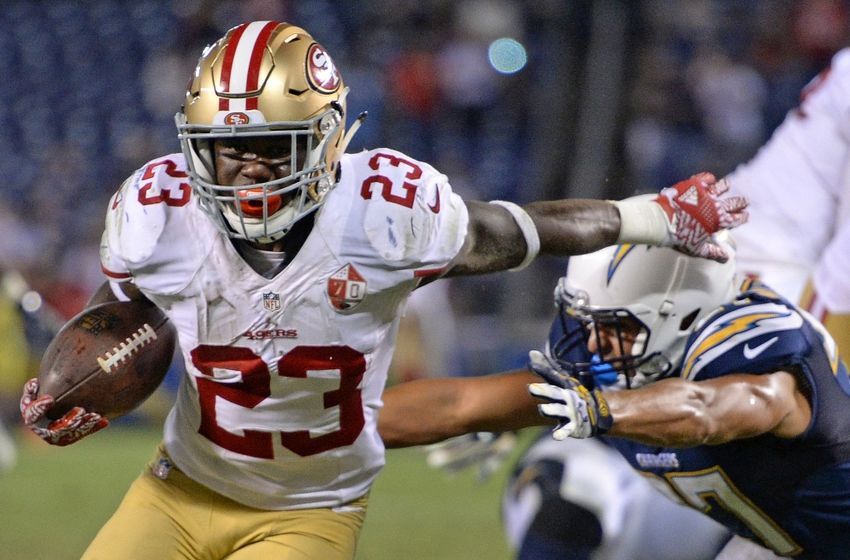 Round 6, Pick No. 211 – Florida RB Kelvin Taylor: Grade – F
Running back Kelvin Taylor was a non-factor in limited playing time in the preseason and didn't make the cut on the active roster.
He was placed on the practice squad but later cut in November from where he signed to the Seattle Seahawks practice squad, and then cut again twice.
Taylor has the bloodlines, his father is Jaguars great Fred Taylor, but the younger Taylor needs to improve dramatically in between the tackles to garner any return to the NFL.
Round 6, Pick No. 213 – WR Aaron Burbridge: Grade – C
It was on special teams that wide receiver Aaron Burbridge saw the most playing time, but he was solid all year long in that area.
He only hauled in seven catches for 88 yards on the year and was buried on the depth chart.
It remains to be seen if he can emerge next season with a new offensive coordinator, but his value lies on the special teams.
Round 7, Pick No. 249 – CB Prince Charles Iworah: Grade – Incomplete
The final pick of last year's NFL Draft only played in one game during the regular season, and it came on special teams.
Cornerback Prince Charles Iworah was mainly a practice squad player in his rookie season, so his grade is listed as incomplete for now.
Overall, former general manager Trent Baalke's 2016 NFL Draft class wasn't that great. The 49ers, essentially, got only two worthwhile starters out of the entire crop — DeForest Buckner and Rashard Robinson.
Others may develop. But the Niners clearly needed a larger influx of talent considering how weak the roster was at that point.
It still is now.
Stay tuned for more updates on the upcoming draft and coaching staff moves here on Niner Noise.
This article originally appeared on