ESPN's Mike Rodak Suggests Rough Start for Buffalo Bills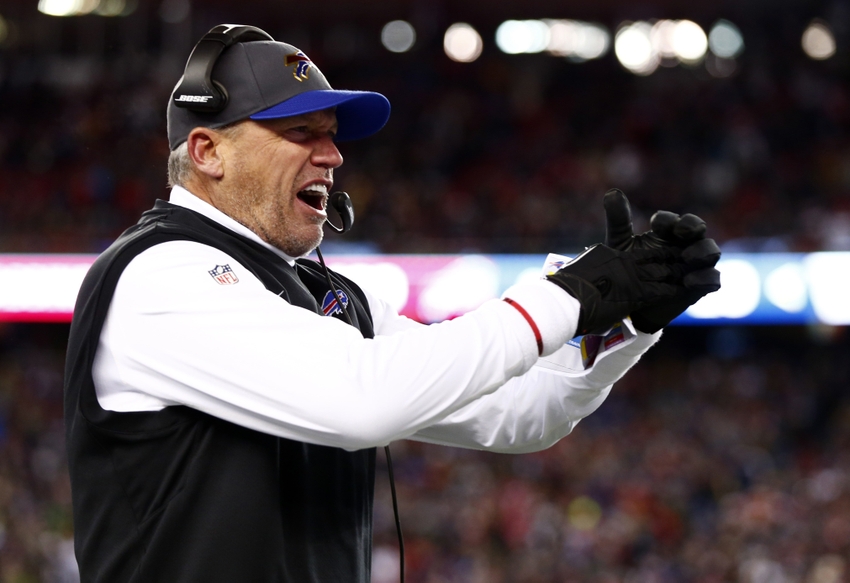 ESPN's Buffalo Bills' reporter Mike Rodak has a history of being negative towards the Bills. With his latest bold prediction, he proves that he hasn't changed one bit this season.
If you follow ESPN's coverage of the Buffalo Bills, then you are most likely aware of who Mike Rodak is. Furthermore, if you're a Bills' fan then there's a big chance that you aren't a huge fan of Mike Rodak.
How could Buffalo fans have such a strong distaste for the person covering their team? Well, history has shown that he doesn't exactly show a lot of faith or love for this team and with his latest bold prediction for this season, that's evident.
Mike Rodak first joined ESPN in July of 2010. However, he didn't first join as a Buffalo Bills' reporter. In fact, he joined on the opposite side of that pole as he was named the year-round reporter for the New England Patriots. He was even a part of ESPN's team of reporters that covered Super Bowl XLVI – a game the Patriots lost to the New York Giants 21-17.
PFF Adds Bills DB Coach Ed Reed to All-Decade Team
That's one reason to dislike Mike Rodak.
Fast-forward three years to August of 2013, Rodak is named the Buffalo Bills' year-round reporter. You can see his breaking news stories on both ESPN.com and on television with his contributions to SportsCenter, NFL Insiders, NFL Live, ESPN Radio and ESPN The Magazine — among others.
With an audience as big as his, it's a great opportunity to bring exposure to a team that is quietly ready to breakout. Unfortunately, Rodak seems more interested in mocking the Bills and making predictions that bring a negative look and morale to the city of Buffalo.
In a recent article, Rodak made a bold prediction for the Bills as they prepare for their first game of the season against the Ravens. Now, usually when reporters make bold predictions about the team they cover, it's something positive about the team — no matter how far-fetched the prediction is. Worst case scenario, if you find yourself ready to make a negative bold prediction, most writers will simply choose a different prediction and scrap the negative one all-together.
Let's get to this bold prediction I've been talking about.
In the article, Rodak explained why he firmly believes the Bills will start the regular season with four losses in their first four games. That's right, he believes this Bills' team won't win a single game in the first quarter of the season. Here's what he had to say word-for-word:
"Crazy? Consider that the Bills must play a tough opening-weekend game at Baltimore, then host the Jets on short rest, then play two of the final four teams from last season (the Cardinals and the Patriots), and 0-4 seems possible. Without Marcell Dareus, Reggie Ragland and Shaq Lawson, the Bills will have to find ways to plug holes on defense and avoid falling far behind early in the season. If they finish the first quarter of the season winless, coach Rex Ryan will need to dig out of a monumental hole to finish the season with a winning record and allow him to rest easy about his job security."
Want your voice heard? Join the BuffaLowDown team!
Sure, the Bills have had some issues with injuries and off-the-field incidents, but four straight losses? Rodak seriously couldn't come up with a better bold prediction than that?
Let's look at the bold predictions that were given to our divisional rivals — also word for word:
New York Jets: "The Jets will put three defensive lineman in the Pro Bowl — Muhammad Wilkerson, Sheldon Richardson and Leonard Williams."
New England Patriots: "The Patriots will go 3-1 with Jimmy Garoppolo as their quarterback to open the season."
Miami Dolphins: "Dolphins receiver Davante Parker will notch his first 1000-yard season of his career."
Those predictions are both fairly bold, but remain positive for the team. I'm sure the Patriots would be happy with a 3-1 start, the Dolphins would love to have a 1,000-yard receiver and the Jets would be ecstatic to have three Pro Bowl defensive linemen.
I find it hard to believe Rodak even likes the Buffalo Bills. If he doesn't, then ESPN needs to do Buffalo a favor and bring someone else in.
Digging even deeper into that article, there were only three other teams that were given negative bold predictions: the Cleveland Browns, Jacksonville Jaguars and Chicago Bears. Even then, only the Browns' prediction was as bad as the Bills — with Pat McManamon predicting the Browns will have one of the worst defenses in the history of the league.
The other two weren't as bad. The Bears were predicted to not have Alshon Jeffery next season — which is bad for the Bears, but good for Jeffery. On the other hand, the Jaguars were predicted to start the season 4-3 — which is actually a positive prediction noting that the team has gone 3-20 in September and October over the past three seasons. Being 4-3 heading into November would be the team's best start in a while.
Simply put, Rodak doesn't have the Bills in his best interest.
My (Reasonable) Take on This
Well, I've already voiced my disapproval of Mike Rodak. If you're going to make a bold prediction, don't make one that will upset an entire city JUST as the season is starting.
With that being said, Rodak could've chosen a different route. In fact, he could've chosen about 100 different routes than this one. Here's a couple bold predictions he could've gone with instead of staying negative:
LeSean McCoy will finish in Top-5 in rushing yards.
The Bills will enter the playoffs for the first time in 16 years.
The Bills' top-three receivers will combine for 2,500 yards.
Stephon Gilmore finishes in Top-5 in interceptions.
For the sake of this article, I am going to make my own OFFICIAL bold prediction for the Bills:
The Buffalo Bills will start the season 3-1 and at the top of the AFC East.
It's a bold prediction, but definitely possible. The Patriots will be without Tom Brady, the Ravens are coming off their worst season since 2007, the Jets have an interception-throwing maniac in Fitzpatrick and the Cardinals, well they're going to be a tough team.
Overall, I see them beating the Ravens and the New York Jets to start the season. With a 2-0 start, they will have a tough matchup with the Cardinals that will result in a loss. However, they will rebound against our biggest rival to bring them to 3-1.
What is your take on Mike Rodak's bold prediction? What's your own bold prediction for this season? Leave your comments below!
More from BuffaLowDown
This article originally appeared on