Eric Dickerson Demands Public Apology From Los Angeles Rams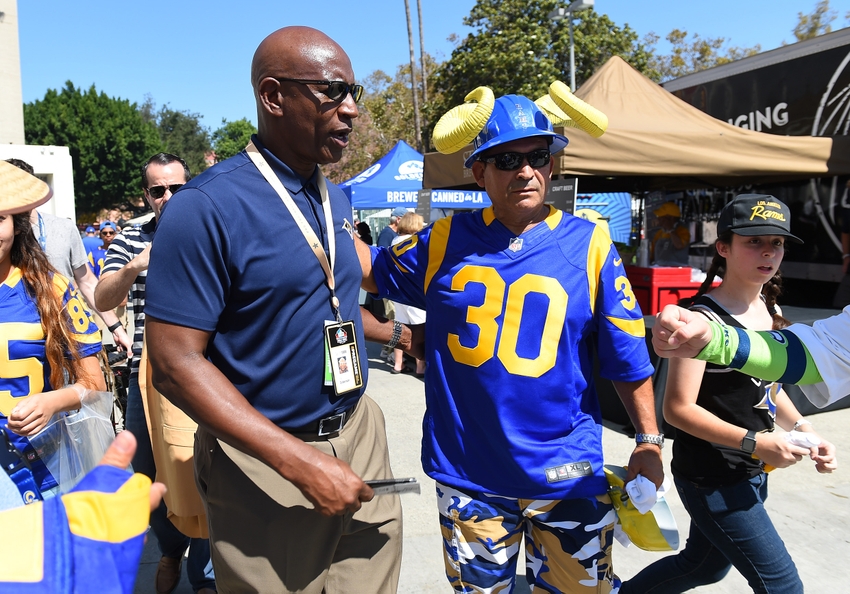 Los Angeles Rams legend Eric Dickeson is demanding a public apology from the team for the recent feud between he and head coach Jeff Fisher.
Eric Dickerson hasn't cooled off since his feud with Los Angeles Rams head coach Jeff Fisher came to light and now he's demanding a public apology from the team.
Dickerson has been embroiled in a feud with Fisher since the beginning of the week after he claimed the Rams head coach banned him from the sideline.
Dickerson said Fisher told him he wasn't welcome on the sidelines because he made the players feel uncomfortable; however Fisher explained that wasn't the case at all and he simply denied Dickerson extra sideline passes for friends because of his harsh critiques of the team.
Eric Dickerson's Request for an Apology
The former Rams back still isn't pleased and feels the Rams made him look like a liar. As a result, Dickerson demanded an apology from the organization while doing a radio interview on AM-570 in Los Angeles:
"I want an apology from Jeff Fisher and most definitely Kevin Demoff. An open apology. You know what…be a man, Kevin Demoff, and call me. Kevin said he called and reached out to me.  He said he reached out to me and tweeted at me.  I'm going to tell you the whole scenario. Yes, he tweeted me when I was on the show. Sent me a tweet.  Called me while I was on the air.  Called me when I was on the show. I didn't have a chance to call him back."

"I want them to apologize for making me look like I was lying, like I was making this up.  Like it was a miscommunication.  It wasn't no miscommunication.  I didn't mishear anything. I'm not hard of hearing. They said it, I heard it."
Despite the two calls Dickerson received from COO Kevin Demoff, he feels Demoff should have reached out to him more than just those attempts and his trio of tweets denying Dickerson was banned.
Will an Apology Change Eric Dickerson's Mind?
Even though he would accept an apology from the Rams, Dickerson says it still won't be enough to change his mind about not coming to games as long as Fisher remains with the team:
"No, I'm a man of my word. I said I would never go back.  I will still support my team, I will one-thousand percent support the Rams. But I'm never going back on that field."
Based on Demoff coming to Fisher's defense for what looks like a fifth consecutive losing season, it's unlikely Dickerson will get an apology. Clearly this management is intent on backing Fisher regardless of the situation, and that will likely include backing him in his feud with an all-time great and fan-favorite.
If the Rams decide to stick with Fisher after this season, Dickerson's boycott of team's games will be a black cloud hanging over the organization. This is a battle the Rams can't win and it's time the franchise makes up for its wrong.
This article originally appeared on