Eric Berry Gives Chiefs Lead on Two-Point Interception Return (Video)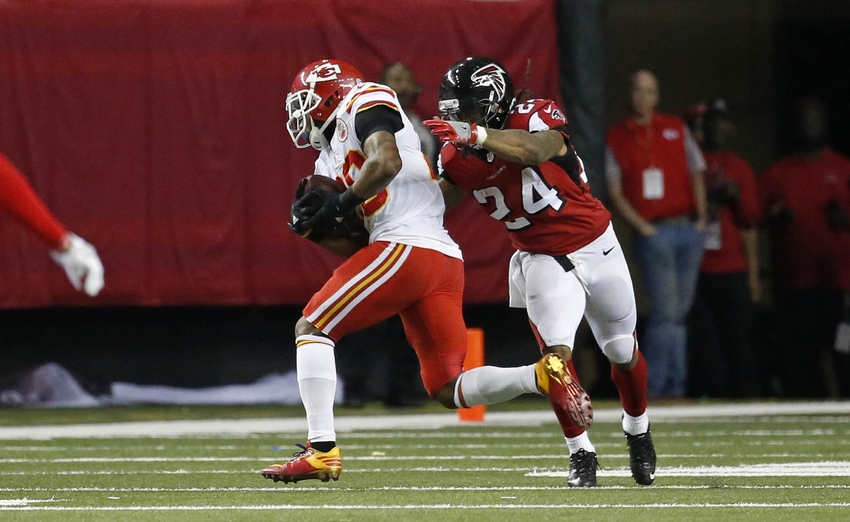 Kansas City Chiefs safety Eric Berry keeps coming up with huge interceptions, this one to give his team the lead over the Atlanta Falcons.
Right before the end of the first half, Kansas City Chiefs safety Eric Berry came up with a huge interception of Matt Ryan. The Atlanta Falcons were tied with KC at 13-13, but Berry jumped a route and then took the takeaway 37 yards for a touchdown. That gave his team the lead then, but they would need him again. And because it's what Berry does, he was ready to answer.
Late in the fourth quarter, Ryan and the Falcons drove down the field while trailing by five points. That's when he found paydirt to take the lead, 28-27. Wanting to push the lead to a field goal, though, Dan Quinn elected to go for the two-point conversion. Berry was having none of that at all—and would make him pay for that decision.
Looking in the front of the end zone, Berry again ready the Falcons quarterback like a book. He made a hard break on the throw and found the pigskin right in his arms. With the offense bunched up trying to get the two, Berry was then off to the races. By the time he got to the 20-yard line, he was coasting as no one was near him. He crossed the goal-line to get the two points and give the Chiefs the lead once again:
1) ATL scores TD, takes lead
2) ATL goes for 2
3) Berry PICKS IT OFF, goes the distance

KC takes the lead. UNREAL! https://t.co/FCrLGtx4Ki

— NFL (@NFL) December 4, 2016
Berry is an absolute monster right now and proving time and again why he's so valuable to the Kansas City defense.
His pick-six in the second quarter was his second of the season and now he follows it up with a play like this. With the Chiefs then getting the ball since it was their points-after try, that could very well have sealed the victory in a wild game. It figures that Eric Berry would be the one making the decisive play.
This article originally appeared on