Emmanuel Sanders, Demaryius Thomas set for 1,000 club again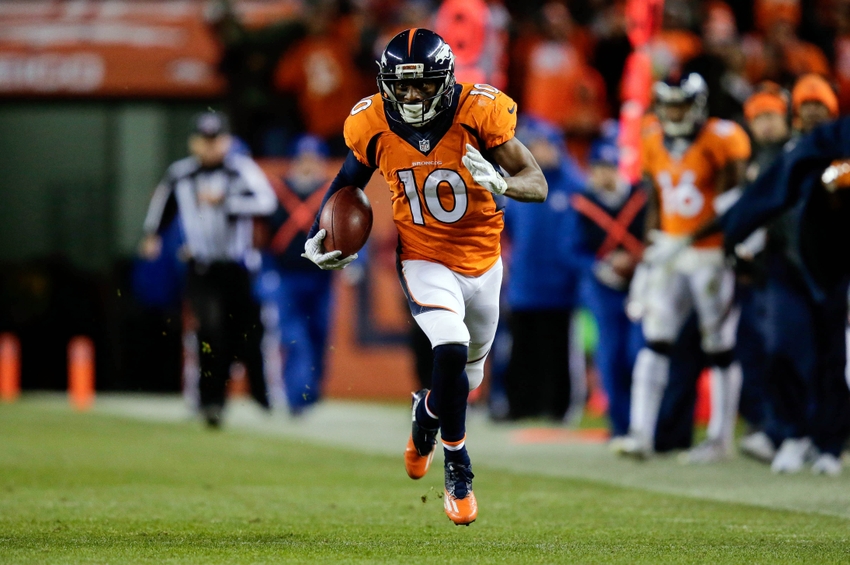 The Denver Broncos have a fantastic duo of wide receivers in Emmanuel Sanders and Demaryius Thomas, who are both likely to reach 1,000 yards again…
The Denver Broncos haven't been the NFL's most explosive offense this year, but they have one of the best pair of receivers in the league in Emmanuel Sanders and Demaryius Thomas. In their first couple of seasons together, both Sanders and Thomas have eclipsed 1,000 yards receiving, and they're on pace to do it again this year.
Sanders currently leads the team with 830 yards on 61 catches and five games to play, while Thomas has 60 catches for 738 yards. The combination has also gotten into the end zone a total of nine times this year, four for Sanders and five for Thomas.
This pairing is a great luxury for the Broncos, even though at times, Thomas has been frustrating due to his dropped passes.
More from Predominantly Orange
The Broncos are breaking in young quarterbacks, and there's no better way to do that than by having a couple of stud playmakers who can bail you out and make incredible catches. That was proven on Sunday night as Thomas went off for arguably his best game of the season, making big plays down the field and catching a long touchdown pass on a perfect throw from Trevor Siemian.
For Sanders, this would be the third season in a row with over 1,000 yards receiving, and all three of those seasons have come in his time with the Broncos. He truly has emerged as one of the league's most dynamic threats at the wide receiver position.
For Demaryius Thomas, you have to go back to 2011 to find a year where he didn't have over 1,000 yards receiving. He's been steady for the Broncos, regardless of who is playing quarterback and despite his inconsistency at times with drops. He's paid like an elite NFL receiver, and has produced as such. His career-high of 1,619 yards came in the Broncos' 2014 season, when he also caught a career-high 111 passes.
This article originally appeared on