Emmanuel Sanders and Broncos agree to three-year extension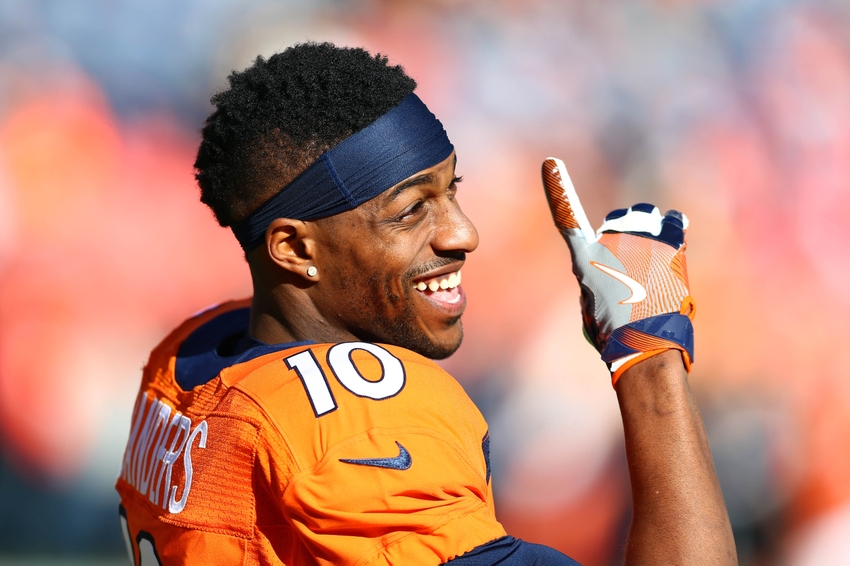 Emmanuel Sanders will be sticking around with the Denver Broncos after signing a three-year extension. 
The Denver Broncos will be relying heavily on a receiving core featuring Emmanuel Sanders moving forward. Denver hopes that having a strong receiving core will help second-year quarterback Trevor Siemian's life a little bit easier. Sanders has agreed to a three-year extension with the Broncos that could keep him around in Denver through the 2019 NFL season. The deal is worth $33 million.
Denver is wise to keep Sanders around. He has been a terrific fit in Denver's system. Sanders set career highs in 2014 with 101 receptions, 1,404 receiving yards, and nine touchdowns. In 2015, Sanders had 76 receptions for 1,135 receiving yards and six touchdowns. The Broncos are clearly taking advantage of how cheap Siemian and Paxton Lynch's current contracts are, following the blueprint that the Seattle Seahawks laid out with Russell Wilson.
Excited to announce we've agreed to a 3-year extension with WR Emmanuel Sanders. He plays with intensity & we love the way he competes!

— John Elway (@johnelway) September 7, 2016
Sanders is just 29 years old, so he still has some of his prime left. Having a multitude of options like Sanders, Demaryius Thomas, Bernie Fowler and Jordan Norwood should help Siemian. It should be interesting to see how the Broncos use their impressive receivers in Gary Kubiak's offense. Having a new quarterback could complicate things.
Originally drafted by the Pittsburgh Steelers in the third round of the 2010 NFL Draft, Sanders spent four seasons with the Steelers before joining the Broncos in 2014. In his four seasons with the Steelers, Sanders had 161 receptions for 2,030 yards and 11 touchdowns. Sanders has 177 receptions for 2,539 yards and 15 touchdowns with the Broncos.
The Broncos are hoping that Sanders gets back to his 2014 form. Sanders caught 71.6 percent of the passes thrown to him that season. That fell to 55.9 percent in 2015. He will need to be more reliable to be an asset to Siemian because young quarterbacks covet reliable receivers who can catch what is thrown their way. While Sanders is a very good receiver, he doesn't have a history of having a high catch rate.
This article originally appeared on