Earl Thomas Has Broken Bone in Leg, Tweets Cryptically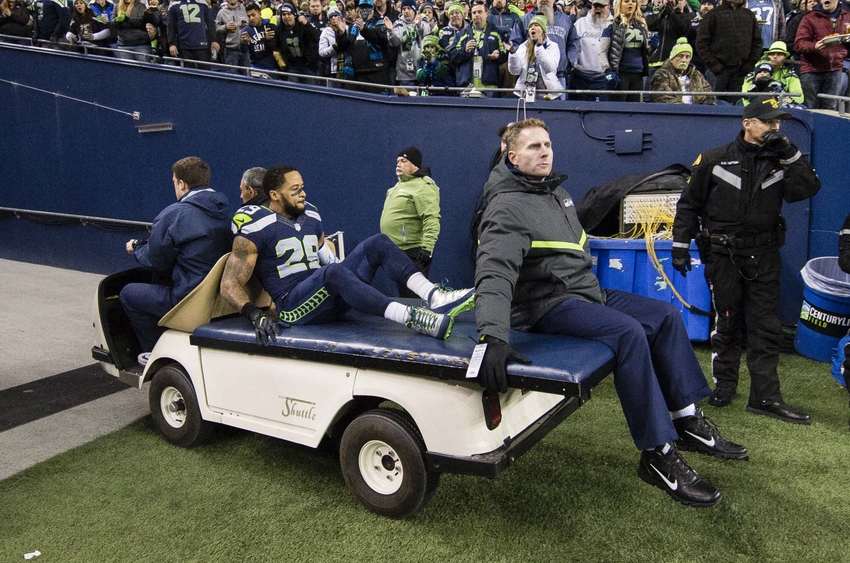 Seattle Seahawks safety Earl Thomas left Sunday Night Football early and has a cracked tibia, but also took to Twitter where he mentioned 'retirement.'
Earl Thomas has long been a warrior in the NFL as a member of the Seattle Seahawks Legion of Boom. Prior to missing Week 12's action with an injury, Thomas had amassed an impressive iron-man streak of consecutive starts. Though he returned on Sunday Night Football against the Carolina Panthers in Week 13, he might be out a bit longer than one week this time around.
During the first half of the primetime matchup, Thomas and teammate Kam Chancellor both went hard after an interception over the middle of the field. Neither man got it and the ultimate result was a hard collision and awkward fall. That play left Thomas in a heap of pain for quite some time. He eventually had to be helped off and was then carted off the field.
After tests were performed in the locker room, Ian Rapoport reported that he had a broken bone in his leg. This was later confirmed on the NBC broadcast, but was also elaborated upon as being a cracked tibia (shin bone). Obviously he will not return on Sunday and could miss substantial time.
However, while he was back in the locker room, Thomas sent out this incredibly cryptic tweet that used the dirtiest R-word of all: Retirement.
This game has been so good to me no regrets.. A lot is running through my mind including retirement thanks for all the prayers.

— Earl Thomas (@Earl_Thomas) December 5, 2016
After a few minutes of everyone freaking out on social media, he followed up with this.
Frankly, there are a lot of ways you can read all of this. On one hand, he could seriously be contemplating retirement and the mention of Kam is regarding the play. However, it could also have been a joke played by Chancellor or even something as silly as a bet between teammates that Thomas wouldn't mention retirement just to have everyone freak out online.
Let's hope it's one of the latter two scenarios or something of the sort. Earl Thomas is one of the most exciting and fun players in football. Consequently, it'd be tough to watch him walk away after this injury. We'll definitely have to wait and see what's next for him, though.
This article originally appeared on