Eagles wide receiver Nelson Agholor explains his poor performance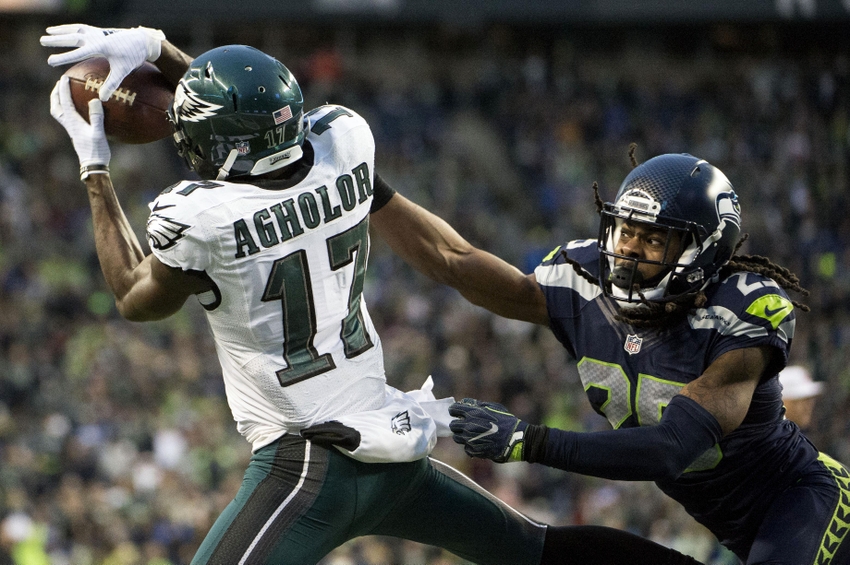 Eagles wide receiver Nelson Agholor just isn't cutting it.
We're approaching Thanksgiving where fans of the Philadelphia Eagles have experienced the highs and lows of NFL football recently. Two years ago, they blew out the hated Dallas Cowboys. Last year, they were blown out by the Detroit Lions. Thanksgiving is about family. That's exactly what this Eagles team is, and no matter how dysfunctional they may seem, head coach Doug Pederson isn't ready to give up on any of them.
More from Inside the Iggles
That brings us to wide receiver Nelson Agholor. Yes, this probably should have been written yesterday, but we at Inside The Iggles saw the game just like you. Yes, we were elated when tight end Zach Ertz was streaking down the field for a touchdown that would have put the Eagles up on the scoreboard. Just like you, our hearts sunk when we saw the penalty flag. Then, as most of you probably were, we were furious because we saw the guilty party on the illegal formation penalty was Agholor. That dog gone Agholor.
Things weren't helped by him dropping a perfect pass by quarterback Carson Wentz. It's true that our reaction probably should have come a little earlier, but, honestly, we were in shock, and just like you, we needed time to process things. We know the guy isn't screwing up on purpose. We know he wants to perform well, but we've known for a while that this is who this guy is. Remember it was us who told you about these issues in the first place. Look no further than an article we published five months ago.
The truth is nobody feels worse about what's going with Agholor than the man himself. In what's typical of the media, they were right there to stick a camera and microphone in the guy's face following yet another poor performance.
Take a look:
At this point, it's just become a mute point to pick on the guy. The Eagles, who probably should have traded him, are now stuck with him for a little while. We're past this season's trade deadline. It's impossible to cut him next year (that would cost the team roughly a little under 4.5 million), and he's representative of 2.5 million against the cap next year.
Trading him next year wouldn't work either. Do you think anyone would give you a sixth round draft selection for his services? We've struggled with whether or not to criticize him or feel sorry for him, but at the end of the day, football is about results. He isn't yielding any, but you have to hope he can work through this.
For the sake of an entire fan base's mental health, let's hope he does.
This article originally appeared on