Eagles vs. Falcons recap: Defense shuts down high-flying Atlanta offense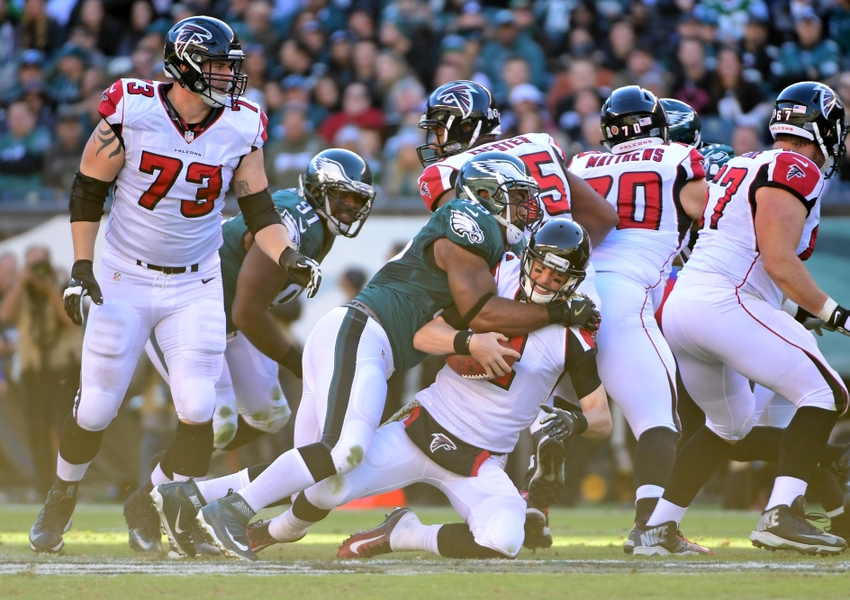 First half review
Defense:
Jalen Mills starts the game at left cornerback over Leodis McKelvin, dealing with the tall task of having to cover Julio Jones all day.
Brandon Graham blows up a running play in the backfield for a big loss. Graham is having himself a Pro Bowl year.
Eagles halt the Falcons offense on third down. As good a start as they could hope for against this elite unit.
Offense:
Ryan Mathews is gets involved early. John Lynch claims Mathews was limited in recent games due to a "sore tooth."
Wentz makes several gorgeous intermediate throws on the drive, hitting Jordan Matthews on two of them and hitting Zach Ertz for another. A good start at home for the rookie quarterback.
Touchdown! Mathews hammers his way into the end zone for the score. Mathews ran the ball 7 times for 34 yards on the drive. The Eagles offense is a well-oiled machine when Mathews is in the zone.
Defense:
The Philly defense continues its early dominance, holding the Falcons to a three and out. Atlanta punts.
Offense:
Wentz beautifully sells the play action and finds Mathews in the flats, who runs downfield for a massive gain. The offense is clicking.
Wentz hits Jordan Matthews for the fourth time on the day for a big gain, putting the Eagles deep into Falcons territory.
The drive stalls and the Eagles are forced to kick a field goal, but Caleb Sturgis misses it. It should be noted that Doug Pederson chose not to go for it on fourth down. Progress!
Defense:
It was only a matter of time before this happened. Matt Ryan hits Julio Jones deep for a huge gain. Literally nothing Nolan Carroll could do. Jones is just unstoppable.
Despite the big play, the Eagles stop the bleeding and hold the Falcons dead in their tracks, forcing them to settle for the field goal. Unlike Sturgis, Matt Bryant kicks it right down the middle. 7-3 Eagles.
Offense:
After a nice kickoff return from Kenjon Barner, the Eagles offense is unable to get anything going. Three and out for Philadelphia.
Defense:
Julio Jones is just filthy. Once again, Nolan Carroll had good coverage on the All-Pro wideout, but that doesn't matter. Jones finds a way to bring in a well-thrown pass from Matt Ryan for 20 yards.
Sack! Connor Barwin, who left the game earlier with an apparent injury, looks to be completely fine. He takes down Matt Ryan for a big loss.
Despite big plays from Jones and Devonta Freeman, the Eagles once again keep the Falcons from getting into the end zone. Atlanta settles for a field goal, but Philadelphia still leads 7-6.
Offense:
Ryan Mathews is running like a man possessed. First play of the Eagles drive, Mathews breaks out for a 22-yard gain. He's running angry. Easily his best performance of the season thus far.
Turnover. Wentz fumbles the ball and falls on it, but it slips through his legs and a Falcons defender recovers it. Eagles shoot themselves in the foot.
Defense:
Sack! Brandon Graham takes down Matt Ryan for a big loss. Exactly what the Eagles needed to start the defensive series.
Eagles defense bails out the offense and holds Atlanta to a field goal attempt, which is missed by Matt Bryant. Luckily, the Eagles still lead 7-6.
Offense:
In typical Eagles fashion, they fumble on the second straight play. Darren Sproles is stripped of the ball immediately after making a catch in the backfield. After a review, however, the officials declared the play an incomplete pass. Sproles was unable to make a football move, eliminating the possibility of catch.
Carson Wentz finds Jordan Matthews deep but, of course, Matthews drops it. Would have put the Eagles deep in Atlanta territory.
Eagles offense stalls. Pederson decides to keep the offense on the field to go for it on fourth down before the end of the half, where Wentz displayed his inexperience. Wentz is unable to find an open man and throws the ball into the dirt, giving Atlanta the ball and an opportunity to heave one into the end zone. Luckily, the Eagles were able to keep that from happening. Wentz was bailed out by the defense there. Eagles lead 7-6 going into the half.
Not a bad first half for the Eagles. Carson Wentz, aside from a few mistakes, was terrific, completing 11 of 16 attempts for 134 yards. The defense had success getting to Matt Ryan and keeping Julio Jones in check, which is key against Atlanta's high-flying offense. The Eagles should be ahead by far more than one point, but they can only be so disappointed with holding Atlanta to only six points in the half.
Second half review
Offense:
Darren Sproles gets involved on three straight plays to start the drive. The 33-year-old just doesn't slow down.
Wendell Smallwood checks in and makes a couple nice runs. Good to see the rookie making plays.
Nelson Agholor brings in a Wentz throw for a five-yard gain, but it was ruled an incompletion. After review, it was determined that Agholor had possession and two feet down inbounds. It's a gain of only a few yards, but it helps.
Atlanta holds Philadelphia on third down. Sturgis kicks a field goal to give the Eagles a 10-6 lead.
Defense:
Julio Jones outruns Jalen Mills for a big gain. Mills' lack of speed was apparent on this one.
Nolan Carroll left the game in the first half with an apparent head injury. Leodis McKelvin checks in and is immediately targeted by Matt Ryan, but McKelvin nearly picks him off. Good confidence booster for McKelvin.
Eagles hold Atlanta to another field goal attempt. Matt Bryant ends up making this one. Eagles still lead 10-9.
Offense:
Terrifying moment. Wentz hits Brent Celek on a screen. Celek had lots of green ahead of him before an Atlanta defender swoops in and hits him, jarring the ball loose. Somehow, Celek recovers his own fumble. Could have been very bad.
Carson Vick makes an appearance! Dealing with pressure, Wentz steps up and takes off for 13 yards, picking up a first down. Nice awareness from the rookie.
Despite some terrific running from Ryan Mathews on the drive, the Eagles are held on Atlanta's doorstep. Doug Pederson makes the responsible decision to take the points and go for the field goal. Eagles lead 13-9.
Defense:
Leodis McKelvin made his presence felt on this drive. And not in a good way. Matt Ryan hit Taylor Gabriel for a 76-yard score after McKelvin bit on a double move. McKelvin has been horrific this season. Eagles are missing Nolan Carroll badly after that one. Falcons take the lead, but miss the extra point. Falcons lead 15-13.
Offense:
Kenjon Barner has a nice return on the kickoff, putting the Eagles in Falcons territory to start the drive. Unfortunately, that didn't matter. Two bad no-calls from the refs caused the Eagles to settle for a long field goal on fourth down. Doug Pederson, rightfully so was going ballistic on the sideline. Easily the most animated he's been this season.
Defense:
Awesome response from the Philly defense. Eagles force a three and out after a highly frustrating drive from the offense. Eagles get the ball back down two with a little over 10 minutes remaining.
Offense:
The Eagles finally get a call! An Atlanta defender interfered with Jordan Matthews while trying to make a play on the ball. Eagles enter the red zone.
Touchdown! Ryan Mathews pounds it in for his second score of the day!
Mathews scored again! Doug Pederson chose to go for two to make it a six-point game and Mathews muscles it into the end zone. 21-15 Eagles.
Defense:
Questionable pass interference call on Jalen Mills. Mills doing everything he can to neutralize Julio Jones. This play ended up costing him.
On third down, Matt Ryan takes a deep shot to Jones, who drops it. Very rare to see Julio Jones drop the ball like that. Falcons punt.
Offense:
On a critical third down, Wentz finds an open Nelson Agholor, but unsurprisingly, he drops it. Agholor may just be the worst receiver in the league.
Defense:
Falcons convert on third down, but there's a penalty. An Atlanta receiver blatantly interfered with Mychal Kendricks on the play. Eagles halt Atlanta on their next conversion attempt.
Fourth down. Falcons going for it. Malcolm Jenkins covers Julio Jones and shuts him down, resulting in an incompletion.
Offense:
Eagles trying to run out the clock, but they are held on three plays despite good running from Wendell Smallwood.
Initially, it looked as if Doug Pederson was going to make the ill-advised decision to go for it on 4th and 1. He ended up coming to his senses and goes for the field goal. Sturgis knocks it through. Eagles ahead 24-15.
Defense:
Interception! Leodis McKelvin makes up for the touchdown he allowed earlier in the game to put an end to Atlanta's misery. Eagles win it 24-15.
Overview
What a game. Despite some bad calls from the refs, the Eagles were able to make plays on offense and shut down one of the top offenses in the NFL. Carson Wentz made a couple rookie mistakes, but none of them were backbreakers. The Eagles are still having a hard time finishing drives, but they're moving the ball, which is obviously a good start. The Eagles are now 4-0 at home this season and have an overall record of 5-4. Eagles have a tough one against the Seahawks in Seattle next week.
Additional notes
Nolan Carroll left the game in the first half with what looks to be a possible concussion. Carroll has been very good this season and his absence will be felt against a good Seattle team.
Bennie Logan was back today and gave the front seven a boost. They've missed him over the last three weeks.
Big day from Ryan Mathews. It's no coincidence that the Eagles offense moved the ball with ease when he was playing well. He's an important piece to this team.
More from Inside the Iggles
This article originally appeared on