Eagles vs. Bengals recap: The wheels are coming off for Philadelphia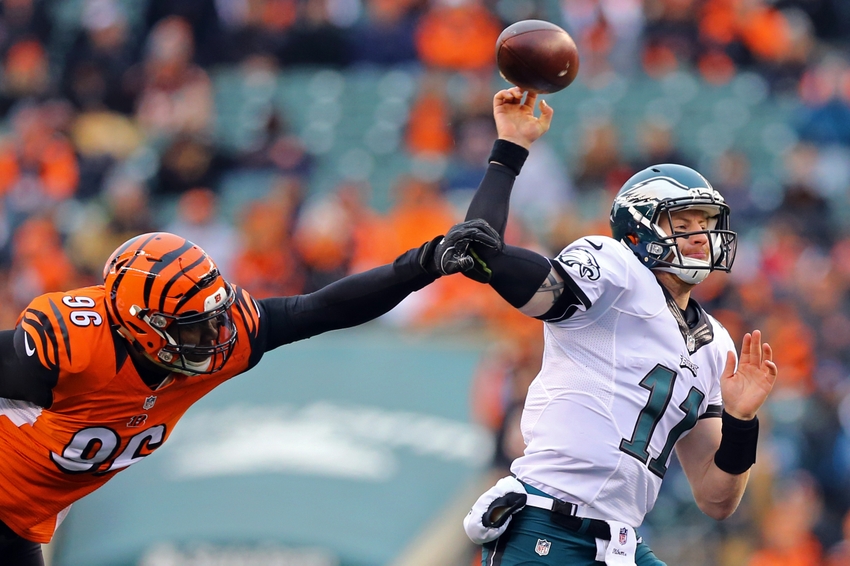 The Eagles are spiraling out of control.
First half review:
Offense:
As bad a start as the Eagles could want. Three and out for the sloppy offense.
Defense:
Andy Dalton performs surgery on the Philly defense, but the drive ends in a field goal. Eagles get away with one here.
Offense:
Nice nine-yard run by rookie Wendell Smallwood. Getting a nice opportunity for a larger workload with Ryan Mathews ailing.
Carson Wentz almost throws a pick. Eagles try out the screen pass, but Carlos Dunlap is there to get a hand on the ball, almost bringing it in for the pick. Scary moment for Wentz.
Wentz uses the wheels! On 3rd and 8, a hole opens up in the middle of the field, allowing Wentz to step up and run for the first down. Nice play from the rookie.
The drive ends on a throw that Dorial Green-Beckham is unable to handle. Drop. Eagles forced to punt.
Defense:
Eagles continue to struggle on third down. Andy Dalton finds Brandon LaFell wide open in the middle of the field for a 23-yard gain.
Absolutely torched. Dalton finds Cody Core for a huge gain, setting the Bengals up nicely in the red zone.
Touchdown. Jeremy Hill punches it in from two yards out. Eagles defense is totally out of it.
More from Inside the Iggles
Offense:
Wentz picks up another decent gain with his legs. Receivers are not getting open, forcing him to use his feet to make plays.
3rd and 7, Wentz finds DGB for a first down. Nice play from DGB, who took a shot after making the catch.
Wentz finds Trey Burton on 3rd and 9 for a 17-yard gain. Burton has definitely been one of the Eagles' unsung heroes this year.
Ugly, ugly play on 3rd and 9. Eagles run the ball with Wendell Smallwood for a loss of one. Tons of confusion on the play. Doug Pederson has a lot of people scratching their heads after that one.
Eagles go for the field goal, but it goes wide. Eagles still down 10-0.
Defense:
Tyler Boyd brings one in for a 21-yard gain on third down. A personal foul penalty is also tacked on after an Eagles lineman went low on Andy Dalton after the pass.
Eagles hold Cincinnati on third down. Bengals thought about going for it, but ultimately decided to kick the field goal. Bengals with a 13-0 lead now.
Offense:
Almost a pick. Wentz stares down a receiver and throws into double coverage. But mistake from Wentz.
3rd and 10, Wentz finds Trey Burton for a first down. Burton is the Eagles' best receiver and that's not a joke.
Drive stalls. Wentz makes another bad throw that ends up out of bounds. Had DGB open. We've seen much better days from Wentz. Eagles are forced to punt.
Defense:
Eagles make things to easy for the Cincinnati offense. Dalton gets in a rhythm and dissects the defense as he drives down the field.
Touchdown. Tyler Eifert finds a soft spot in the end zone and Dalton hits him to give the Bengals a 19-0 lead. Mike Nugent misses the extra point, however.
What a horrific first half from the Eagles. Carson Wentz played the worst half of football we've seen from him this season and the defense was unable to stop anything. Doug Pederson also had a bad first half, with multiple play calls that made little to no sense at all. Things are getting bad for Philadelphia.
Second half review
Defense:
Eagles pick up right where they left off in the first half and allow another conversion on third down. Dalton finds Brandon LaFell deep for a 44-yard gain.
In the red zone, Dalton finds LaFell once again for the score. Eagles are just there at this point. Cincinnati leads 26-0.
Offense:
Paul Turner sighting! The undrafted rookie gets open and picks up a big gain on his first career catch for 42 yards. Probably the most exciting play of the game for the Eagles. Good to see Turner get an opportunity.
Interception. Wentz's are was hit while trying to throw the ball. Eagles momentum totally killed.
Defense:
Eagles are imploding completely. After an illegal hit on a defenseless receiver, Nigel Bradham was flagged for a late hit out of bounds. If things couldn't get any uglier.
Dalton hits Tyler Boyd for a 29-yard gain. Jalen Mills had decent coverage on the play, but Boyd just got the better of him.
Drive stalls, Bengals settle for the field goal. 29-0, Cincinnati.
Offense:
Huge return from Kenjon Barner on the kickoff. 64 yards. Eagles have a golden opportunity to get on the board.
Touchdown? Touchdown! Eagles go for it on 4th and 5 and Wentz hits Zach Ertz wide open in the end zone for the score. Eagles still trail 29-7.
Defense:
Offense:
That didn't last long. Wentz overthrows Ertz and it turns into a Cincinnati interception. Not a good day for Wentz
Defense:
After a quick Eagles drive, Cincinnati returns the favor. Eagles force them to punt.
Offense:
Paul Turner runs a nice slant and picks up the first down. Nice play for the future Hall of Fame receiver.
Carson Wentz threw the ball, caught it and ran for an eight-yard gain. This man is the full package even on his worst day.
Eagles are held on third down and elect to go for it. Wentz hits Nelson Agholor who fights for extra yards and picks up the first down. It's really nice seeing Agholor stepping up after being a healthy scratch against Green Bay.
Touchdown! Darren Sproles punches it in for six. Eagles trail 29-14.
Defense:
Fat man with football! Dalton throws a pass to offensive lineman Jake Fisher, who picks up a nice gain, but he fumbles! Eagles recover and start the drive in Cincinnati territory.
Offense:
Interception. Wentz throws a bullet right at Vontaze Burfict's chest, who returns it 47 yards and, for all intensive purposes, ends the game.
Overview
The Eagles seem to have given up completely. The offense is incapable of putting points on the board and the defense has seen a major decrease in production after an exciting start to the season. Doug Pederson has a lot of work to do, as does Jim Schwartz. This entire team needs work.
This article originally appeared on