Eagles vs. Bears recap: Wentz looks like the real deal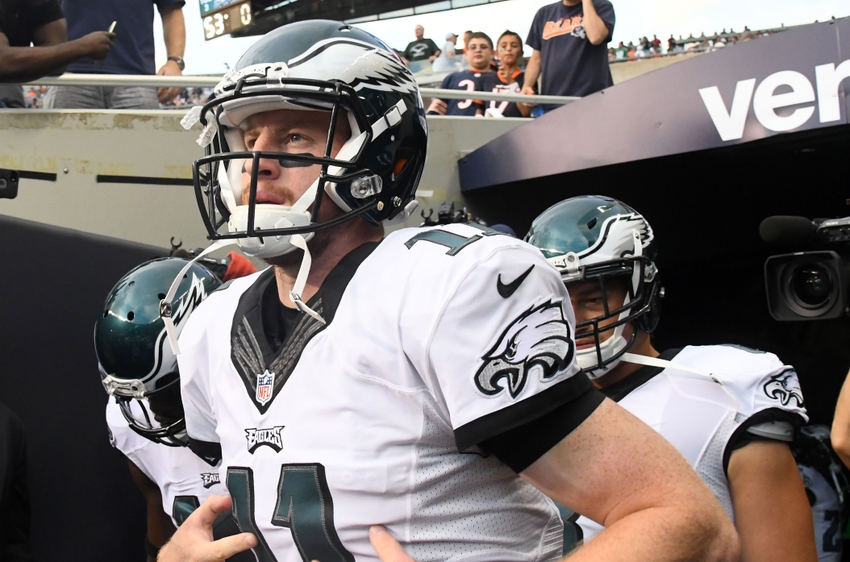 Eagles dominate the Bears at Soldier Field.
First half review
Defense:
Brandon Graham spears a man in the backfield on the first play of the game. Pretty awesome start.
Immediately following Graham's spear, Malcolm Jenkins sacks Jay Cutler for a huge loss. Completely unblocked on the play. Probably the easiest sack of Jenkins' career.
Offense:
Carson Wentz started off the Eagles' first drive completing six straight passes. The last of the bunch coming on a 4th and 2 conversion to Dorial Green-Beckham.
Wentz led the Eagles inside the Bears' 10-yard line, but they were unable to get in for a touchdown. Eagles settle for a Caleb Sturgis field goal.
Defense:
The Eagles defense looked to have Chicago's number until Cutler connected with Eddie Royal on a screen pass that went for 31 yards.
On a 3rd and 4, Ron Brooks almost came up with a diving interception. Brooks probably should've had that catch, but his effort at least held the Bears to a field goal attempt.
I say "attempt" because Bears kicker Connor Barth knocked his field goal off the post. No good. Eagles still up 3-0.
Offense:
A nice Ryan Mathews run gave the Eagles what looked to be a first down, but the play was called back due to a holding call on Jason Peters. Not good from the veteran tackle. Eagles punt the ball away.
Defense:
Not a great series for Jalen Mills. On one of the first plays of the Bears' drive, Mills had Eddie Royal wrapped up behind the line of scrimmage for a loss, but Royal broke through the tackle and picked up a decent gain.
A few plays later, Mills bit on a double move from Alshon Jeffery, leading to a 49-yard completion. The play probably should have been a touchdown, but Cutler underthrew Jeffery.
A pass interference call on Nolan Carroll in the end zone gave the Bears a golden scoring opportunity, which they took advantage of. Jeremy Langford punched the ball into the end zone on the following play. Bears take the 7-3 lead.
Offense:
On a 2nd and 10, Wentz hit Brent Celek in the middle of the field for a big gain. Wentz also took a massive hit from Jerrell Freeman in the process. Unfortunately, the play was called back after Jason Kelce was flagged for a hold. Kelce owes Wentz a beer or two.
Kelce was flagged again on the following play, but the penalty was declined. Not a great moment there for Kelce.
Defense:
Brandon Graham takes down Cutler for the sack on the first play of the series. Good game from Graham early. Eagles hold Chicago to a three and out.
Offense:
Josh Huff made a rare appearance on an end-around. Wasn't able to pick up any yards, though.
Trey Burton makes his first catch of the season for a first down. Good to see him contributing.
Wentz throws a gorgeous ball and hits Jordan Matthews wide open for a 32-yard gain. Wentz seems to have developed terrific chemistry with Matthews already.
Wentz makes his first rushing attempt on the night. Was hit hard just as he was running out of bounds. If it was Drew Brees or Tom Brady, a flag probably would've been thrown, but no flag here.
3rd and 7, Wentz targets Burton in the end zone, but the play is broken up by a Bears DB. Eagles settle for a field goal once again. Eagles down 7-6.
Defense:
Bears are unable to get anything going. Eagles hold them to a three and out.
Offense:
Wentz made several nice throws to get the Eagles within field goal range. Seems to be very effective in two or one-minute drill situations.
Wentz tossed a ball to Jordan Matthews in the end zone, but Matthews dropped it. It seems he still has an issue with holding onto the ball. Eagles settle for a field goal once again, but take the lead. Back up 9-7.
It was a shaky first half for the Eagles. They had no issues passing the ball, but their rushing attack was lackluster to say the least. Interestingly, Ryan Mathews only had two carries in the first half. It wouldn't be surprising if he's dealing with some sort of underlying injury. The Eagles ran the ball only 10 times in the first half, which isn't a lot.
Second half review
Offense:
Eagles started the drive moving the ball well, but a penalty disrupted the team's momentum.
On 3rd and long, Wentz took a shot downfield to Nelson Agholor. Pass interference probably should have been called. Eagles forced to punt.
Defense:
Destiny Vaeao gets to Cutler and forces a fumble. Eagles recover and get good field position. Exactly what the Eagles needed.
Offense:
Eagles unable to get anything going. On 3rd and 10, Wentz tried to pick up the first down with his legs, but was far short of the marker. He took a couple big hits at the end of the play as well. Wentz needs to limit those as much as possible. Eagles punt.
Defense:
Bears find a crack in the Eagles' defense and start beating them on the ground. Eagles take some time adjusting to Chicago's run-heavy approach.
Eagles finally hold Chicago to a 3rd and long. A Cutler incompletion leads to a Bears punt.
Offense:
Wentz starts the drive off with a nice completion to Jordan Matthews, who picked up a big gain after the catch. Good start to the drive.
Rookie running back Wendell Smallwood had a couple of nice runs on the drive, one of them going for 11 yards. Nice to see the Eagles' fifth round pick contributing more after a quiet Week 1.
Eagles get into the red zone and Ryan Mathews punches it into the end zone after initially being stopped by the Bears' defensive line. Good second effort from Mathews. Eagles extend their lead to nine points.
Defense:
Nigel Bradham picks off Cutler and returns it inside the Bears' 5-yard line. Not a good decision from Cutler at all.
Offense:
Eagles finally get a touchdown! Wentz dumps it off to Trey Burton for an easy walk-in score. Wentz seems to like utilizing Burton's versatility. Caleb Sturgis misses the extra point, however. He does not look totally healthy. More on Sturgis later.
Defense:
Jay Cutler left the game with an injury, which may have come from the hit he took from Destiny Vaeao earlier on. Brian Hoyer enters the game.
Rodney McLeod came inches away from intercepting Hoyer on a throw to Alshon Jeffery. Jeffery caught the ball and was immediately decked by Stephen Tulloch. First-year Eagles making plays.
Another turnover for the Bears. Jeremy Langford coughs up the football and the Eagles recover.
Offense:
Ryan Mathews breaks out for a 30-yard run, setting the Eagles up nicely in the red zone. Nice job turning the corner and getting upfield.
Touchdown! Mathews gets his second score of the night on 4th and goal. The injury to Sturgis may have forced Pederson to go for it, but it all worked out in the end. Eagles now up 29-7.
Defense:
Hoyer gets the Bears moving, but the offense stalls in the red zone. Eagles force a turnover on downs.
Offense:
Eagles offense stalls. Bears quickly force a punt.
Special Teams:
Donnie Jones punts the ball 53 yards to Eddie Royal, who escapes a couple Eagles gunners and returns it all the way to the house for a 65-yard score. Not the greatest display from the Eagles' special teams. Bears make it a little closer, 29-14.
Offense:
A pair of Bears penalties get the Eagles into Chicago territory. Darren Sproles got a heavy workload to run down the clock.
Jerrell Freeman breaks through and takes down Sproles on third down. Hard not to be impressed with Freeman's effort on the night.
Eagles go for it on fourth down to put the final nail in the coffin. Wentz finds Jordan Matthews who gets just enough for a first down. Eagles line up in victory formation. Eagles win 29-14.
Overview
What started out as a slow night for Philadelphia's offense turned out to be an all around dominant effort from the Eagles. Jim Schwartz's defense suffocated Chicago's offense into submission and when the Bears thought they found an answer, the Eagles adjusted. Carson Wentz looks to be as good as advertised. Last week, Wentz put on a show against the Cleveland Browns, but Chicago was a much better test for the young QB and he performed extremely well. The Eagles may have finally found their franchise quarterback.
Additional notes
Caleb Sturgis looked to have injured his leg at some point during the game. He did not leave the game, but the Eagles did their best to avoid putting him on the field. If Sturgis suffered a significant injury, the Eagles may look to add a free agent kicker (maybe Cody Parkey?).
More from Inside the Iggles
This article originally appeared on