Eagles Release Wide Receiver Josh Huff After Recent Arrest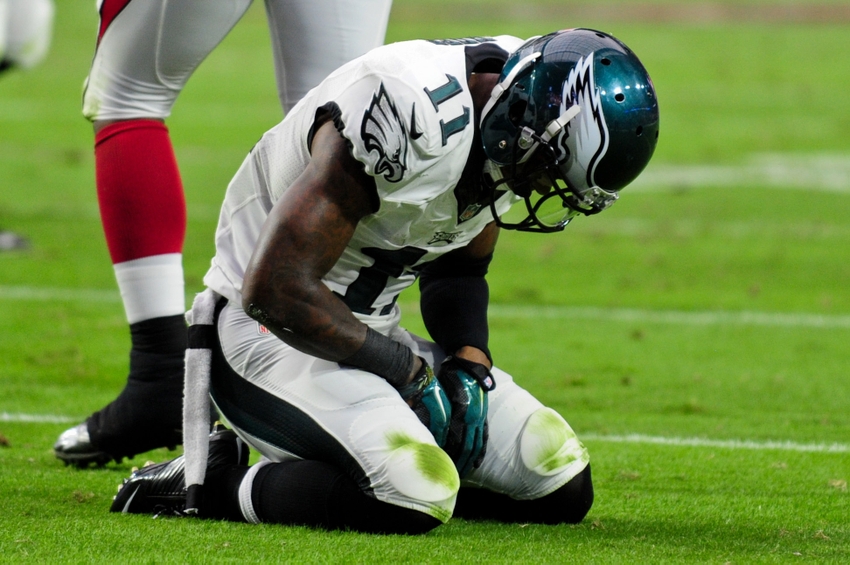 Philadelphia's wide receiver depth has been horrendous this year, and it took another hit on Thursday with the release of Josh Huff
Less than 24 hours after head coach Doug Pederson said Josh Huff would play against the New York Giants following an arrest, the team decided to release the former third-round pick.
Huff was pulled over for speeding on the Walt Whitman going from Philadelphia into New Jersey. Officers allegedly noticed a small amount of marijuana and found a firearm in the driver's side door. Huff did have a permit for the gun, but could not legally cross state lines with it. The loaded firearm contained hollow-point bullets, which are illegal in the state of New Jersey unless they are in a home, at or on the way to a gun range, or hunting.
Huff was arrested for speeding, possession of a small amount of marijuana, unlawful possession of a weapon and prohibited weapons/devices.
Yesterday Huff acknowledged he made a mistake, but says he never brought the firearm into the facility.
Philadelphia Eagles Need To Bring Their 'Big D' To Dallas
"I'm a professional athlete. What professional athlete don't have a gun?" said Huff on Wednesday in-front of a flock of microphones. "I have a wife and I have a son at home, and my job is to protect them at all costs. My job is to protect myself as well."
Philadelphia drafted Huff out of Oregon in Chip Kelly's first draft with the team. Huff proved to be valuable on special teams, returning two kick-off touchdowns in his three seasons. One of those returns was for 98 yards against the Minnesota Vikings two weeks ago. He won his second career NFC Special Teams Player of the Week honor following that victory.
With Huff now out of Philadelphia, a bad group of wide receivers just got worse. Jordan Matthews, Dorial Green-Beckham, and Nelson Agholor have all been inconsistent this year with dropped passes, bad routes, and missed blocks. The team has rookie undrafted free agent Bryce Treggs on the 53-man roster, but he has not received significant playing time as of yet.
Preseason hero Paul Turner, another rookie undrafted free agent, is on the practice squad with fellow RUDFAs Byron Marshall and David Watford.
Philadelphia was actively searching for a wide receiver at the trade deadline, even before Huff's arrest. They had discussions with the San Francisco 49ers regarding Torrey Smith, but were in disagreement to whether the Eagles should give a third-round pick or a fifth. Alshon Jeffery and Brandon Marshall were also rumored to be trade targets for the Eagles.
General Manager Howie Roseman will certainly be looking into free agents and across the league practice squads for other options. Roseman will address the media at around 12:20 on Thursday afternoon.
Philadelphia travels to play the New York Giants this Sunday in a critical NFC East match-up.
This article originally appeared on