Eagles preseason favorite Paul Turner is preparing for Monday night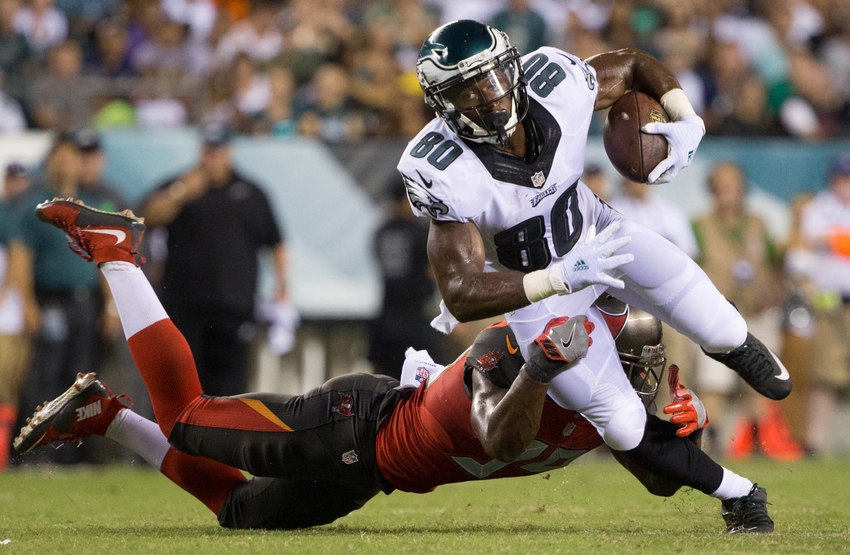 With the Eagles adding a new receiver to the active roster, fans ask who is Paul Turner?
Paul Turner joined the Philadelphia Eagles during the 2016 preseason. He went undrafted in the 2016 NFL Draft. He had an impressive season and was kept by the team to assist as a member of the practice squad. Everything changed Monday when he joined the active roster.
Turner has had a roller coaster of a ride on his way to becoming a full-fledged member of the Eagles active roster. In 2009, he led his high school to a state championship as a dual-threat quarterback in Louisiana. Then, he took his talents to the LSU Tigers to compete against Morris Claiborne and Tyrann Mathieu. Things didn't go as planned for him in Les Miles' offense. After playing in nine games for LSU as a redshirt freshman, Turner transferred to the Louisiana Tech Bulldogs. From there, he made major strides in his final two years of collegiate action. During those last two seasons, he compiled 87 receptions for 1,171 yards, and seven touchdowns.
Still, as stated earlier, Turner went undrafted in the 2016 NFL Draft, but he was eventually added to the Eagles roster along with four other prospects. Turner stood out immediately and drew attention from head coach Doug Pederson and the Eagles coaching staff. In his first preseason game, Turner led the Eagles with six receptions on seven targets for 34 yards. It was that first preseason game that peaked fans' interest as well. From there, Turner became a leader for the Eagles receivers adding an additional 11 receptions for 131 yards over the final three preseason games. In the finale, he snagged six receptions for 66 yards, but he would ultimately be notified that he didn't make the Eagles active roster prior to the season opener.
Want your voice heard? Join the Inside the Iggles team!
How did Turner respond?
Since then, Turner worked diligently and has been patient as a member of the Eagles practice squad. Former Eagles receiver Josh Huff, on the other hand, dropped the ball and was arrested. That lead to his release. Starting wideout Nelson Agholor's struggles have hampered the team's success. Turner has had to watch the Eagles carousel of receivers, without the opportunity to contribute, but it seems like the birds may have been pushed to the brink after Agholor's nightmarish performance last Sunday.
What can Eagles fans expect?
No, Turner won't be in the same role he was in during the preseason. It's simply too late in the season to expect Pederson to make Turner a focal point of the offense. They've been trying to incorporate Bryce Treggs into the passing game, along with Dorial Green-Beckham. There just may not be too many opportunities for Turner. The Eagles also have to keep leading receiving Jordan Matthews and tight end Zach Ertz involved. Turner's addition to the active roster does allow him to work with Carson Wentz. 2016 may not be the year of Paul Turner, but it may begin the development of a lasting connection with the team's franchise quarterback. Wentz is expected to lead the Eagles back to greatness, and there may be a substantial amount of opportunity for Turner as things move forward.
More from Inside the Iggles
This article originally appeared on