Eagles at Giants: Highlights, score and recap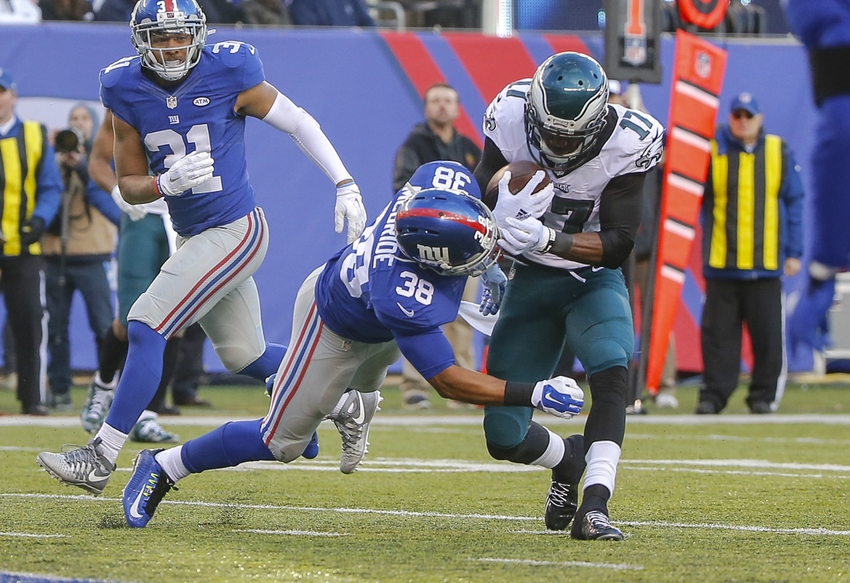 The Philadelphia Eagles and New York Giants meet Sunday in week 9 in a battle for second place in the NFC East. Read on for highlights, score updates and a recap of the action.
It is a winner take all for second place as both teams sit with 4-3 records, two games behind the Dallas Cowboys. The Eagles lost the opportunity to claim the top spot after falling short to the Cowboys last week in overtime. The Giants come into the game well rested off a bye week and winners of two straight games. With Dallas in control of the division this is a must-win game for both squads with playoff aspirations.
Rookie quarterback Carson Wentz is still trying to find a grove after falling off following the Eagles 3-0 start. He needs to work on his accuracy, but his receiving core needs to bail him out as well.
On the contrary, Eli Manning will need to tighten up if the Giants want any shot against a top ranked Eagles defense. Sitting with six interceptions on the year already, he needs to improve to give his talented receiver Odell Beckham Jr. an opportunity. The Giants only have 12 offensive touchdowns on the season, the fourth-worst in the league.
Highlights
Highlights will be posted as and when they happen.
Three stars
1. Odell Beckham Jr.: Beckham only has three touchdown grabs this year, he will need to find holes in the Eagles defense in order to make plays. Playing against an Eagles secondary that had significant issues containing Dez Bryant, expect them to attempt to clamp down on Beckham.
2. Eli Manning: In order for the Giants offense to find success they will need a big performance from Manning. With virtually no running game, close to last in the league, the Giants will need Manning to do a better job of being on target delivering the ball.
3. Carson Wentz: The Giants secondary is responsible for giving up 267 passing yards per game. This is something Wentz should attempt to exploit to give the Eagles a shot. Wentz has been unable to put together an all around game in recent weeks, this would be the perfect opportunity for him to get back on track.
Next Game
Next week both teams are at home, with the Giants squaring off against the Cincinnati Bengals and the Eagles against the Atlanta Falcons.
More from FanSided
This article originally appeared on