Eagles at Bears: Highlights, score and recap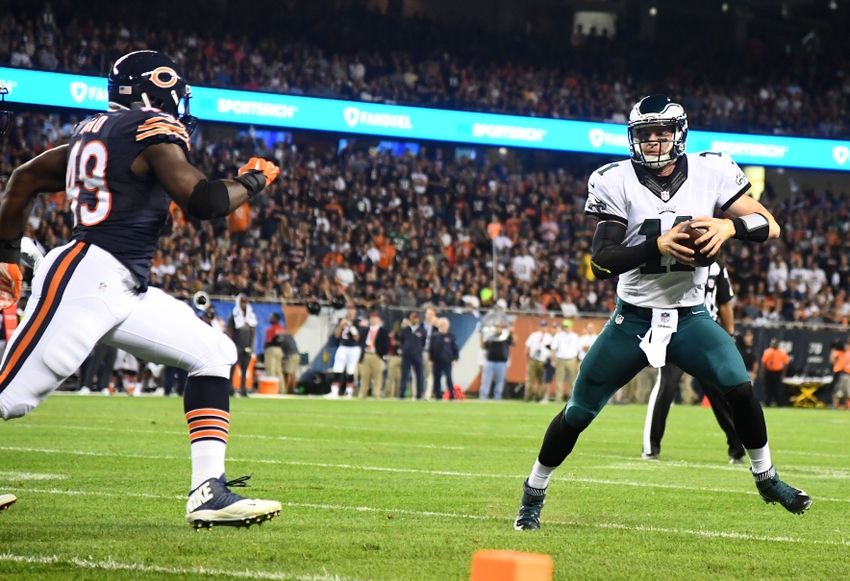 The Philadelphia Eagles easily took care of the Chicago Bears 29-14 on Monday Night Football.
It wasn't the prettiest or most exciting game of Week 2, but the Philadelphia Eagles went on the road and took care of business on Monday Night Football against the Chicago Bears.
The Eagles put pressure on Bears quarterback Jay Cutler all night, while Carson Wentz led their offense to a strong second half.
It was a dominant defensive performance by the Eagles. They put consistent pressure on the passer, while completely shutting down the Bears' rushing attack. Entering this game, I felt that this was a relatively even matchup. However, the Eagles proved to be the far superior team in this one.
The Eagles only led by a score of 9-7 at halftime, but had a dominant second half on their way to victory. It was a late third quarter stretch by the Eagles that put this one away.
Cutler fumbled the ball in the third quarter on a sack from defensive lineman Destiny Vaeao. Cutler appeared to injure his right hand on the play and it clearly impacted his game. After a three-yard Ryan Mathews rushing touchdown put the Eagles up 16-7, Cutler immediately threw an interception to Eagles linebacker Nigel Bradham.
Check out these other NFL posts from FanSided:
Top 10 craziest NFL fan bases
Top 15 NFL Draft busts of all-time
Top 15 Heisman winners who flopped in the NFL
The pick was returned to the two-yard line, where Wentz hit tight end Trey Burton on a creative screen play for a touchdown. That interception was the last time that we saw Cutler in this game as his hand was clearly bothering him.
The Bears' QB finished with 157 passing yards on 12-of-17 in the game, with those two huge turnovers being the difference against the Eagles.
The Bears had some obvious struggles, but Eagles rookie quarterback Carson Wentz was impressive again. He appears to be a legitimate franchise quarterback for the team.
The 2-0 Eagles may be a team on the rise, while the 0-2 Bears are sent reeling into Week 3.
Highlights
Cutler to Eddie Royal
Jay Cutler 👉 @EddieRoyalWR…

He FAST! 🏃💨💨💨💨💨 #CHIvsPHI https://t.co/S5pqWy1HLF

— NFL (@NFL) September 20, 2016
Cutler deep to Alshon Jeffery
Cutler goes DEEP… Got 'em!

Check the move Alshon puts on the DB though… 😳 #PHIvsCHI https://t.co/PYPJKSBRCe

— NFL (@NFL) September 20, 2016
Jeremy Langford scores from one yard out
Hopefully you started @JeremyLangford this week in fantasy…

TOUCHDOWN, @ChicagoBears! #PHIvsCHI https://t.co/CZNRhmhoPk

— NFL (@NFL) September 20, 2016
Wentz hits Nelson Agholor
It's @CJ_Wentz's 2nd career NFL game… And he's already throwing into triple coverage with ease. 😯 #PHIvsCHI https://t.co/XuqadjJVEC

— NFL (@NFL) September 20, 2016
Jay Cutler turnover
LOOSE FOOTBALL!@Eagles force the Jay Cutler fumble… and recover! #PHIvsCHI https://t.co/HFFXuWj5Fc

— NFL (@NFL) September 20, 2016
Ryan Mathews touchdown
That @rmathews24 2nd effort…

TOUCHDOWN! 💪💪💪 #PHIvsCHI #FlyEaglesFly https://t.co/xl4MYYQcD5

— NFL (@NFL) September 20, 2016
LB Nigel Bradham picks off Cutler
Jay Cutler never saw Nigel Bradham…

PICKED. #PHIvsCHI #FlyEaglesFly https://t.co/eXYeoY2c4a

— NFL (@NFL) September 20, 2016
Mathews scores again
Another one. #FlyEaglesFly @rmathews24 pic.twitter.com/8p38mPVWZH

— NFL (@NFL) September 20, 2016
Three Stars
1. Carson Wentz
Wentz was not perfect in this game, but he simply looks the part of a big-time NFL quarterback. For the second straight week, Wentz showed up in a big way.
Wentz completed 21 of 34 passes for 190 yards and a touchdown on Monday night.
He is a talented rookie who clearly has the poise and presence in the pocket to be a franchise quarterback. This will not be the toughest test of Wentz's career, but this Bears' defense has some nice talent. Also, Vic Fangio put together a strong game plan to exploit Wentz' inexperience.
The rookie was simply never rattled.
2. Alshon Jeffery
One of the only bright spots for the Bears in this game was the performance of Alshon Jeffery. He made an immediate impact for the team and was clearly a mismatch for the Eagles' defense.
Jeffery is an incredibly gifted wide receiver who has massive upside with his combination of size and athleticism on the outside. The Bears were pretty bad on Monday night, but Jeffery's five receptions for 96 yards was a clear bright spot.
3. Brandon Graham
The Eagles' defense played well on Monday night, and it all started up front. They were consistently able to create a pass rush on the Bears' quarterbacks and they also performed well against the run.
Defensive end Brandon Graham was a huge part of the Eagles' defensive success. He was able to create consistent pressure on the quarterback. Graham had a sack in this game and also played well against the run, making two tackles behind the line of scrimmage.
He is a talented player who made a big-time impact in primetime.
Next Week
In Week 3, the Bears will go on the road to take on the Dallas Cowboys on Sunday Night Football, while the Eagles will host the Pittsburgh Steelers on Sunday afternoon.
More from FanSided
This article originally appeared on