Eagles: 3 things that we learned from Wednesday's press conferences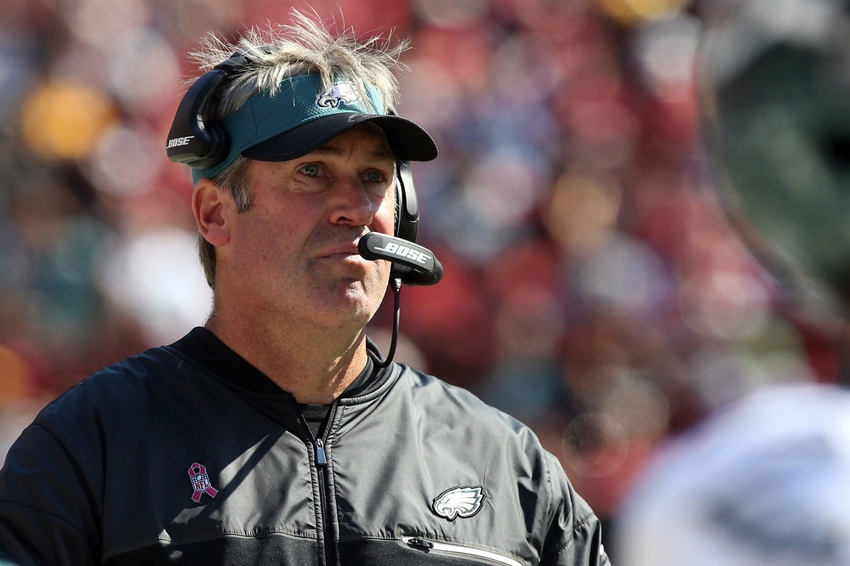 Fans and supporters of the Philadelphia Eagles had more questions about this team than they had answers once Wednesday morning rolled around. Then there were the usual press conferences that are held on Wednesdays. Unfortunately, as the game with the Minnesota Vikings approaches, there are still more questions than answers.
Head coach Doug Pederson took the podium first. Take a listen:
Obviously, it was to be expected that there would be questions about trading Sam Bradford. We figured we'd get something like "I think it's been a win-win for both sides", and we did. As Coach Pederson navigated his way through the next 15 minutes, nothing really surprising was asked. Then, two of his team leaders, safety Malcolm Jenkins and  quarterback Carson Wentz would also take the podium. With that being said, we've analyzed three press conferences, and we've been able to pinpoint about three areas where we think things may not be as hazy as they were about a day or so ago.
Let's begin.
1. The fans are upset. The team and the coaches are fine
We all fail at our jobs sometimes. We leave, and we go home. Some of us take the bad days harder than others, but, for the most part, we all shake it off. NFL football's no different. This is their job, and even though the Eagles' fanbase appears to be down in the dumps, all players and coaches appear to be positive about the road ahead.
When asked about his struggling defense, Pederson showed no signs of being any worse for wear. We're coming off of a game where the Washington Redskins sacked Wentz five times, and the Eagles' defense didn't bring Redskins quarterback Kirk Cousins down once. Pederson's confidence in his defensive coordinator Jim Schwartz and his unit isn't the least bit shaken though. "You know, it's a pride thing" said Pederson. "Number one, I know this group. It's a veteran group that we have here, and they don't like to stay down long. They had a little bit of a setback, and I know they'll come out fighting this week..and they'll find ways to get it done. I know Schwartz's scheme is the aggressive mentality on defense, and Coach Wilson will have these guys ready to play."
2. No one inside of the organization has lost any faith in Halapoulivaati Vaitai.
One play from Sunday keeps coming to mind when people think about rookie Halapoulivaati Vaitai. It was the moment the rubber met the road, or in this case when Vaitai met Redskins linebacker Ryan Kerrigan, and the result was the world being a witness to Vaitai being shoved backwards until he was only able to soften a blow to Wentz that would have been a whole lot worse had he not been able to impede Kerrigan's progress. Kerrigan finished the day with four tackles, including two sacks. The majority of the Eagles fanbase appears to have given up on the idea of the rookie starting at right tackle while Lane Johnson serves out his suspension.
Fortunately for him, coaches and teammates disagree. Coach Pederson has been staunch in his support of the rookie. He continues to acknowledge that this was his first start in the NFL, and that he improved as the game went along. We tend to acknowledge the learning curve of quarterbacks in the NFL, but we also tend to forget the other rookies need experience as well. Offensive linemen need coaching too, and just like a quarterback, technique and footwork will be the focus as the Eagles try to get "Big V" ready for the Vikings.
3. Wentz is handling those "growing pains" as well as anyone could expect
We thought Wentz would struggle against the Chicago Bears and the Pittsburgh Steelers. He didn't. He played extremely well in both games. We all were surprised about the loss to the Detroit Lions. We all probably figured the game against the Redskins could go either way. Through the whole process, we've seen exactly what we thought we'd see from a rookie playing NFL football. There are going to be some highs and lows.
Wentz realizes that. What's encouraging is what we've always heard and continue to keep seeing. He's been the same guy with the same attitude through success and failure. He's kept a level head during the winning streak, and now he's experiencing his first losing streak in the NFL. The coaches are giving him passing grades, and you have to believe we haven't seen the best from him yet.
Check out his press conference from Wednesday if you haven't seen it:
He's continuing to keep his eyes down the field when the rush comes. There aren't a ton of mistakes that are being made. He's not turning the ball over and making things worse for his defense and his team. The wins will come.
Final Thoughts:
The receivers are taking heat, and the coaches are now being looked at for game management and play calling. It appears the pass rush isn't getting home, and now the new franchise quarterback is starting to get hit more often. We're in the midst of a two-game losing streak, and what many consider to be the best team in the NFC is coming to town on Sunday. Other than that, there isn't too much to talk about.
More from Inside the Iggles
Against the Redskins, the Eagles threw the ball 22 times and there were 11 completions. Receivers aren't going to be involved when that happens. The Redskins kept the ball for what seemed like the entire game, and for the second week in a row, this team committed too many penalties. Just like last week, one of those penalties cost the Eagles dearly as a drive was extended the result was a touchdown. That's not what's made this team successful over the first three weeks of the season. We know that, and the team knows that.
What's certain is everyone in the locker room is finally committed to seeing this team win, and none of us can remember the last time that's been the case. For two straight weeks, things have started slow on both sides of the ball, but the defense has come on in the second half, limiting the opposing offenses to six points in both games.
There were chances to win in both games, and now we can expect to see a young team to make the necessary adjustments, limit the penalties, get back to ball control offense, get the defense off of the field following third down plays. There's no reason to believe that they can't do it. We've all seen how good this team is capable of being when things are clicking.
Then let's hope the coaches remember to tell these guys that games don't start in the third quarter.
This article originally appeared on