DuJuan Harris Emergence a Further Indictment of 49ers GM Baalke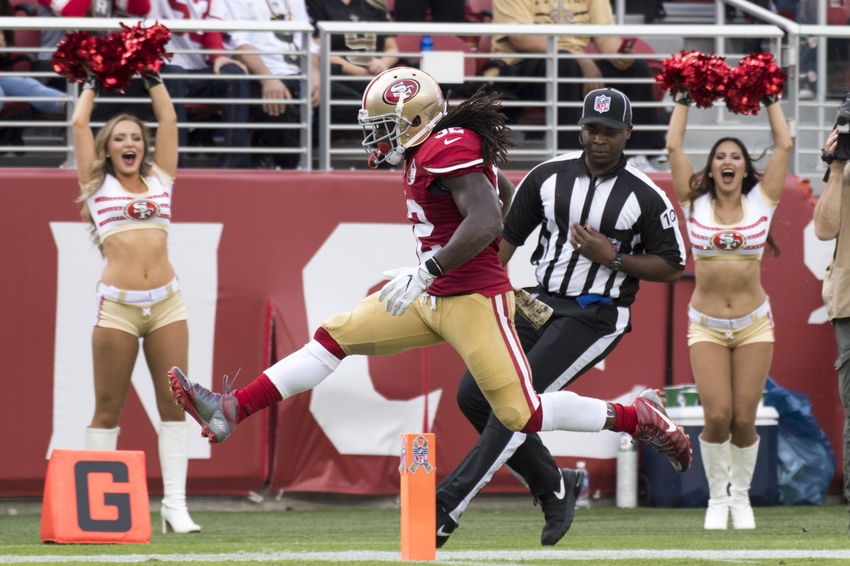 Some may believe Trent Baalke deserves praise for keeping DuJuan Harris around, but his emergence is a further indictment of the 49ers GM.
The 49ers look to have something in journeyman running back in DuJuan Harris, who excelled in reserve of starter Carlos Hyde in the Week 8 loss to the Saints.
Harris averaged 5.9 yards per carry on 10 rushing attempts and made a massive impact as a pass catcher, recording five receptions for 83 yards and a touchdown.
The former Packers tailback had bounced on and off the roster up until Week 7 against the Buccaneers, when a shoulder injury to Hyde pressed him to action.
But he has carried on where he left off towards the end of last season, running with purpose and displaying impressive elusiveness to make significant gains on a regular basis.
His performances since being promoted to the active roster may lead some to suggest general manager Trent Baalke deserves praise for identifying Harris' talent and keeping him around. However, a more accurate assessment is that this is another example of Baalke's failure to spot ability when it is staring him in the face.
Indeed, Baalke had already seen some of what Harris had to offer in 2015, when he averaged 5.2 yards per attempt on 27 carries, but still opted to keep Shaun Draughn and Mike Davis on the roster ahead of him.
Draughn has made little impact as a rusher, though he does have some value as a receiver out of the backfield, while second-year back Davis continues to spurn the chances given to him – running for only 21 yards against Tampa Bay and then fumbling on the goal line with the opportunity to bring the 49ers within four points versus New Orleans.
Though Baalke cannot be blamed for giving Davis a second chance after a poor, injury-hit rookie year, Harris' displays have already shown the GM to have made an error in judgement in keeping Draughn on the 53 ahead of him.
Omitting Harris from the initial 53 was just one of a collection of apparent mistakes Baalke made in the final roster cuts.
The Niners attempted to sign Bryce Treggs to the practice squad after cutting him, only to see the Cal product land with the Philadelphia Eagles.
Treggs was used a long-ball threat by the Eagles against the Giants last Sunday and had two catches for 69 yards, with Philly.com reporting he will likely see more action in the second half of the campaign.
With Torrey Smith struggling with a back injury, the 49ers could certainly use an extra deep threat, but instead they opted to stick with mediocre veterans such as Jeremy Kerley and Rod Streater rather than give a chance to Treggs or other young wideouts like Dres Anderson, Devon Cajuste and DeAndrew White.
Baalke also opted to let defensive tackle Garrison Smith go despite an extremely impressive preseason, and the defensive tackle was almost immediately picked up by the Seahawks, playing three games for Seattle before he was placed on injured reserve.
Smith is another who could have been of use to San Francisco with Arik Armstead now on IR himself. And, even though Jeff Driskel had a woeful preseason as the Niners' third quarterback, the fact he has been able to stick on the Bengals' 53-man roster raises further questions about Baalke as a talent evaluator.
The misjudgement of Harris is just the latest in a line of missteps by Baalke and – when you consider the dearth of success stories from recent draft classes and the emphatic failure of the players drafted coming off torn ACLs in college – it is no surprise there is talk of the 49ers GM being out of work come the end of the season.
This article originally appeared on