Drew Brees throws 87-yard TD pass to Brandin Cooks (Video)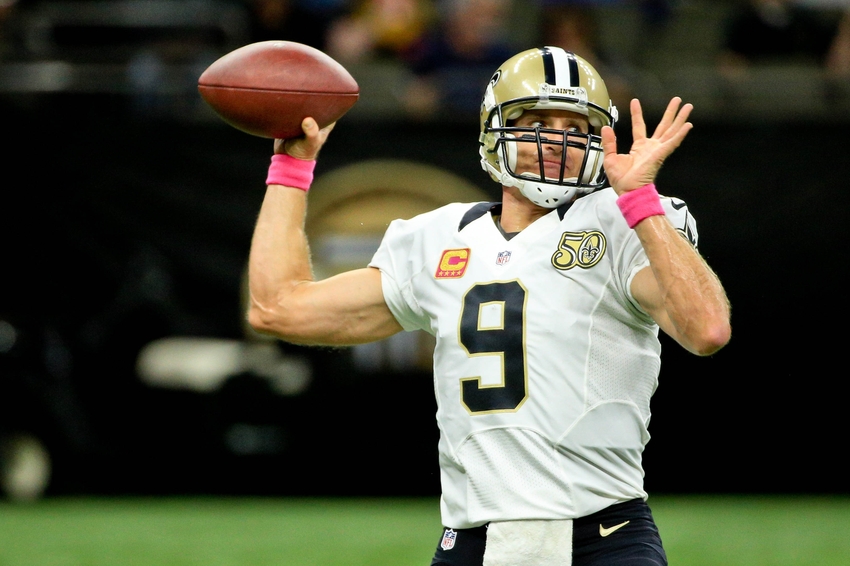 New Orleans Saints quarterback. Drew Brees unleashes an 87-yard touchdown bomb to wide receiver Brandin Cooks to go up early on the Carolina Panthers.
It doesn't matter if the New Orleans Saints have a weak defense, they are tough to beat at home in the Mercedes-Benz Superdome. It helps to have one of the best quarterbacks in NFL history in Drew Brees.
Brees unleashes a fantastic 87-yard touchdown pass to his favorite wideout Brandin Cooks to go up 14-0 early on the division rival Carolina Panthers in Week 6.
.@drewbrees to @brandincooks down the sideline…

EIGHTY-SEVEN YARDS. TD!!! 😱 #CARvsNO https://t.co/fZQbIsxmw9

— NFL (@NFL) October 16, 2016
Brees is getting up there in age, but can still deliver one of the most accurate balls in the NFL. He has developed a strong working relationship with Cooks these last few years. Cooks was a star in college for the Pac-12's Oregon State Beavers. He gives the Saints the vertical receiving threat they haven't had in years.
This touchdown was possible thanks to maybe the worst secondary in football in the Panthers. Since letting Josh Norman walk in 2016 NFL free agency, the Panthers are completely toothless in the back end. They gave up 503 passing yards to the Atlanta Falcons in Week 4. Now they just surrendered an 87-yard score from Brees to Cooks.
This is a cannot lose type of game for either team. Both have lost to Atlanta head-to-head. Carolina and New Orleans each only have one win on the season. Atlanta has four entering play on Sunday in Week 6. The Falcons are guaranteed to be in first place of the NFC South until at least the end of Week 8.
Can either team build off a strong game in Week 6 in New Orleans? So far, the Saints look buttoned-up after their Week 5 bye. Carolina is still feeling the effects of a tough Monday Night Football loss to the division rival Tampa Bay Buccaneers.
This article originally appeared on