Drew Bledsoe Perfectly Describes Tragic Irony of Tony Romo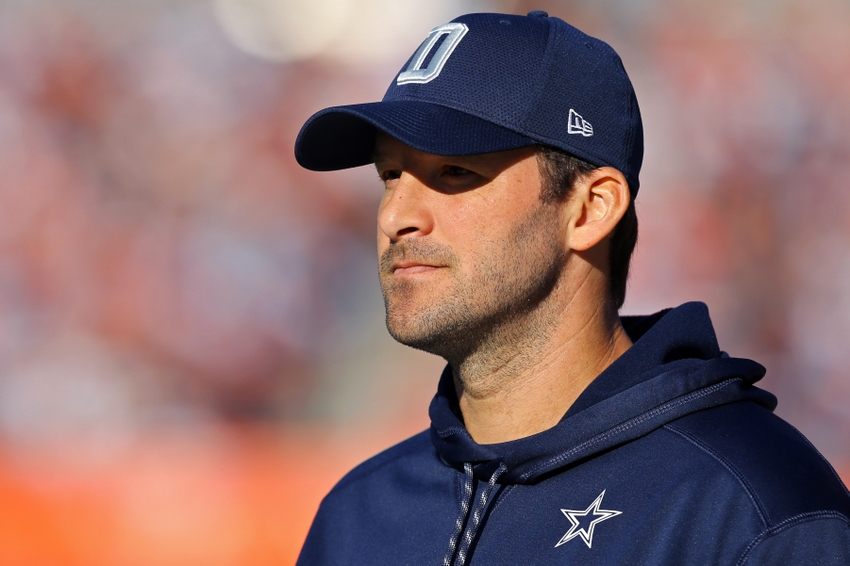 Tony Romo is suffering through one of the unfortunate consequences that come with playing professional sports. He got hurt at the worst time.
One of the greatest fears of quarterbacks and any other NFL player is that they lose their starting jobs. Not because they're playing bad but because they got hurt and the got who replaced them played well. It's happened so many times over the years. Trent Green losing out to Kurt Warner in 1999 after tearing his ACL. Alex Smith going down in San Francisco and Colin Kaepernick replacing him. Robert Griffin III being muscled out in Washington by Kirk Cousins.
Those are just some recent examples. Perhaps no man better understands what Romo is going through than Drew Bledsoe. This is a former Pro Bowl quarterback who got his team to a Super Bowl. Then after suffered a collapsed lung from a nasty hit in 2001, he returned to find his job stolen by Tom Brady. If that weren't bad enough, it happened again five years later when Romo did it to him in Dallas. So Bledsoe understands better than anybody what the 35-year old is feeling.
"It's a really, really hard thing. When you've been the guy for a lot of years, as Tony has been, and then your team is all of the sudden really ready to rock and roll, I think one thing that struck me that Tony says, he felt like it was the best team that he's had a chance to be a part of. That's really kinda where we were in New England in 2001, really felt like we had a shot with the offensive line we had. Team's really ready to roll, and all of the sudden you're on the sidelines and another guy's slinging the rock around.

The conflicting emotions are really, really hard to handle. You're simultaneously very very happy for your team and your teammates. It's what you worked for all along, is the success and the chance to battle for a championship. But at the same time, your heart's broken cause you're looking out there and the team's winning, and you gotta stand on the sidelines and don't get to be a part of it. It's a really really difficult thing."
It's almost fitting that Romo exited his time as starter with the Dallas Cowboys at the opposite end of how he entered it. Ten years ago he was the upstart young buck with a world of talent. This time he's the veteran the team couldn't afford to wait for anymore. Dak Prescott is who he was. It's an incredible twist of fate that things have ended up this way for him.
Maybe like Bledsoe he'll still get to have his moment at some point this season. In 2001 Brady was injured in the AFC championship game. Without Bledsoe being there to step in the odds are the Patriots would never have reached the Super Bowl. Dallas knows having Tony there waiting in the wings is a unique blessing as they take aim at their sixth championship in franchise history.
This article originally appeared on