DraftKings Fantasy Football: Best Values in NFL Week 10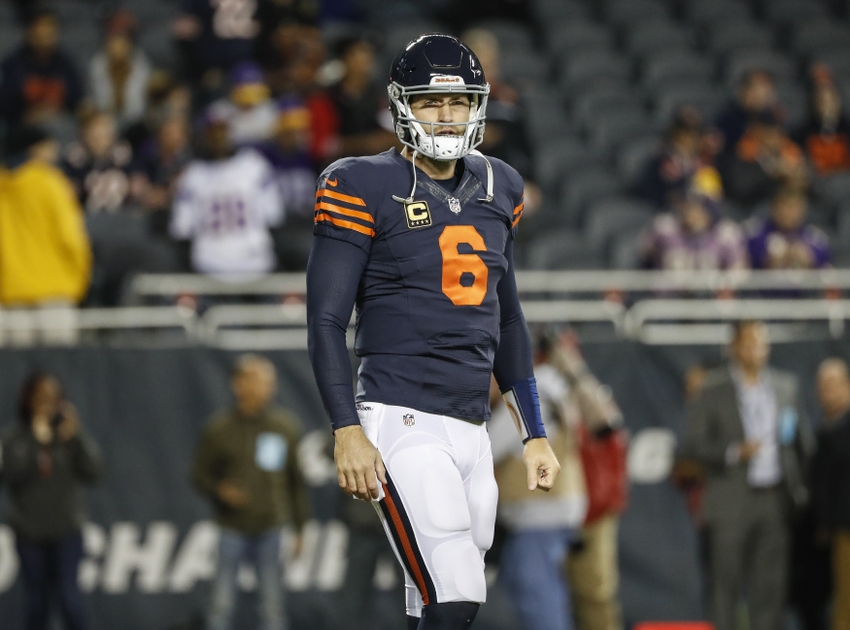 Taking a look at the best DraftKings values for DFS fantasy football in NFL Week 10 at each position.
At the start of any season always feels like the most difficult time to play DFS fantasy football. Not only are the DraftKings player salaries all out-of-whack as they're all projections, but it's also impossible to find real values. All that DFS players have is a limited number of reports to know who may get unexpected touches and who could be a breakout star. Entering NFL Week 1, though, that's no longer the case.
By this point in the season, we're looking at a league that we at least have a mild grasp on. We know which offenses can get going and which ways they do so. Possibly more importantly, there's also a clear idea as to which defenses concede a ton of yardage and points. Subsequently, we can use all of this information to our DFS advantage and win on DraftKings.
This largely again comes down to finding value. It doesn't take algorithms to tell you that David Johnson is going to torch the San Francisco 49ers this weekend. It's a great running back against one of the league's worst rushing defenses. That's simple logic. However, it could be the value back that you complement Johnson with that could make all of the difference.
So as we enter NFL Week 10, here's a look at some places where DFS fantasy football players can find value on DraftKings. Going position-by-position, these are the best DraftKings value plays for Week 10.
Quarterbacks
Dak Prescott, Cowboys (vs Steelers): $6,100
Maybe you've of this Dak Prescott cat by now. Not only has the rookie led the Dallas Cowboys to seven-straight victories, but he's established himself as money in fantasy football. What's great, though, is that he doesn't cost that much money still, slotting in at just over $6,000. Prescott put up 23.88 points in DraftKings scoring last week and has been over 20 points in each of his last three. The Steelers are a middle-of-the-road pass defense, but that hasn't stopped the Cowboys offense this season. Subsequently, Dak should definitely be worth starting at quarterback.
Marcus Mariota, Titans (vs Packers): $5,700
In his last outing against the Chargers, Marcus Mariota finished the day with three turnovers. And you know what that still didn't hurt? His fantasy production, of course. The Titans quarterback finished with 31.92 points in DraftKings scoring as he threw for 313 yards and three touchdowns while also adding a rushing score. After a slow start to the season, Mariota has been picking it up in a big way, scoring over 17 fantasy points in DFS in five-straight games. He's also scored 28 points or more in three of those five games. Against a suspect Packers defense that was just thrashed by Andrew Luck, Mariota might turn the ball over some more—but he'll also put up big fantasy numbers for what his salary is.
Jay Cutler, Bears (vs Buccaneers): $5,300
Admittedly, the fantasy production for Jay Cutler wasn't all there last week, largely due to him only accounting for one touchdown. However, Cutler looked great against a quality Vikings defense prior to the Bears bye week as he threw for 252 yards. In Week 10 with a matchup against the generous Buccaneers defense, the Chicago quarterback should be able to throw with ease once again. I expect his production to far exceed the 14.28 points he put up in his return.
Running Backs
Jordan Howard, Bears (vs Buccaneers): $6,000
Rookie Jordan Howard has been one of the best stories kept under the radar this season. But he won't be that way for long if the Bears running back keeps up the production he came up with in Week 8 before Chicago's bye. Howard put up 153 yards rushing with a touchdown while also catching all four of his targets for 49 yards. That was good for 33.2 points on DraftKings. Joining Cutler against the Bucs, Howard should again produce well on Sunday.
Mark Ingram, Saints (vs Broncos): $5,400
There's a definite worry with Mark Ingram when it comes to the carries Tim Hightower is getting. However, the Saints can't ignore what Ingram did last week. Ingram finished with 34.1 points in DraftKings scoring, going for 158 yards and a touchdown on the ground and adding another receiving score. Remember what Latavius Murray and the Raiders did to the Broncos? And now Denver is without Derek Wolfe for all of Week 10. I think Ingram can have another great day.
DuJuan Harris, 49ers (vs Cardinals): $4,100
This is certainly a flyer as well given the fact that we don't know the injury status of Carlos Hyde for Week 10 just yet. If he doesn't go, though, DuJuan Harris showed real flashes last week. He averaged 5.9 yards per carry on 10 carries last week, but his real value came in the receiving game. Harris took five grabs for 83 yards and a touchdown, which all led to him finishing with 24.2 points in DraftKings scoring. With the Niners likely being behind against the Cardinals, Harris could again produce as a pass-catcher.
Kapri Bibbs, Broncos (vs Saints): $4,000
Coming into last week, Broncos rookie Kapri Bibbs hadn't put up more than 1.6 points in DraftKings scoring. However, he took three offensive touches for 80 yards and a touchdown and 15 fantasy points in Week 9, leading the Broncos to say he's deserving of more touches going forward. With the ineffectiveness of Devontae Booker, Bibbs could see a huge increase in workload against a Saints team that can be gashed. This is a deep sleeper, but one that could pay off huge.
Wide Receivers
Michael Thomas, Saints (vs Broncos): $6,100
As the adage goes, Drew Brees can make any receiver look good. However, rookie Michael Thomas is already good, so the Saints offense is making him look great as of late. He's produced double-digit points in fantasy in each of his last eight weeks. This includes three games of 20 or more points. I know it's against the Broncos, but their secondary looked lackluster last week and Brees and the Saints can make that happen again.
Cole Beasley, Cowboys (vs Steelers): $5,400
Most of the time when you look at value receivers, you're talking about guys who have the potential to break off big touchdowns. Cole Beasley is the opposite of that. He's the target monster and the slot guy for one of the best offenses in the league. Bease has only put up fewer than 10 fantasy points in DFS in one game this season. Moreover, he's been over 15 points in three of his last four games. Bank on the Cowboys offense right now, because they're humming.
Kenny Britt, Rams (vs Jets): $4,900
No doubt, the Rams offense is abysmal and an eyesore for the league. Moreover, Case Keenum should have been sitting since after Week 1. However, Kenny Britt has still emerged as their best receiving threat, against all odds. Though his yardage has slipped in the last two weeks, he still put up 14.9 points in DFS last week. Moreover, He's scored a touchdown in two of the past three weeks. We've seen the Jets secondary burned time and again in 2016. Britt could be the next guy holding the matches.
J.J. Nelson, Cardinals (vs Cardinals): $4,200
Despite their struggles as a whole, the Cardinals are going to slaughter the Niners in Week 10. It's going to be bad. And in the process, J.J. Nelson could shock some people. In the past two weeks, he has 11 catches on 19 targets for 163 yards and two touchdowns. Over the last two weeks, he's averaging 19.85 points per game in DraftKings scoring. He's established himself as key in this offense and should come up huge.
Bryce Treggs, Eagles (vs Falcons): $3,000
Treggs made his NFL debut last week and was impressive on his four targets, taking two catches for 69 yards and just shy of a touchdown. With another week of working in the offense, Treggs may somehow be one of the Eagles most reliable option. This is the "deep sleeper" portion of the program, but it could play off majorly.
Tight End
Jimmy Graham, Seahawks (vs Patriots): $5,300
What if I told you that you could potentially get Gronk-level numbers for $1,600 cheaper in your DFS budget? You jump on that right? That's the potentially you're talking about with Graham. In the Seahawks victory on Monday night, Graham looked like he was back in New Orleans. he was open often and making ridiculous one-handed touchdown grabs in the process. The Patriots are going to get after Russell Wilson given the Seattle offensive line issues. However, Graham should be able to provide a safety valve and produce in a big way in the process.
Jason Witten, Cowboys (vs Steelers): $4,000
As the salty veteran of the Dallas offense, Witten hasn't been a consistent source of fantasy production. However, he took advantage of the Browns in a massive way last week, finishing with 30.4 points in DraftKings scoring. You certainly can't expect that if you put him in your lineup this week, though. If the Steelers start to give the Cowboys any trouble, you better believe Prescott will look to ol' reliable in Witten.
Zach Miller, Bears (vs Buccaneers): $3,600
It's not a coincidence that Zach Miller had his second-best game of the season in the return of Jay Cutler. He was targeted 10 times and wound up with seven catches for 88 yards. If he'd found the end zone, that'd have been a monster day for the Bears tight end. We come back again in Week 10 to Chicago taking on the Bucs on Sunday. Though there should be plenty of offense to go around for the Bears and Miller plays a prominent enough role in the offense to make things happen.
Defense/Special Teams
Rams (vs Jets): $2,900
If there's one redeeming quality of the Rams this season, it's the fact that their defense is quite good. The only reason that they have three wins to their credit is because of the Aaron Donald led unit. While Ryan Fitzpatrick has looked slightly better with the Jets offense of late. However, I think LA has the ability to force turnovers and should likely do so. This is going to be an ugly, ugly game—but that means good news for DFS defenses.
Jets (vs Rams): $2,800
I told you, this game is going to be ugly and that's good for defenses. Don't get me wrong, the Jets defense has struggled mightily throughout the 2016 season. Their shortcomings in the secondary are glaring and they haven't been as good against the run consistently as you'd hope. However, I have no faith in Keenum and Los Angeles to take advantage of that. Subsequently, the Jets D/ST may be a better option than you think.
Jaguars (vs Texans): $2,300
We're starting off with a disclaimer here that this is by no means a sure-thing. In fact, it's a massive risk. However, the Jaguars defense wasn't bad at all against Nick Foles and the Chiefs last week. This might be brash, but Brock Osweiler hasn't been much better than Foles this season and the Texans offense has been quite stagnant. Subsequently, there's a possibility that the Jags are able to force turnovers and limit production for Houston. You've been warned, but big risks can sometimes mean big DFS paydays.
This article originally appeared on