Doug Pederson has to do a better job for the Eagles on Sunday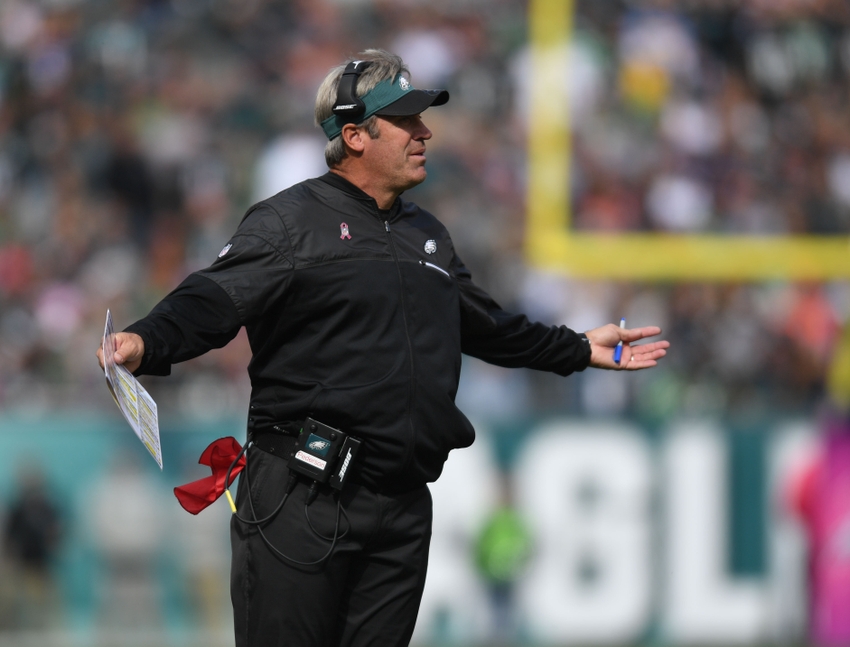 Doug Pederson started his head coaching career off with a bang, but he's sputtered in recent weeks.
Head Coach Doug Pederson created excitement in the Philadelphia Eagles fanbase over the first three weeks of the season. Since then? Not much has happened. Pederson displayed tremendous decision-making and leadership ability in the early stages of his head coaching career. He surprised much of the football community. He's, since, left everyone scratching their heads after the Eagles have dropped four of their last five games.
Want your voice heard? Join the Inside the Iggles team!
On Sunday, Pederson cost his team the game. His decision-making and play calling were atrocious. The first-year head coach decided to go for it on fourth down when the team was in field goal range, not once, but twice. The game would have had a drastically different complexion had Pederson decided to take the points. Not only were the decisions to go for it on fourth down controversial, the play calls were also. On the first fourth down attempt, Pederson had a designed quarterback sweep to the left, and as you know, the play ended in a loss. It's befuddling as to why Pederson would even put his franchise quarterback in harm's way.
Going forward, the Eagles have to start making the most of their opportunities. That means converting and executing the plays that are called, but this all starts with Pederson. It's up to him to have his troops prepared. If the team continues to fail at executing, the locker room with eventually start to question the inexperienced coach.
More from Inside the Iggles
He's also stated in his press conferences that he wouldn't change how he has coached the games thus far. While the statement is understandable, it certainly is discouraging. Judging by his week-to-week changes (or lack thereof) he truly believes he made the correct decisions in previous games. This is concerning. The worst thing a coach can be is stubborn. Pederson needs to be able to accurately self-reflect and make the appropriate changes. If he cannot do this, he needs to gather the opinions of his assistant coaches and team leaders.
Only time will tell if Pederson truly is a good coach. He could still be learning how to lead a young football team. Eagles fans have to hope that he can get his act together sooner rather than later. He doesn't have much time. The Atlanta Falcons are in town on Sunday.
This article originally appeared on