Doug Baldwin Dives to Make Best Catch of Week 3 (Video)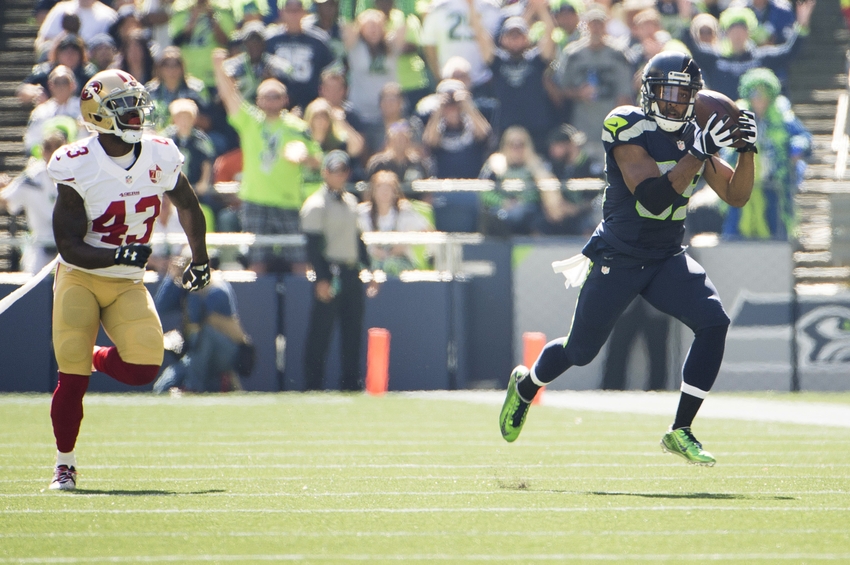 Wide receiver Doug Baldwin of the Seattle Seahawks made an incredible reception in Week 3 action against the San Francisco 49ers.
The Seattle Seahawks enter their Week 3 matchup against the San Francisco 49ers with momentum on their side as they look for a second consecutive win. Quarterback Russell Wilson is a man on a mission as so far, he's been throwing strikes against the 49ers.
Wilson has so far gone to work early against the poor defensive secondary of the 49ers. Check out this incredible reception by wide receiver Doug Baldwin that is easily not only the catch of the day but an early Catch of the Year candidate too:
As the Seahawks are already making quick work of the 49ers, it looks like they'll be 2-1 when all is said and done. Baldwin is proving that last season wasn't a fluke by any stretch of the imagination.
Last year, Baldwin totaled 1,069 receiving yards, 78 receptions, and a career-high 14 touchdowns. He's making his case to not only be one of the top wide receivers playing today but continuing the momentum he built upon from last season.
Overall, keep an eye on Baldwin all game long as he's easily going to be an x-factor as the Seahawks do their best to remain among the upper tier of the NFC West. It's early but always a great feeling when you're able to embarrass one of your division rivals.
More from NFL Spin Zone
This article originally appeared on