Don't Blame Ryan Tannehill For Miami Dolphins' Struggles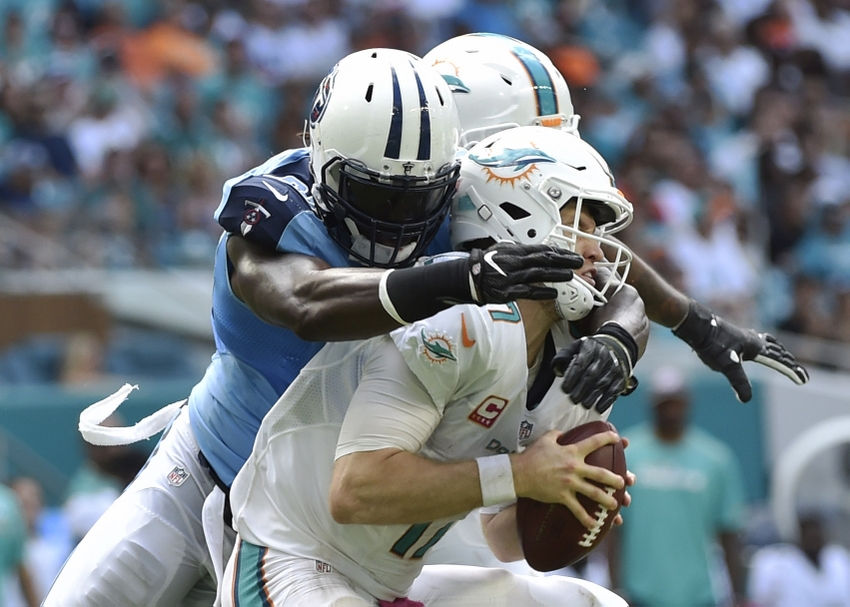 There are many out there that like to put the Miami Dolphins struggles on quarterback Ryan Tannehill. But if you look at the conditions he's playing under, that's far from the case.
Andrew Luck is the only quarterback in the NFL to take more sacks than Ryan Tannehill so far this season. And when opposing defenses don't sack him, they pressure, hurry and-or hit him. Yet Tannehill is the first to take blame for the Miami Dolphins' failures.
People questioned if he should be the starter after the Dolphins loss to the Tennessee Titans. All they see is the two interceptions he threw, espcecially the one late in the game. Nevermind that the Titans sacked him a total of six times.
Nevermind that the Titans pressured him on 66.7 percent of his dropbacks. They hit Tannehill on that late interception, causing the ball to sail too. He might not be Tom Brady but he's a better quarterback than most will give him credit for.
Don't forget he's coming off back-to-back seasons of over 4,000 passing yards. And he did it on two horrible teams with one of the worst head coaches in NFL history. The head coach and the team around him are much better now but the offensive line isn't.
Once they get that together, Dolphins will start winning but there are some injuries there. And the guys out there haven't even given him enough time to set up and throw. Tannehill tried not to call them out when asked about the lack of time to go through progressions.
He told NBC, "It's tough whenever you don't have a chance to even really start your progression, or if you do, to get to [the] number two [progression] "There's no chance of that. It makes it tough. It makes it tough on everyone.
"The receivers have to be able to get open quickly. I think several of those were on third down situations, so it's tough to get to the open guy if you don't have time. Part of that is on me being able to move in the pocket and find an open guy. You have to be able to move."
More from With the First Pick
Then he said, "You have to have time to move. If your eyes are downfield and you're looking at one [and] you get hit from behind, it's tough to move at that point. As a quarterback—as a guy who has the ability to move—I feel like I need to be able to escape the pocket some and get out of harm's way."
Tannehill went back and forth, seeming not to have it in him to totally put the blame were it belongs. But his head coach, Adam Gase, had no problem telling it like it is. He gets paid to do such things and doesn't have to sit in the pocket behind them.
He told the Miami Herald, "I know when we have 18 dropback passes and he's hit or sacked on nine of them and then the completions we do have, he's got guys in his face. "I'm supposed to blame him for that? I get a look at the whole picture.
"I'm calling the plays and I know what it's supposed to look like and it's not looking like that now as far as what's going on around him. Everybody wants to blame that position. It's the easy one to do because you can see completion, incompletions, interception.
"But when you hit your back foot and get sacked, there's not much you can do about it."
Another thing he had no problem doing is cutting two offensive lineman who started on Sunday.
This article originally appeared on