Don't believe Jeff Fisher, Giants need to insulate Beckham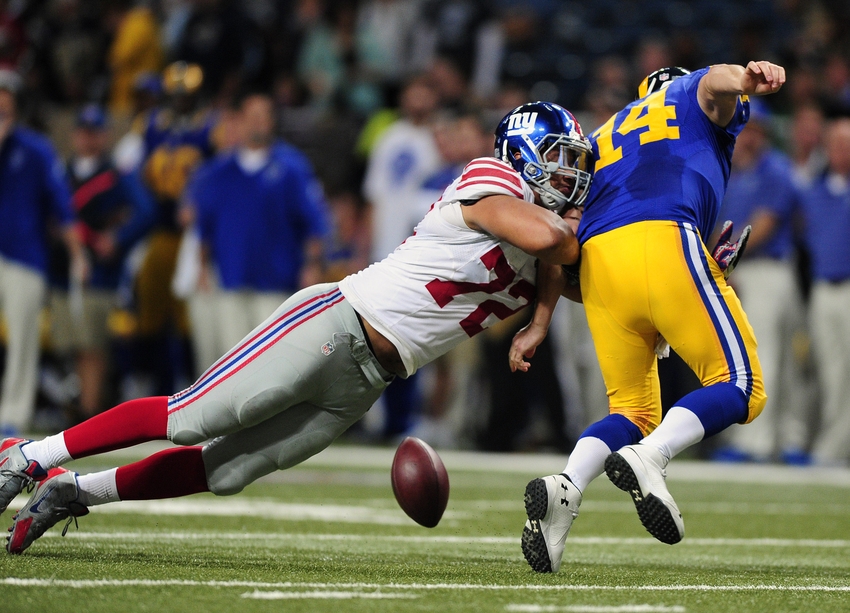 The New York Football Giants (3-3) clash with the Los Angeles Rams (3-3) this Sunday in London. Because this game is being played in merry old England, fans and players may get a false sense of security. Under Jeff Fisher, the Rams average 1.5 personal foul calls per game, and their defensive coordinator is Gregg Williams. The same Gregg Williams who perpetuated the "Bounty-gate" controversy in New Orleans.
Fisher as Head Coach
In 17 seasons as head coach of the Houston Oilers/Tennessee Titans, Jeff Fisher teams finished above .500 six times. The Titans under Fisher made it to the Super Bowl after the 1999 season, but he has little else to show for a long time with one franchise.
Talk of Fisher being a rebuilding guru are more fiction than fact. In five seasons with the Rams, Fisher's record stand at 30-39-1. That's not even mediocre. Yet somehow he survives.
NBC's Pro Football Talk pointed out on Sept. 13, 2016 that Fisher was climbing up the wrong ladder in NFL coaching circles. "When the Rams lost to the 49ers last night, Jeff Fisher took a dubious place in NFL history. Fisher is now all alone in third place in NFL history for most coaching losses, with 157. Prior to last night he was tied with Don Shula for third place, with 156."
It took Fisher 163 less games than Shula to pass him on this dubious list. Fisher's win-loss record (172-159-1) doesn't correlate with the adulation he's given in some quarters.
Fisher as Coaching Critic
It's no secret that Jeff Fisher's team play on the edge of legality. From the outside, it seems that Fisher thrives from being the bully on the field. Off the field, Fisher gives the old Eddie Haskell routine from the "Leave It to Beaver" reruns. In short, he morphed into a pillar of the community of coaches.
Last season, the Rams' Lamarcus Joyner knocked Minnesota Vikings quarterback Teddy Bridgewater out of a game. Bridgewater was in a slide, and Joyner leveled the Minnesota player with an elbow. The play was vintage Jeff Fisher, but so was the post-game reaction.
Ever the diplomat, according to NBC's Pro Football Talk, Fisher had this to say on Nov. 9, 2015. " Mike [Zimmer's] and my handshake was very short," Fisher added. "He didn't say a word. I went out to congratulate him. I was going to ask him how his quarterback was and congratulate him on the win, and he was gone. I understand that, but you also need to control your emotions after a game and go look at the tape and then adjust accordingly.
Advise from Jeff Fisher, now that's funny.
Fisher as the Diplomat
This week, the Rams' had coach was asked about the potential for cheap shots on the Giants' Odell Beckham. Because of his volatile personality, Beckham was and is a target for this strategy. Of course, Fisher brushed off the suggestion.
"We're going to play between the snap and the whistle," Fisher said according to a report on NJ.com on Oct. 19, 2016. "That's it. We've got great respect for their players. Odell, he's an outstanding competitor. You just look at what he did in the second half to win that game (against the Ravens)".
Yet, Fisher and his defensive coordinator Gregg Williams tried to blow up the Detroit Lions' kneel down last Sunday. It was another lowlight in a career full of lowlights. CBS Sports reported on Oct. 17, 2016 that Lions' center Travis Swanson was injured on the play in question.
"Rather than a play during a game, Swanson's right hand was hurt in a scrum during its conclusion as Detroit took a knee. He had x-rays after the game."
In the case of Fisher, remember what he does, and not what he says. And keep your head on a swivel for 60 minutes.
This article originally appeared on