Dominique Rodgers-Cromartie feels new defense is 'cornerback-friendly'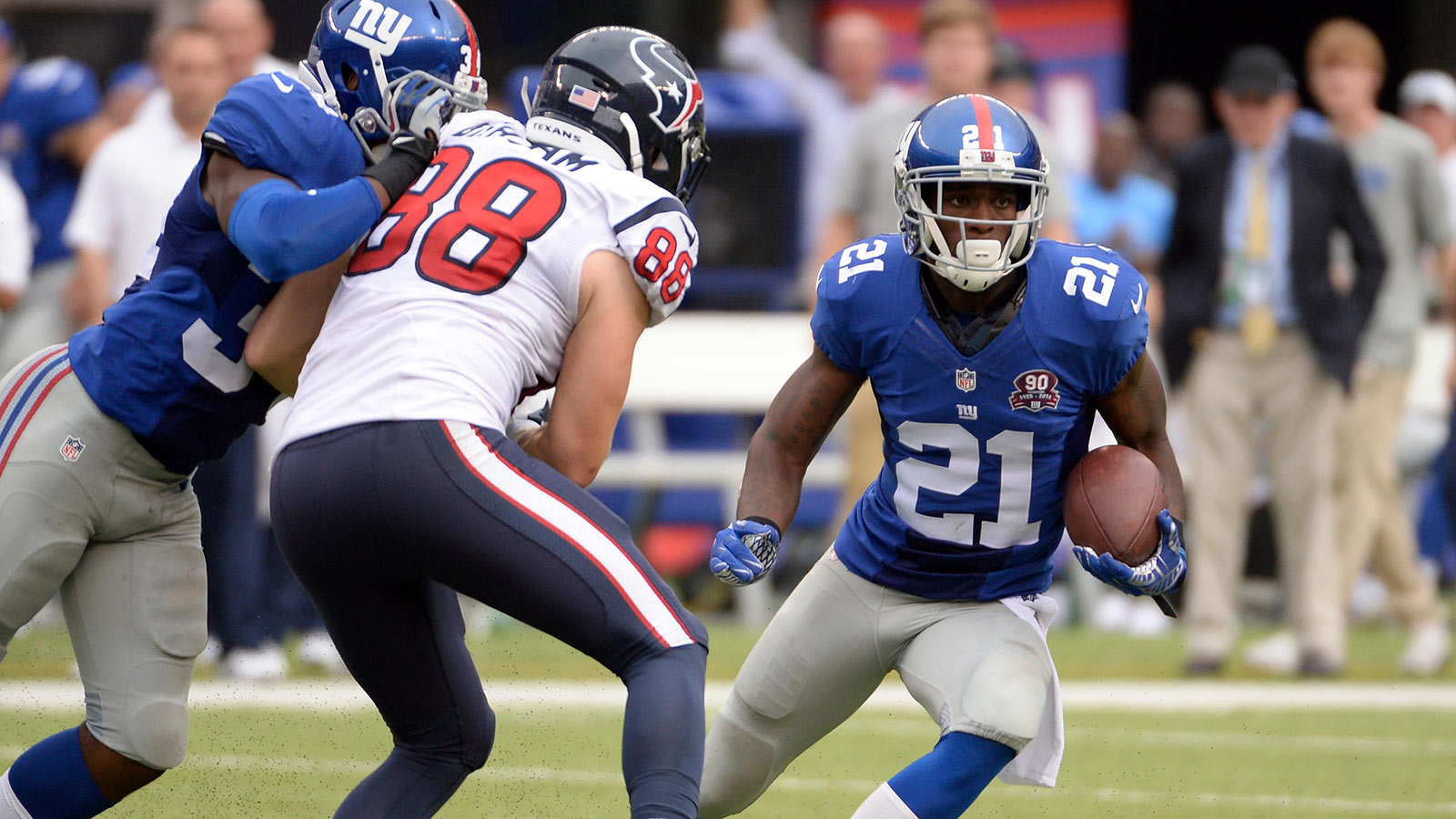 In late April, Nat Berhe took a vested shot at former New York Giants defensive coordinator Perry Fewell in an effort to praise new defensive boss Steve Spagnuolo. Berhe, a second year safety, only played 32 defensive snaps in 2014–however interesting they may have been, his comments didn't pick up much traction. On Monday following the Giants' OTAs practice, cornerback Dominique Rodgers-Cromartie talked about how impressed he is with the new defensive scheme already and how it will make the defense, and specifically the secondary, a much stronger unit in 2015.
Rodgers-Cromartie spoke with a group of reporters after practice, and he answered a question about his expectations for improvement on defense under Spagnuolo.
"I truly feel that just [Spagnuolo's] whole concept and the things that he allows us to do, I feel pretty good," Rodgers-Cromartie told reporters, per Giants.com.
Rodgers-Cromartie believes that this defense is tailored toward what the cornerbacks on the Giants' roster do best.
"I would say this defense is kinda corner[back] friendly," Rodgers-Cromartie said. "It allows you to use your vision a whole lot more and do some things that really play to the corners that we have, [their] skill sets, as far as vision and breaking on balls."
Rodgers-Cromartie was asked if Spagnuolo's defense was different because it allowed the cornerbacks to freelance, but he specified why that was not the case.
"As far as your reads, more trap coverages, things that throw the quarterback. Instead of just lining up and playing man."
Trapping the quarterback into making a mistake is in line with the Spagnuolo that Giants fans came to love during Spagnuolo's first stint as defensive coordinator. His aggressive style of defense is also what made Berhe a fan when he first caught wind of the new defensive scheme.
"Last year I felt like we were more reacting, just waiting and reacting instead of really getting after it," Berhe said to reporters when asked to describe the difference in this year's defense under Spagnuolo.
Despite playing through an injury that Rodgers-Cromartie told reporters "never really healed",he was outstanding in pass coverage. Rodgers-Cromartie was targeted just 74 times–a good thing for a cornerback–and he allowed just 42 receptions. Rodgers-Cromartie finished the season as Pro Football Focus' 17th-best cornerback overall, thanks in large part to his exceptionally high marks in pass coverage. When fully healthy in 2013 with the Broncos, Rodgers-Cromartie finished as Pro Football Focus' sixth-best cornerback overall.
(h/t New York Giants)
Photo Credit: Robert Deutsch/USA TODAY Sports