Dolphins Starters expected to miss season opener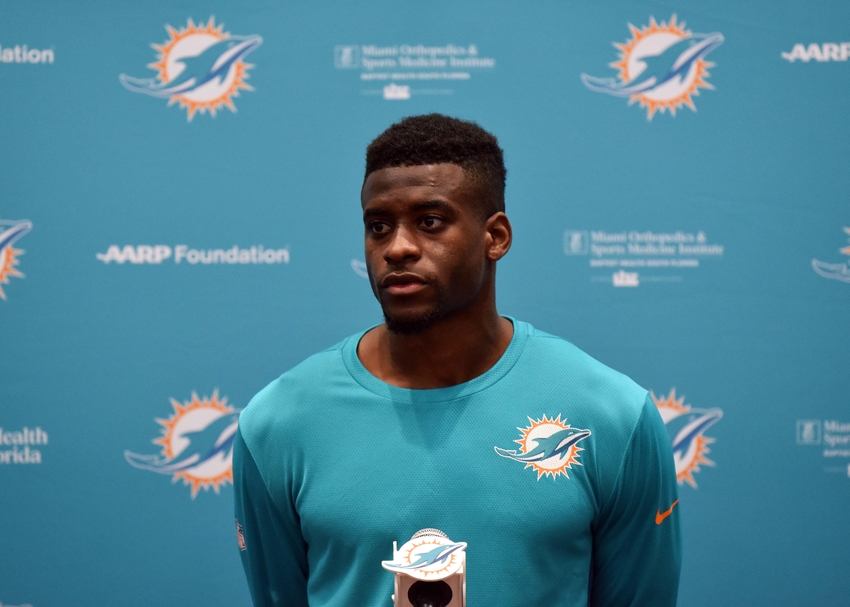 The Miami Dolphins already have a tough task traveling all the way to Seattle to battle the Seahawks in one of the toughest places to play. It now looks as though the team will be missing some of their key starters as well.
Miami Dolphins fans knew this season's schedule was going to be tough when the complete schedule was announced just a couple months ago. The Dolphins open their season on the road against two Super Bowl contending teams in Seattle and New England, respectively. The Seahawks have a reputation of starting off slow and Miami is hoping they can sneak into CenturyLink Field and come away with a win. The potential loss of 3 key starters for the week could diminish those thoughts however.
Pro Bowl center Mike Pouncey injured his hip three weeks ago and continues to rehab from the sidelines. Dolphins coach Adam Gase has insisted Pouncey's status is day-to-day, but has also said he's week-to-week. Regardless of which you choose to believe, it doesn't seem likely that Pouncey will suit up for week 1. Anthony Steen is expected to start in his place in his first career NFL game.
The Dolphins have been more than pleased with what they've gotten out of Steen this summer. The former right guard from Alabama moved over to center for Miami this year, and has shown himself to be a viable asset for the Dolphins' depth. Miami is very confident in Steen's abilities to hold his own against one of the toughest defenses in the league. Not known to have much depth in recent seasons, if any, on their offensive line, this news should come as a relief for Dolphins fans.
Miami's starting weakside linebacker Jelani Jenkins was one of several players to leave the game early in the team's preseason matchup against Atlanta. Jenkins left the contest early with an apparent knee injury. It was reported a few days later that Jenkins had minor surgery operated on his knee that would keep him out of action for the next 2-3 weeks. Reports out of Miami's practice today, however, say that Jenkins has returned to the field in limited action.
It's a promising sign for the Dolphins, who are already very thin at the linebacker position. Jenkins' status for Sunday is still up in the air, and will depend on how he looks the rest of the week. Neville Hewitt and Spencer Paysinger are expected to split the reps should Jenkins sit out against Seattle, and should see more plays even if Jenkins is declared active. If Jenkins is held out Sunday, he could return as early as next week against New England.
One player you can almost say with certainty will miss Miami's first game is DeVante Parker. Miami's first round selection in 2015 has had trouble staying on the field in his short career. Last year, Parker had offseason surgery on his foot that stalled his development as a rookie. Parker finished the season strong, however, and is expected to have a breakout season in his sophomore year. Unfortunately, Parker is now dealing with a hamstring injury that also kept him out of offseason workouts earlier this summer.
The Dolphins have their strongest depth at wide receiver, but could really use Parker's size against Seattle's talented secondary. Unfortunately, it looks as though Parker will continue to miss some time. Unlike Pouncey's and Jenkins' cases, Gase has expressed some disappointment with Parker's inability to play through his injuries.
In high school, my football coach had a motto: "Pain is weakness leaving the body." He said it so often that I felt myself repeating it in my sleep. The idea though was to help us distinguish as players the difference between pain and injury. This is the mindset that Gase is trying to implement into Parker. Gase said in an interview last week that Parker will essentially need to learn the difference between the two and play through the pain.
"Sometimes it takes some guys more time to learn more than others. Eventually you get tired of being the guy standing on the sideline. I do think he's a little frustrated. He's been the odd man out all the time. Eventually … he will know how to push through certain kinds of pain."
Gase made no bones about it in calling out Parker and hinted at a lack of conditioning and unhealthy eating as reasons for his absence. Parker did try testing out his hamstring with some conditioning during yesterday's practice.
DeVante Parker is running the field for conditioning, testing his right hamstring injury.

— Omar Kelly (@OmarKelly) September 6, 2016
His absence from Wednesday's practice, however, is a strong suggestion that he will be unavailable for Sunday. It's far too early to declare Parker a bust, but the Dolphins and their fans are disappointed at the youngster's inability to stay on the field. Newly claimed Justin Hunter could see an increase in action should Parker be held out, along with rookies Leonte Carroo and Jakeem Grant.
More from Phin Phanatic
This article originally appeared on