Dolphins' Matt Moore gets shot at redemption vs. the Jets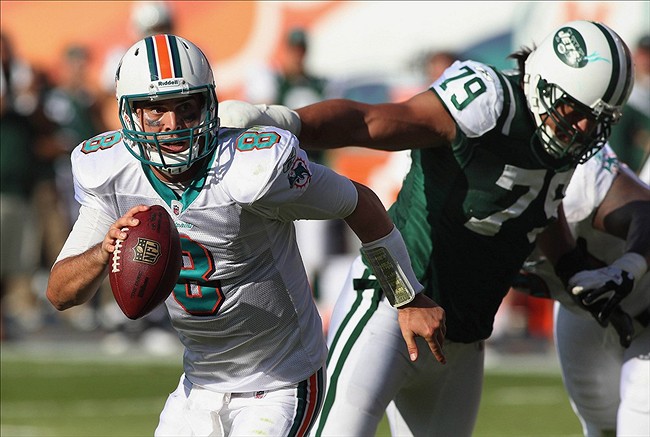 Matt Moore will become the Miami Dolphins starting quarterback for the 2nd time in his ten year career. His first game as a starter will be very familiar.
Moore came to Miami as a free agent following the 2010 season after spending his first four years with the Carolina Panthers. His first start as a Dolphin came in 2011 when he started 12 of the 13 games he appeared in.
Moore took over for Chad Henne after the bye week and his first start was against the New York Jets, in New York, in primetime.  The Dolphins lost that game badly, 24-6. Moore completed 16 of 34 passes for 204 yards. He was sacked four times and threw two interceptions. It was ugly.
Now Moore gets his shot at redemption.
Making his first start for the Dolphins since 2011, Moore will once again face the New York Jets, in New York, in primetime. Miami will play the Jets this week on Saturday night putting Moore center stage once again.
The irony doesn't stop there.
More from Phin Phanatic
Yes Chad Henne was placed on season ending IR after dislocating his non-throwing shoulder and later today Ryan Tannehill will be placed on IR with a knee injury but the similarities between the two seasons abruptly ends there.
See in 2011 the Dolphins were badly coached and had no chance at the post-season. This year, the Dolphins are being coached well and Miami is finding a way to win with back-ups. First it was the loss of Reshad Jones but Miami's "next man up" mentality continued. The same can be said when Branden Albert, Mike Pouncey, and Laremy Tunsil went down. When the Dolphins lost Arian Foster, it was Jay Ajayi who took the reigns.
Now it's Matt Moore's turn.
Miami is in the thick of the playoff chase unlike 2011. The Dolphins managed to turn around an 0-7 start to finish the 2011 season winning six of nine and that was on the arm of Matt Moore. So in other words, the season is far from over and Matt Moore has a chance to take down the team he lost to in his first start six years ago.
This article originally appeared on