Dolphins have decision to make on Mike Pouncey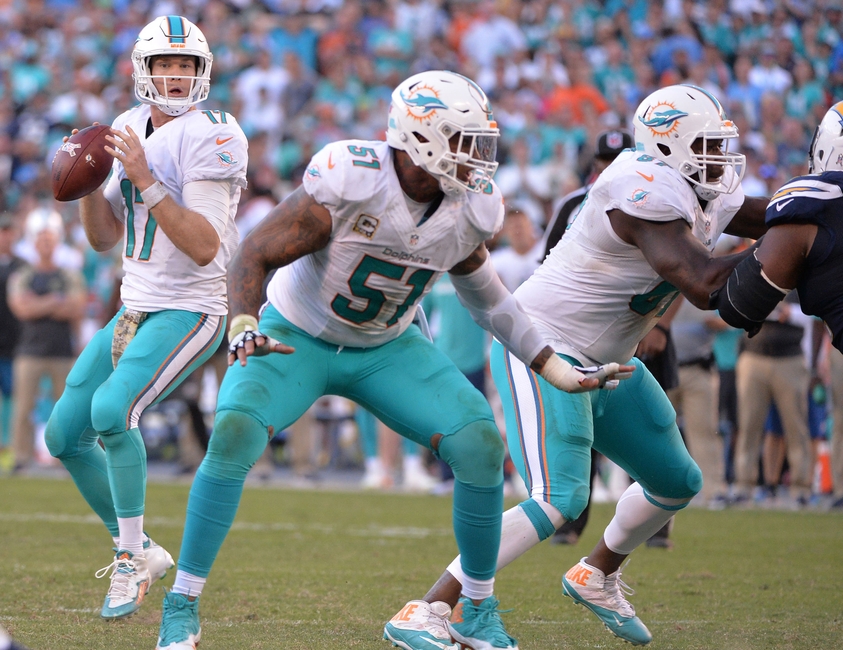 The Miami Dolphins pro-bowl center doesn't know when or if he will play again this season and the Dolphins are going to have to make a decision about him sooner rather than later.
For the Dolphins the problem is simply that while Pouncey is a very good if not borderline great center, he has far too many recurring health issues to be depended upon for a full season. Earlier this year Pouncey missed four games to start the season. Miami needs more consistency at center.
The answer does not appear to be Anthony Steen but one thing is certain, Pouncey can no longer be relied upon for a full season of work. So what do you do with Mike Pouncey?
There are not a lot of options for the Dolphins right now and after the season is over the options may not be very cut and dry. In 2017 Pouncey will count almost $9 million against the salary cap but the rub here is that Miami would save just under $4 million by releasing him and would carry a $5 million dead cap hit.
Obviously the best option would be to restructure Pouncey's contract and it's very possible that Miami does just that. Unfortunately redoing his deal won't solve the problem with his health. It will only serve to lessen the impact financially when he isn't healthy.
Miami's best option may be to restructure the contract and then move Pouncey to guard. While the idea of guard being less physically demanding is up for debate, Pouncey is agile enough to get to the second level as a guard and it's his natural position.
For the Dolphins moving Pouncey to guard is a solid option because it keeps talent on the team but also if and when Pouncey goes down to injury, it's a little easier to fill than center where offensive line calls and protection assignments are critical. With Pouncey often injured lately, it's more difficult to replace the center and keep the consistency.
By moving Pouncey to guard the Dolphins will obviously need to find a new center and that should not be a major problem but knowing who may be available in free agency or the draft is still quite a ways off to think about it. The question of what the Dolphins will do with Pouncey is however something they should be thinking about now and planning for.
For whatever reasons, health or suspension, Pouncey has not finished a full season since 2012. He started 14 games in 2013, 12 games in 2014, 12 in 2016, and only 5 thus far in 2016. That last number will obviously climb if Pouncey is not available the rest of the year.
It will be a waiting game for certain but the 2017 Dolphins offensive line could look different this off-season. With Pouncey questions and the future of Branden Albert who will count $10.6 million against the cap with Laremy Tunsil pushing for left tackle time, the Dolphins have decisions to make.
This article originally appeared on