Dolphins Fantasy Football Recap Week 13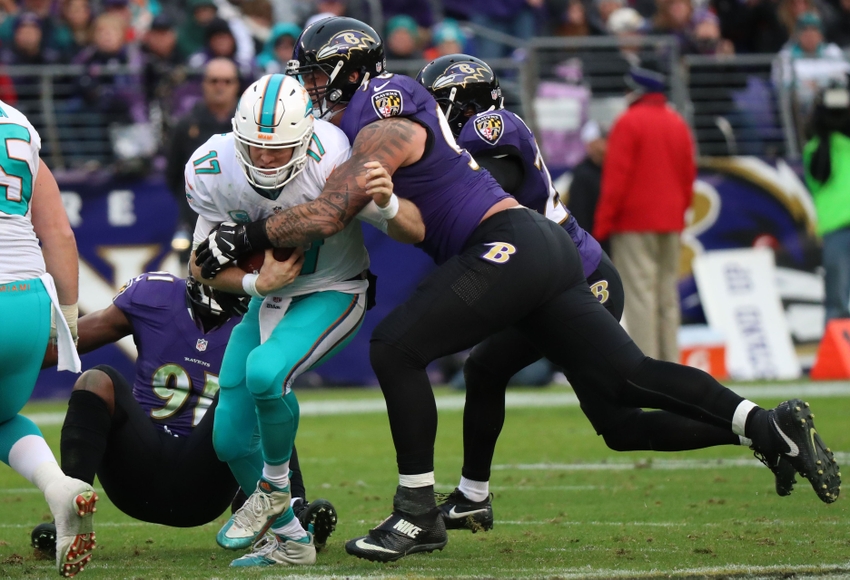 The Baltimore Ravens ended the Dolphins winning streak in dominating fashion with a 38-6 rout. With the game being so one-sided, fantasy football production from Miami was hard to come by.
The December curse hit the Miami Dolphins hard on Sunday when the Ravens handed them their worst loss of the season. The loss snapped Miami's six-game winning streak, and knocked them out of the current standings of the NFL Playoffs. Scoring just six points on the afternoon, the Dolphins offense was dominated by Baltimore's stingy defense. Fantasy football production on Miami's side of the ball was not appealing against one of the best defenses in the league, and it showed. Here's a recap of how the Dolphins players did whatever they could to pad their stats in this lopsided loss.
Stud of the Game – Jarvis Landry
Even if it is by default, Landry wins this week's stud of the game. Landry continued to give it his all even when the game was well out of reach. His 87 yards receiving did little to help in standard formats, but the 11 receptions he reeled in made for a productive day in PPR formats. The 11 catches were a season high for Landry, as were the 14 targets he saw. He also lost a yard on his lone rush. Unfortunately for Landry and the Dolphins, it seems as if Miami performs worse when Landry is more involved. This was the first time Landry saw double digit targets since Week 4.
Week 13 Fantasy Points: Standard – 8.60, PPR – 19.60
Dud(s) of the Game – Ryan Tannehill / Dolphin Defense
Both the Dolphins defense and Ryan Tannehill played poorly on Sunday, and equally deserve this week's duds of the game. Beginning with the offense, Tannehill threw three interceptions for the first time this season. He managed to salvage his day with a 4th quarter TD pass after the defense forced a Baltimore turnover that gave Miami first and goal. However, Tannehill finished the day with a QBR of just 28.6 despite completing 72.5% of his passes. This was the worst Tannehill has looked since early in the season when some fans were demanding a change under center.
Miami's defense has looked about as bad as they could in consecutive weeks now. They allowed 49ers' QB Colin Kaepernick to total over 400 yards with three touchdowns last week. Just a week later, Kaepernick set a historical low with five sacks and four passing yards against Chicago. Yes, you read that right. Four passing yards. The Dolphins, on the other hand, continued their struggles against opposing quarterbacks.
Miami allowed Joe Flacco to throw for 381 yards and four touchdowns in the rout. Both were season highs for Flacco. In addition, they allowed Ravens TE Dennis Pitta to score two touchdowns off of nine receptions. Entering the game, Pitta had zero touchdowns on the season. They managed to create a couple of turnovers, but did nothing else to stop the Ravens offense. The Dolphins started off the year giving up major production to quarterbacks, and unfortunately, it looks as though that trend could be returning. If Miami has any chance of making the playoffs, the defense will need to step up quickly.
Week 13 Fantasy Points: Tannehill – 10.04, Defense – 0
Other Notables
Parker was surprisingly active after it was announced that he was unlikely to play due to injury. Parker suited up however, but struggled most of the afternoon. It wasn't clear if Parker's back was an issue for him, but the Ravens did a good job of smothering him. He did get free for the Dolphins lone touchdown of the game, but was otherwise a non-factor.
Week 13 Fantasy Points: Standard – 9.40, PPR – 12.40
This was not a favorable matchup for Ajayi going into the game with the Ravens defense ranked #1 against the run. Ajayi found success running the ball early on, however, finishing the game with a 5.1 average on 12 carries for 61 yards. It was the best average he's had since the second of his 200+ yard performance against Buffalo. He also added six receptions for 26 yards.
Had the game been a lot closer, chances are Ajayi could have had a more stellar performance. Unfortunately, Miami was forced to abandon the run after the game got out of hand. The six catches were his most this season, and a nice touch for PPR reasons. Overall though, it was another disappointing fantasy day for Ajayi owners, who has failed to reach 80 yards rushing in four consecutive games now.
Week 13 Fantasy Points: Standard – 8.70, PPR – 14.70
This article originally appeared on