Dolphins Fantasy Football Recap Week 11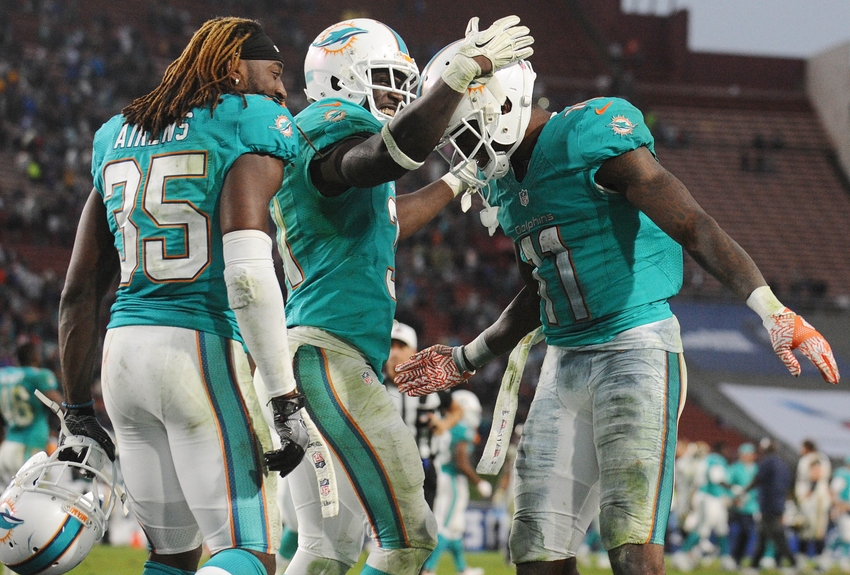 The Dolphins offense could get nothing going on Sunday against the stingy Rams defense for the majority of the game. It wasn't until late into the 4th quarter when Miami scored two touchdowns to secure their 5th straight victory.
The Miami Dolphins are now one of just three teams currently on a five-game win streak or better. It was far from pretty, but the Dolphins got the job done in the end with two late touchdown drives. Prior to the drives, it was evident that Miami was missing some of their key offensive linemen. The offense simply couldn't get anything going up to that point, and not only did it look as though Miami's win streak would come to an end, but that all of the Dolphins players would finish with duds in fantasy football.
The good thing about fantasy football though is that sometimes you only need one or two really good drives in order to have a successful day. In addition to the win, that was all that Miami needed on this day. Here's a look at last week's fantasy football recap for the Dolphins.
Stud of the Game – DeVante Parker
For the second consecutive week, DeVante Parker outperformed his counterpart Jarvis Landry. Parker tied his career high for receptions (8) on 10 targets for a total of 79 yards and a touchdown. His touchdown with 36 seconds remaining would be the eventual game winner.
Parker made some exceptional catches, including the touchdown, to help Miami overcome a 10-point deficit. Landry is still the Dolphins #1 receiver, but Parker is beginning to show why Miami chose him with their first round selection in 2015. He's started to earn the trust of QB Ryan Tannehill and head coach Adam Gase.
Week 10 Fantasy Points: Standard – 13.90, PPR – 21.90
Dud of the Game – Jay Ajayi
Unfortunately, Jay Ajayi is our dud of the game for the second consecutive week. And again, Ajayi did not have a bad game by any means. Ajayi was again held to under 100 yards rushing with zero touchdowns. His 77 yards on 16 carries was good for a 4.8 average, which is respectable, but the 16 carries were his lowest since Week 5.
Ajayi also had three receptions for a total of seven yards. Miami's offense had trouble moving the ball all afternoon. They did not convert their first 3rd down until the 4th quarter, and finished just 1 of 11 in 3rd down efficiency. When it was time for Miami to mount their comeback they were forced to abandon the run game. The stars are aligned for Ajayi to have a bounce back performance next week in a juicy matchup against the 49ers.
Week 10 Fantasy Points: Standard – 8.40, PPR – 11.40
Other Notables – Ryan Tannehill / Jarvis Landry
There were no surprise performances this week from Miami since it took their leaders to help secure the comeback. The first 55 minutes of the game looked eerily similar to the first five weeks of the season. The Rams defensive line dominated for much of the game, finishing with four sacks, and keeping Tannehill from getting into any kind of rhythm.
Tannehill completed 24 of his 34 pass attempts for 172 yards. The 5.06 yards per pass attempt were his lowest of the season. He also threw his first interception in five weeks, but his late touchdown passes are all that anyone is going to care about or remember. The touchdown passes also helped him from what would have been an abysmal fantasy day, finishing with an above average score instead. Tannehill also carried the ball twice for a total of 19 yards.
Jarvis Landry was on his way to the worst day of his career before the 4th quarter started. Entering the 4th, Landry had just one reception for 10 yards. He finished with just 28 yards on five receptions, but scored Miami's first touchdown of the game. Landry was credited with the touchdown, but it could have arguably gone to the entire Dolphins offense. Landry was hit around the 6-yard line, but he continued to move his feet, and his teammates astonishingly helped push him all the way across the goal line.
Week 10 Fantasy Points:
Tannehill – 15.78
Landry – Standard – 8.80, PPR – 13.80
Dolphins Defense
I suggested the Dolphins defense in last week's start/sit session, and while they did a great job of keeping Miami in it throughout the game, they left a lot to be desired in terms of fantasy. The Dolphins did hold the Rams to just 10 points, but it was clear that Rams coach Jeff Fisher did not trust Jared Goff in his first career start. Fisher and the coaching staff refused to throw down the field, even when they needed to.
Miami's defense did do a good job overall though containing the run, only after Todd Gurley got free in the 1st quarter for a 24-yard score. The Rams 227 yards total were the lowest amount Miami has allowed all season. Unfortunately, the Dolphins were not able to create the mistakes you would expect to see from a rookie quarterback in his first start. They had just one turnover and one sack on a day where opportunities for more were expected. In fairness though, Fisher continuing to take the ball out of Goff's hands and not allowing him to throw down the field had a lot to do with that. The defense came to play from the start, but it just didn't pan out this time into a great fantasy day.
Week 10 Fantasy Points: 7.00
More from Phin Phanatic
This article originally appeared on