Dolphins fans don't make the FanDom 250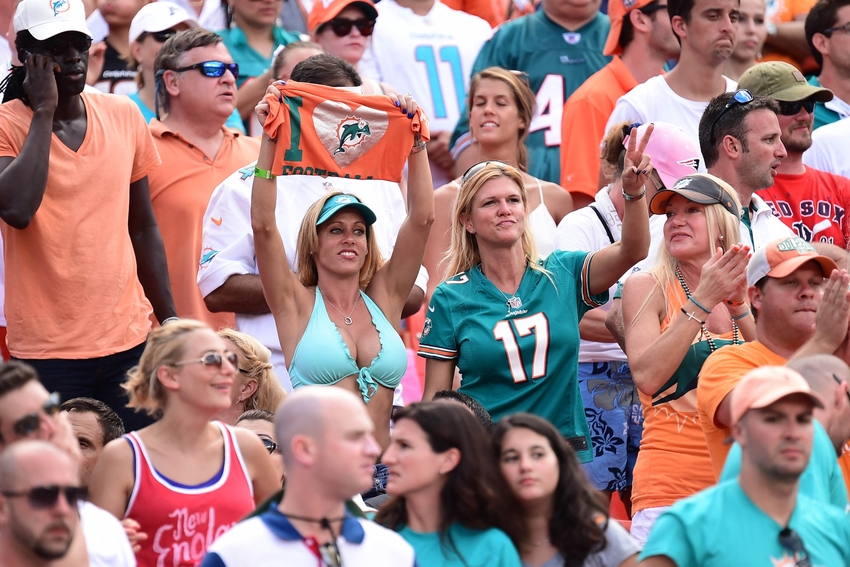 For the first time in our networks history, FanSided has compiled the "FanDom 250". The top 250 "fandoms" were ranked by the network in a comprehensive list. An albeit highly subjective one.
The list includes everything from marketing brands, celebrities, television shows, sports figures and sports teams. So where did the Dolphins fans fall on this list? Nowhere. Nada. Zero.
As I said, it's highly subjective and frankly I might put stock in the fact that those who developed the list are probably Patriot fans. Although that too may be a bit presumptuous as well.
To start, we will look at the NFL teams that made the list before jumping into some of the other "fandoms" that beat out the Dolphins. Seriously, someone had to have had a grudge.
5. Dallas Cowboys
21. Green Bay Packers
23. Pittsburgh Steelers
30. New England Patriots
53. Oakland Raiders
66. Denver Broncos
77. Seattle Seahawks
84. Buffalo Bills
86. Fantasy Football (this is one that is applicable to any site and a topic you can have some fun with–be creative here!)
149. Philadelphia Eagles
169. Chicago Bears
173. Cleveland Browns
175. New York Jets
179. Minnesota Vikings
180. New York Giants
215. Washington Redskins
So there is no question about the Cowboys, Packers, and Steelers, and frankly I think the Browns fans are a heck of a lot more dedicated than the Patriots (see what cheating will do for a fanbase). The biggest surprise for me on this list is the fact that "fantasy" football even beat out the Dolphins fan base here. Further explaining the "fantasy" aspect of this list.
Jets fans? Really? Did those that compile this list not realize that our brothers and sisters from DolfansNYC.com regularly fill two full sections with some 1,000 plus Dolphins fans for each Jets game in New York?
While the absence of the Dolphins on this list of NFL teams can be argued to some degree the fact that Miami is not on the 250 list is a bit ridiculous. Especially when HBO's new series "Westworld" comes in at 250. And frankly the show isn't that good.
Adding more fuel to my morning fire is the fact that Garth Brooks is ranked 249 and still sells out venues while the series "Lost" is ranked 244 and has been off air for something like 10 years. Sex and the City? Project Runway? The first is long gone from television and I seriously doubt too many will lose their minds of Project Runway simply ran away. I think Dolphins fans would be livid if the team moved to another city.
VOX media? The list of complete "subjective" choices for this list can be found here and you can peruse them and laugh as you go along.
To be fair this had to be a hard list to compile given the broad nature of subject matter and in some cases I could very well see why and how the Dolphins would be left off this list but little excuse manages to make its way to the forefront when you sift through rankings that include Nikki Minaj and Beyonce coming in third…THIRD!
At least they got one thing right. Katy Perry is definitely more liked than the Buffalo Bills.
More from Phin Phanatic
This article originally appeared on