Dolphins Defense Turning the Corner?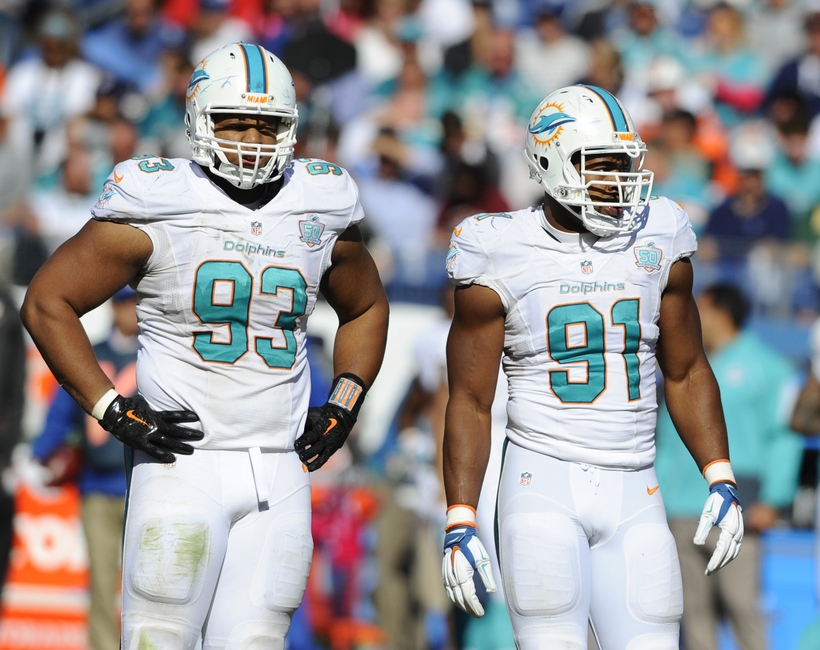 The Miami Dolphins are on a 5 game winning streak.  That just sounds awesome.  Truth be told, this year was supposed to be a process.  A year of development, hoping to build on something special. Remember the draft? The Dolphins used  80% of their draft picks on their offense, knowing that they will use next year's draft picks on the defensive side of the ball to rebuild an aging defense.
That might not need to happen, based on one key addition – Vance Joseph.
Joseph inherited a team that was terrible.  Terrible against the run, and even worse, against the pass.    What he was given, were a few veteran players that knew how to play.   Bottom line, Joseph was basically being asked to get a bunch of veteran players and cast off's to perform better than they have ever had, and truth be told, that is exactly what they are doing.
Each phase of the defense has played better than expected.  There are still a few concerns,  which has been evident in each game this season,  but Joseph is allowing his players to play rather than adopt to his system.
Taking a closer look at the Dolphins secondary, Joseph only allowed one starter to keep his position and that is the nickel cornerback Bobby McCain.  Brent Grimes and Brice McCain were both let go this past offseason, and the Dolphins didn't use the draft or free agency to solve their need, rather they traded for a cast off Bryon Maxwell.  Maxwell fell off the radar with the Eagles, understanding that the system wasn't a perfect fit for him.  During his tenure with the Dolphins, Maxwell, fell off the radar once again and was benched due to his poor performance.  With the Dolphins winning their last 5 games, Maxwell has played better. Not great, or outstanding, but better.  Joseph stated that he is allowing Maxwell to play within himself and not the system.  Maxwell, just need to stop the holding and his interference tendencies, and play his best, which is the scheme that he loves – cover 3.
When Reshad Jones was designated to the injured reserve, the Dolphins lost their best player.  Jones has been playing his best football this past year and last, which was evident by his first pro ball nomination.  Jones was the voice of the secondary.  He set the tone and tempo for his teammates.  The first  free agent signing under the Adam Gase era, was a little unknown player named Isa Abdul-Quddus (IQ).  The signing was supposed to pair a playmaking Free safety alongside Jones athletic ability.  For 4 games, that is what Dolphins fans finally saw.  The unfortunate part is that when Jones went down,  IQ has stepped up.  He's stepped up huge.  IQ is playing his best football ever, and he credits Joseph for allowing him to play to his best  characteristics.
In the trenches, Joseph impact is no different.  The Defensive line is better this year, then it was last year.  Which is crazy to think about, especially since Olivier Vernon, isn't on the team anymore.  Once again Joseph looked for cast offs to fill the needs on the line.  Mario Williams and Andre Branch were signed to replace the production that Vernon produced.  Branch is the best of the two, as he is showing steady production, that no one saw coming.  The Dolphins are 5-0 with Branch and Wake as their starting defensive ends.
The other major factor is Joseph himself.  The Dolphins use a 4-3 front.  But don't tell Joseph that.  Ever Sunday, the Dolphins line up in different formation to throw off the opposing team.  The past two weeks we have seen a mixture of 2-5, 3-4 and a Ninja front (ninja front was created by Brian Belicheck, where only the Nose Tackle would line up, and all other players would be in a stand up position.)
The fronts are one thing, the other is the player rotation.  During this five game winning streak, we have seen Suh playing the left end, we have seen Wake playing inside and Branch lining up at outside linebacker.  Each and every player on the line has stated Joseph is allowing them to play to their best strengths.  They no longer have to worry about understanding gap responsibilities; rather, their primary focus is one target, one mission, one play.
Adam Gase has stated week over week not to get caught up in the media, but rather just focus on the next game. Focus on the week ahead, his coordinators are following suit.  The Dolphins actually have symmetry in their front office and in their club house.  Dolphin fans have been waiting to hear that for years.
The success that Gase and Joseph have brought to this team is simply outstanding.  No one would have predicted that the Dolphins would be relevant this season.  Vance Joseph is allowing his players to play the game they love, which is showing great results across the board.  The only downside to all this success will come at the end of the season.  Will NFL owners try and pry away Joseph? It could happen; it would be a definite loss to the Dolphins that finally have a coach who understands how to adapt to their players.
More from Phin Phanatic
This article originally appeared on